A familiar character around town and still on the shop floor, known for his friendly, if occasionally gruff nature, Christy Thornhill, 76, is possibly most famous for being one of the first rowers in Skibbereen after he was captured on camera in the fifties taking a trip down the llen river with Frank Fahy and Tom Cottom who made a boat out of an auxiliary tank used for carrying fuel in a plane! The tank came from a wartime aircraft that landed in the marsh in Skibbereen in 1944. While he never made it to the Olympics, Christy has cause to celebrate in an enviable longstanding business reputation: The Thornhill family have been trading for the past 74 years so it's little wonder, says Mary O'Brien, that the name has become synonymous with Skibbereen.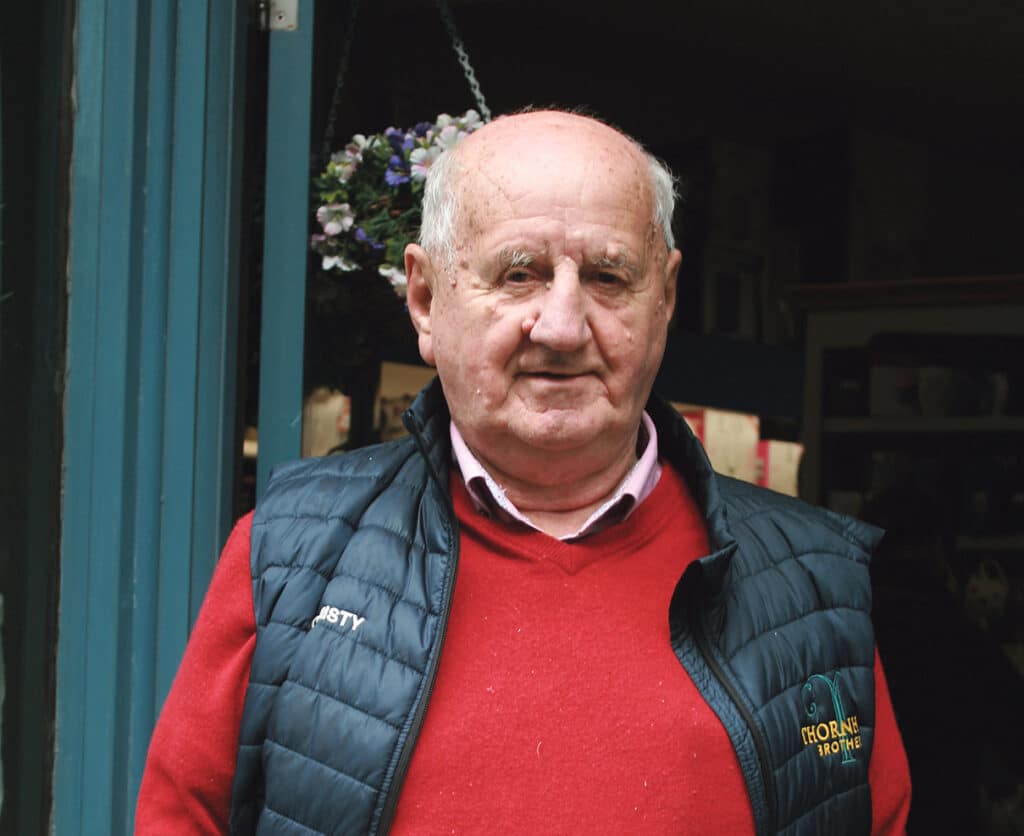 Today, Christy Thornhill, together with his son and business partner Henry, enjoy a busy trade at the heart of the town, where Thornhill Brothers offers everything from hardware and interiors to flooring, furniture, blinds, paint, bathroom, plumbing and heating. Demand was such that they opened a furniture store in Bantry in 2008.
While his younger brother Michael now runs the electrical business, Christy Thornhill started out fixing radios and televisions in the electrical store that his father, Henry, opened in 1949. Prior to that, Henry Snr worked for the Skibbereen Electric Light Company in the gasworks building before the company was taken over by the ESB and the building abandoned (you'll find Skibbereen Heritage Centre there today). When that closed Henry Snr worked as an electrician under the Rural Electrification Scheme, wiring many of the houses around the Skibbereen and Bantry areas to connect them to the electricity grid.
The Thornhill family of eight children, six girls and two boys, were all born upstairs in the tiny accommodation over the shop. There was no back door to the building; the street, and the river, were their playground.
Christy's early memories include travelling to Dublin with his father to collect the radios from the factory before December 8, traditionally a busy shopping day in West Cork before Christmas.
"I remember one time when I fell asleep in the back of the van on the way back down," he shares. "My father stopped for petrol in Cahir and I woke up and got out of the van. My father got back in and drove off none the wiser!"
There were no mobile phones in those days so the quick-thinking petrol station attendant had to ring the guards in Mitchelstown, who flagged down Henry Snr.
"They asked him if he'd lost anything," says Christy. "He got out, checked the radios in the back and was shaking his head until they asked him if he was missing his son!" he laughs.
That same trip, the father-and-son act ran out of petrol in Ballinascarthy. Needs must and luckily the Council men's oil lamps along the roads provided the necessary fuel needed to get them the rest of the way home to Skibbereen. "We stopped along the way, emptying and filling as we went," recalls Christy laughing. "Different times!"
Another time, they sold two radios, one to a local bar, O'Neill's in Old Court between Skibbereen and Baltimore, the other to a local farmer. "The farmer came in one day and asked if we could replace the radio," says Christy "as every Saturday night when he went to O'Neill's, they had Ceili House on Radio Éireann and he could never find it on his radio!"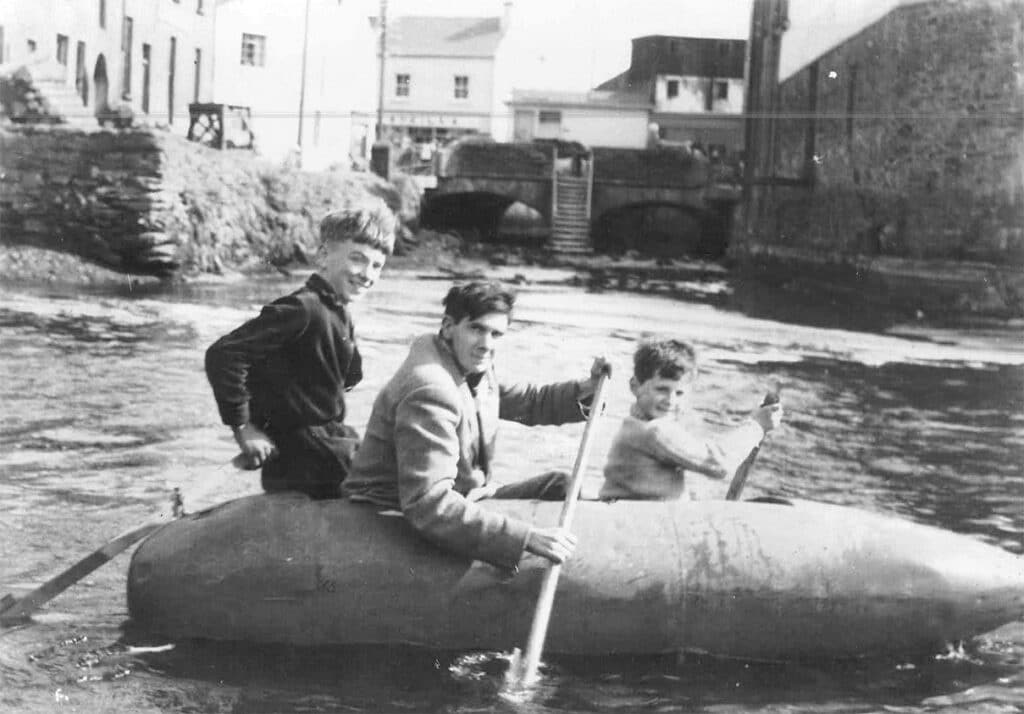 By the time Christy left school at 16, the age of the television had arrived in West Cork, so he was sent off to London to a vocational college to learn about repairing the appliance. He spent over a year there before returning home and working in Cork and Dublin, finally settling back in Skibbereen and joining his father in the shop in the early 70s.
Everyone rented television sets in those days, as the cost was so high and they frequently needed repairs, and the place to rent from in Skibbereen, and in Bantry – where they operated out of a room on Glengarriff Road for a time before opening a shop in 1971 – was Thornhills. "As far as I know we were the first to repair televisions in Bantry," says Christy.
"Before the transistor replaced the valve, TVs broke down every week," he shares. "You'd replace a black and white television with a colour one while you were fixing it," he adds with a smile. "They'd never go back." The Pope's visit in 1979 however was the biggest boost to the colour television business. "We could hardly keep up with demand that year, everyone was in looking for a colour TV."
Around Christmas time you could hardly get in to the shop for the strings of fairy lights. "No-one threw anything away in those days," says Christy. "Irons, kettles, fairy lights…you'd spend hours untangling the lights before fixing them," he recalls. "Some of them were years old!"
In 1981, Christy moved from electrical into hardware, opening up a shop across the road. In the mid-nineties he bought the yard behind the shop, developing apartments and expanding the business further, adding on space for their growing enterprise in furniture, flooring, bathroom and heating.
About ten years ago, Christy's son Henry, who has a Degree in Business and a Masters in Environmental Entrepreneurship, returned from working in Australia and joined the family business.
Today you'll still find a steady stream of customers from all walks of life and the four corners of West Cork in and out of Thornhills. Upstairs, over the hardware and kitchen shop, Jane has collated a selection of beautiful soft furnishings that will add comfort and chic to any home. It's a must-visit before Christmas. As much as possible of the items, ranging from cushions to blankets to rugs to fabrics are sourced with sustainability and fair trade in mind. Even the paper napkins are a thing of beauty!
Downstairs and around the back, there are seasoned professionals with someone on hand always to offer advice and assistance. Christy and Henry are inevitably on the floor or behind the counter. It's a close-knit team; most of the employees at Thornhill's have been there for years, even decades.
"Your team is the most important asset you have in business," shares Christy. "That and your customers. Business is about people."
People build a business.