On her most challenging and arduous journey to date, West Cork's favourite harp-playing pilgrim Anja Bakker, 53 – from the road in Hungary, 260 days into her expedition – shares with Mary O'Brien some of the highs and lows she has experienced so far and how home has become such an important anchor in keeping her on the road to achieving her dream of reaching Jerusalem on foot.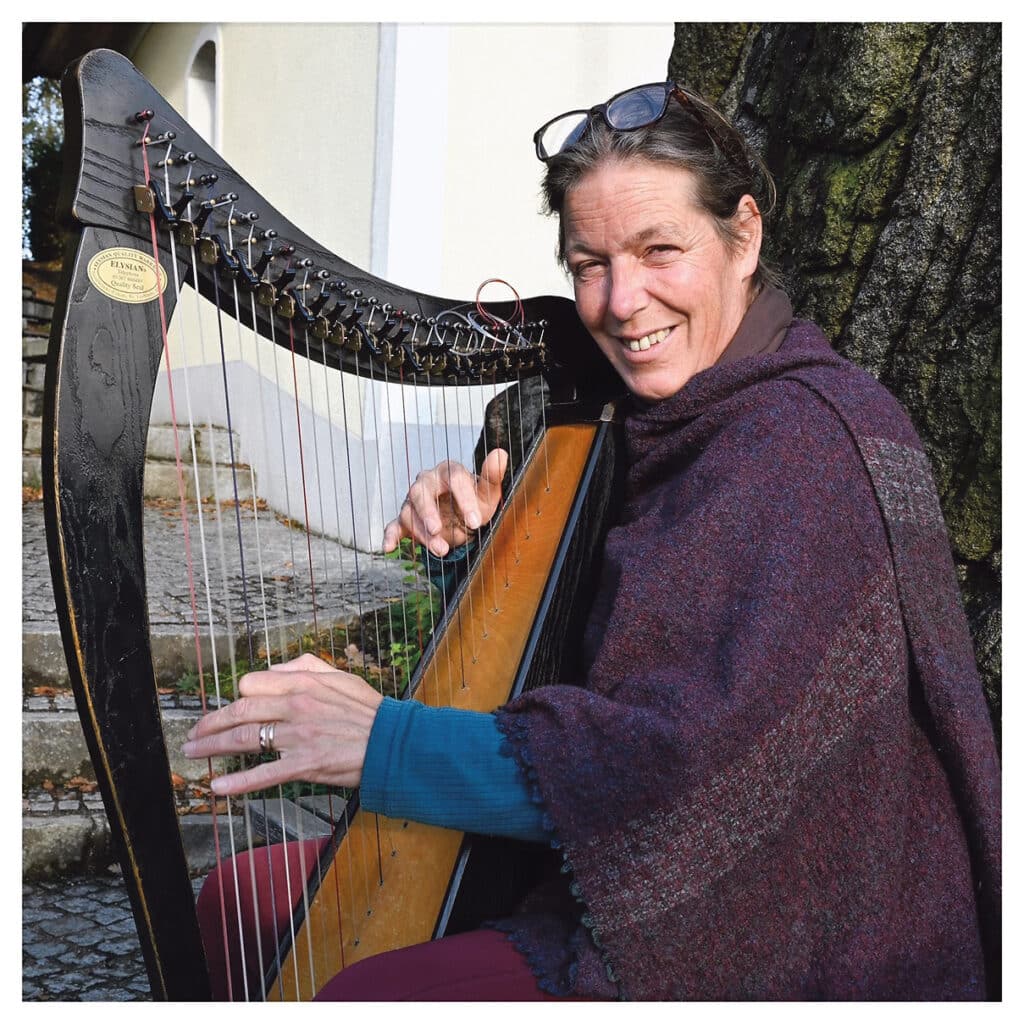 Her third pilgrimage in just over a decade, Anja Bakker's indomitable and passionate spirit can't help but inspire. This courageous traveller first began walking with her harp in 2010 on a pilgrimage from her home in Clonakilty to Santiago de Compostela (2500 km). She followed that up with a pilgrimage from West Cork to Rome (3500 km) in 2018. At this moment in time, although she still faces another eight months walking, Anja is close to celebrating the halfway mark on her pilgrimage to Jerusalem; a prodigious challenge, which started on April 2, 2022 – after being delayed by a couple of years due to the pandemic – that involves covering from 6000-8000 km over sometimes difficult and dangerous terrain in extreme weather conditions on foot and carrying the 20 kg weight of a harp on her back. 
The Dutch-Canadian musician walks with her harp (Séan) to symbolise her relationship with Ireland: Clonakilty has been home to Anja now for many years. Her hope is that this journey will help her gain the wisdom and understanding she finds so out of reach in the fast pace of everyday life and perhaps grant her the answers to some questions that will give her the freedom and ability to let go.
Ten months in and Anja's spirit is undoubtedly weary. She has walked through Ireland, England, and the Netherlands, followed the River Rhine into Germany and then the Danube into Austria. She then traversed Slovakia and Bratislava before reaching Hungary, still following the Danube, first east and then south into Budapest. On New Year's day she reached Serbia and is now nearing Belgrade.
Along the way she has been mesmerised by the rivers that guided her and the kindness of strangers. "The beauty of the rivers, the mist, the wildlife around it. Spending that amount of time on your own in nature is wonderful," she shares. People have travelled to walk with her and have opened their homes to her. One family in Vienna organised a concert venue so Anja could play her harp to an audience. A man of Bulgarian Turkish descent fixed her leather belt for her. Benedictine monks have hosted her for free in beautiful baroque-style abbeys. One family fed her an enormous amount of cake! In a graveyard, she met fellow pilgrim Otto Klar, who gave her the phone number of Johannes Aschauer, founder and initiator of The Jerusalem Way. He invited her to stay at his house for a few days and they're still in touch. "You couldn't make it up if you tried," says Anja.
While the physical and mental challenges of this journey are undeniably tremendous, the kindness of individuals and her own mantra 'to start each day with a clean slate' helps Anja to cope and move forward.
Last August she lost her mother, who passed away unexpectedly. Anja broke her journey briefly, flying home from Germany to lay her to rest. She carries that grief with her now. Her pack is heavy with the extra gear needed for winter so she has lost weight. Her feet are suffering so her pace has slowed. In Hungary she suffered bouts of paranoia and enormous loneliness. "I didn't understand the language and people weren't very approachable," she shares. "I mistakenly thought that I would have a lot in common with the Hungarians because of music…I didn't do my research properly."
It's winter so there is less daylight therefore each day begins very early in order for her to reach her destination with enough time to find somewhere to sleep, a challenge in itself.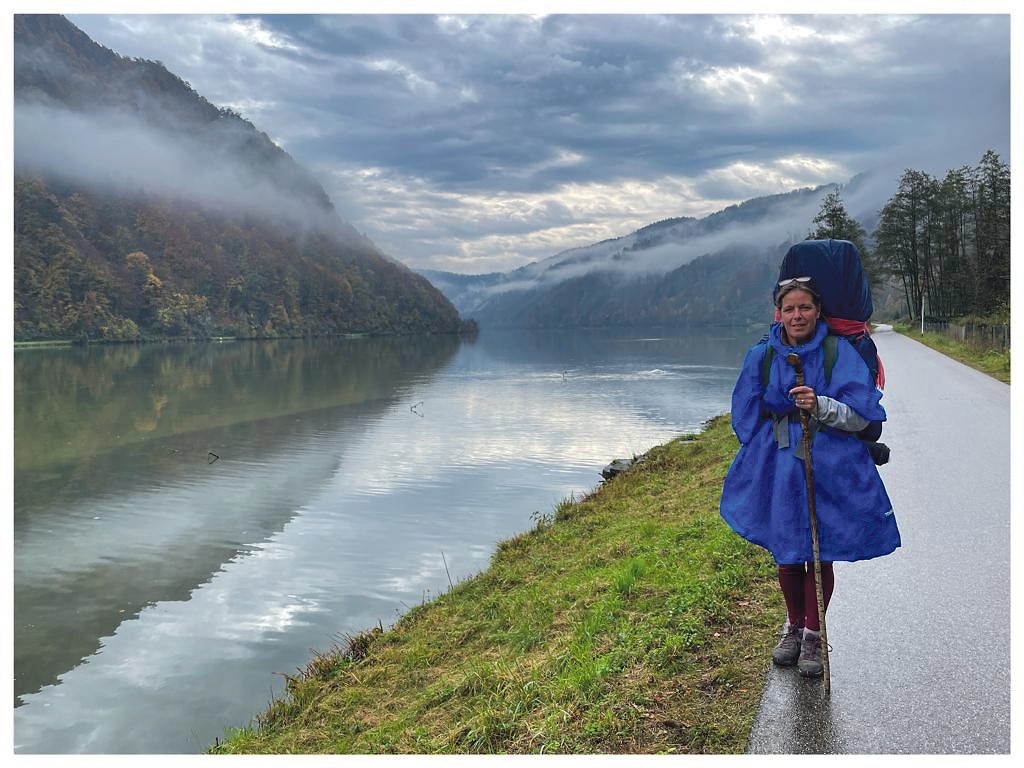 Christmas was spent in the company of a cold tin of beans, as she couldn't find anyone willing to take her in.
In Serbia, the people were friendlier, the loneliness less. "People gave me advice, asked questions, offered lifts," says the pilgrim.
The biggest physical challenge, she shares "is to keep my body intact, not to push too hard, not to do too little."
She gets anxious thinking too far ahead so It's important for her to take each day as it comes. "When I was stuck in the mud in Hungary because there was no choice of roads, it wasn't helpful to think too far ahead because I was literally dealing with pulling my legs out of the mud so I could just move on."
Dependent on the goodwill of strangers, Anja remains hopeful that maintaining an open heart and open mind will keep her safe. "It is a beast of a journey and the question is who's got the longest breath…the journey, the countries, or me? I just hope I can hold my nerve."
Traversing village to village, town to town, country to county, Anja is seeing firsthand the differences and splits that occur across different cultures. "Once you go into Eastern Europe, you meet so many influences, Russian, Turkish, Islam, the Orthodox Church, the Catholic Church and, in Serbia, where I am now, the history becomes very complicated," she shares.
Anja explains how journeying on foot gives a completely different perspective on life to travelling via modern transport.
"Viewing the world and seeing it change as you walk is very different to reading about it in a newspaper," she says.
In Serbia, at an inn where Anja was staying, a man took out his gun and started shooting at the floor, not with the intention of hurting anyone, but in celebration. "I felt pretty far from Ireland in that moment," says Anja.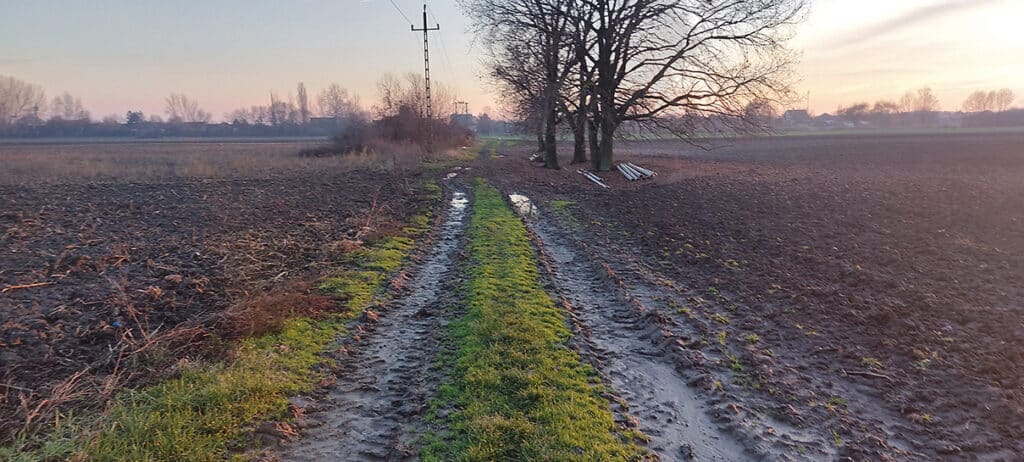 Life on the road is unconventional. "100 km down the road someone's perspective is completely different. I am now at the point where I really feel that I cannot have an opinion about anything anymore because of this.
As she approaches Belgrade, Anja's gut is telling her to head south to warmer climes which will bring her away from her trusted guide, the Danube, but also further away from the war in Ukraine. She leans towards Sofia in Bulgaria, as she can follow the flow of another river on lower ground, which means flatter and more manageable terrain. She trusts the river. After that, she will face a choice between going to Istanbul, which means walking across Turkey in late spring/early summer in extreme heat or staying close to water and taking the mediterranean route along The Jerusalem way, which takes her further south and, if she can get visas, facing the risk of travelling into war-torn Syria and Lebanon.
The niggling doubt that stubbornly remains in her mind is that if the mountains didn't stop her, the Middle East will.
Anja is now facing into the hardest part of her journey in the coldest month and has some pretty big mountains to climb, literally and figuratively!
This is the longest period of time that she has ever been away from home. "Today someone asked me about The Pogues and, in describing the music scene in Ireland, I suddenly felt a real surge of homesickness," she shares.
She misses her daughter, her bed, her cats, her local DeBarras for a pint, the lads she works with, just wandering into town and going for coffee with friends, her garden, lemon meringue pie, vegetable soup… "Who would have thought I'd miss Irish vegetable soup," she laughs.
This journey has given her a new perspective on her life.
"It is small, it is simple, but it is just perfect and I'm so grateful that I can call Clonakilty my home." She starts to cry as she remembers.
"I am really proud of how far I have come and I believe I can go even further, I think I can even go to the end, oh but it will be so good to come home."
While she is still searching for answers to the bigger questions, Anja has gleaned a clearer understanding of the fragility of humanity, her place in this world and the good and the bad out there.
"The biggest discovery of course is the work I have found you have to do within oneself," she says, "and this has come with standing out in the world on my own two feet.
"I think the big answers will come in time…when I can sit down and look back over the experiences I have had, that is when the answers will come."
To anyone at home, know that Anja is missing you and sends her love. "It is really strange walking through a world where none of the faces are familiar. I really appreciate every single one of you so much, for being the community in which I get to spend my every day."
Anja is sincerely grateful for all the help and donations she has received to date to help her on this pilgrimage. Any offers of beds or food along the way are appreciated and if you would like to make a small donation to help make this pilgrim's journey a little easier please visit her page on gofundme.com 'From Here to Jerusalem'.