While he mightn't have two bob to rub together at times, the affectionately named 'Birdman of Allihies', Alex Scade, 74, tells Mary O'Brien that he considers himself a wealthy man. Over the years Alex's self-built aviary and wildlife sanctuary in the hills of Beara has sheltered many birds and animals otherwise without any hope of survival.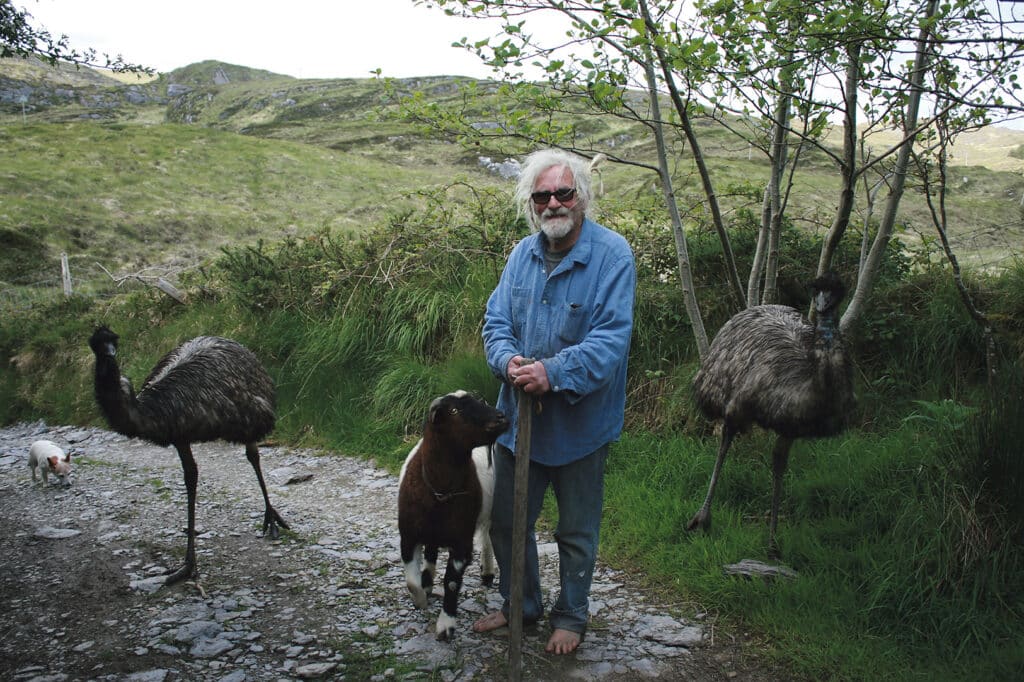 Recently the pensioner cared for four long-eared owl chicks, one with a broken wing, another with a broken leg, who were found after falling out of their nest in Glengarriff. After four months, the chicks had regained their strength and learned to fly and feed themselves so, together with the person who found them, Alex released them back into their natural habitat in Glengarriff.
"They were too young to be able to fly so they would have been easily killed by a predator if left there," says Alex.
Currently residing at the sanctuary in Beara is 'Ra' a fearless snowy owl named after the Egyptian god of the sun and sky. Passed on to Alex when he got too old by a raptor breeder for the falconry trade, 'Ra' stands guard with a steely yellow gaze, his enormous wings opening and spanning the aviary as he takes flight to land on Alex's shoulders when the birdman enters the enclosure.
Also in situ are a buzzard, barn owls, two emus, a crow, seagull, gannet, rook, ducks, geese, Willie the goat who has a penchant for head-butting visitors and three friendly Jack Russell terriers. The buzzard and seagull both have one wing. 'I can give them a life here," says Alex.
While thousands of birds have passed through the birdman's care, Alex's most beloved visitor was 'Olive' a South American water rail bird, who stayed for three years, laying four eggs, before vanishing one day. "I think she thought of me as a mate," laughs Alex, who recalls climbing up the tree to hand her material when she was making her nest. "I found her at a market. She was caged and looked very sick."
He also rescued the emus from a market in Kerry ten years ago. "They were bred for meat," he says. The emus, who run around daily in the neighbouring farmer's field, are now a part of this eclectic family so they won't be moving on.
Two of the worst cases Alex has helped return to health were a deer and a fox.
"The deer had been hit by a car and was in a very bad state when someone brought it to me," he shares. "It had a very bad head injury." After consulting with a local vet, Alex gave it painkillers and tried to encourage the deer to eat by placing some chewed dates inside its mouth. "After four weeks it got up and started walking around. That was when I realised it was blind so I put a bell around its neck." Eventually the deer regained its eyesight and walked out of the sanctuary.
The fox had been attacked by dogs and was sitting in the middle of a road when it was found. "I think he was just waiting to be hit by a car and put out of his misery," says Alex. "He was in an awful state." Aex took him to the vet and he was put on a course of antibiotics and steroids. 'I managed to get him cleaned up over a few weeks and in the end he managed to move the crate enough to squeeze himself out, lifted the latch on the window, and off he went."
Originally from inner city Glasgow, Alex grew up next to the railway tracks, where open carriages on freight trains filled with fish on its way to becoming fertiliser and seagulls circling overhead were a common sight. Fascinated by the noise, that was his first dalliance with wildlife. He also ran away from home regularly, taking shelter in local woods for three or four days at a time. "I was called a menace to society by a judge when I was 12," he shares. "But that was what I grew up in, the slums. I didn't know any other way of life!"
Determined to see something of the world, after learning and working in his trade as a painter and decorator, at the age of 25, Alex set off on his bike. "I was fed up with life," he says. Getting as far as Istanbul before running out of money, the intrepid traveller hitchhiked with his bike back to London, where he worked for a few months before leaving for the States. From there he cycled across central and south America before island-hopping to Australia, eventually riding on horseback up through the Cape York peninsula. "I was free as a bird and I loved it,' he says.
After returning home to Scotland and finding that life and his friends there had moved on, Alex decided to take a trip to Ireland. Within a few weeks of arriving in Dublin, in 2001 he landed in the Beara peninsula and finally felt at home. "It was during the boom years so there was plenty of work, the people were friendly and I loved the empty space and wildness of the landscape," he says.
A few years later, in 2005, with a loan from the Credit Union, Alex bought two acres of scrubland off a local farmer and, with the help of his friend and neighbour Kevin Tim O'Sullivan, he dug ponds and planted trees and wildlife friendly vegetation. For the first 15 years he had no electricity. "It changed my life," he shares. "I liked the pub and music scene but I swapped out the beer for trees!"
Today Alex doesn't drink or smoke or own a car so every cent he has goes back into the sanctuary and birds' food bills. Polish natives and animal lovers Olek and Dagmara joined him three years ago, now helping out at weekends, after they happened across the animal haven on a trip to Beara. "They helped me build the aviary and have a stake in the place so I can rest easy if anything happens to me that they'll take care of the birds and animals," shares Alex.
Donations can be sent to Alex Scade, The Animal Sanctuary, Allihies.