Always on the go, 80-year-old Brenda Elphick epitomises the quote 'you are never too old to set another goal or to dream a new dream'. The Bere Island community radio presenter, who tells Mary O'Brien that age is just a number, has surely proved this with a list of lifetime accomplishments that just keep on growing. "I have had two hips and a knee replaced and I intend to keep making the best possible use of them!" she shares laughing.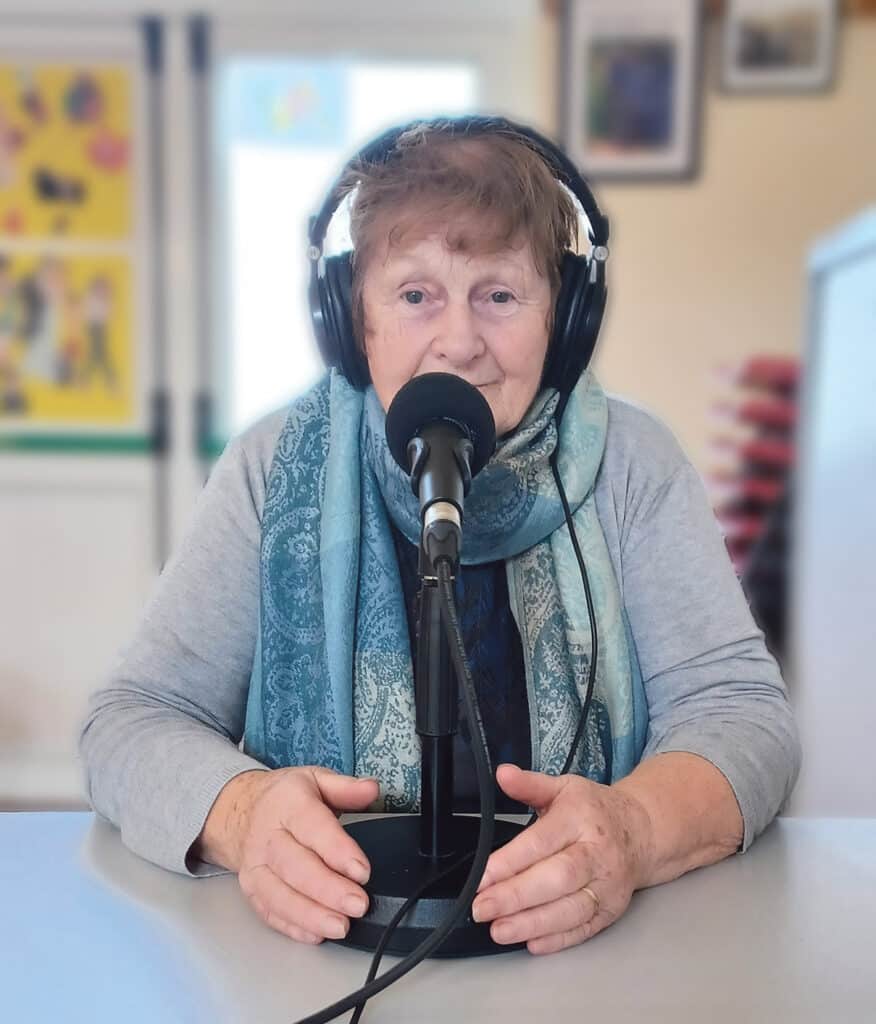 A retired nurse and mother-of-13, Brenda returned to education in her late 60s, starting with a course in Disability Studies and finishing up with an Environmental Science degree at UCC. She also completed a Diploma in Credit Union Studies. Her husband and best friend Paul had passed away suddenly two years prior at the age of 67 and Brenda explains that she was feeling pretty lost at the time. "One of my colleagues registered me for the course and that was the start of my academic career. I loved my time at UCC," she shares.
Not quite ready to let her nursing career go, in her 70s Brenda signed up for Nurse on Call agency nursing, helping to set up a new nursing home behind County Hall during her posting at St Finbarr's. When a job came up at Castletownbere Hospital, where she had previously been employed, she returned there, staying until a broken hip forced her into retirement for the second time.
Never one to stay idle for long, Brenda became involved with the Bere Island Projects Group, taking a seat on the Island Federation committee and also joining the Bere Island branch of the IFA, where she has just finished her term as chairperson. She is also part of the Bere Island Church Choir who sang for Pope Francis in Phoenix Park on his visit in 2018. "It was a huge privilege and a lovely experience," says the classical music lover, whose regret is that she never learned to play an instrument. But never say never!
Bere Island is a Sustainable Energy Community (SEC) and some houses on the island already use renewable energy like windmills and PV solar panels to generate electricity. "The aim is that we'll eventually be self-sufficient," says Brenda who travelled with the island group to Denmark to learn from the energy academy there. She has also travelled to Sweden as part of the European Small Islands Federation and last November went to Macedonia to learn from their experience in community development programmes, as part of a Secad and Leader initiative.
In 2019, when Bere Island got the opportunity to set up a community radio station as part of the EU Grassroots Wavelengths programme, Brenda was one of a number of dedicated islanders to volunteer to help staff what has proved to be a vital community resource.
"It's something I never imagined I could do and, although I was very hesitant in the beginning, I really enjoy it, particularly the research side of the job," she explains.
"I was never great on a computer but when the pandemic came and meetings could only take place over Zoom, I decided I had to get with the programme!"
From broadcasting Mass direct from the home of the local priest during the pandemic to interviewing people from all walks of life and covering a wide range of topics, with shows covering gardening and music to sport and current affairs, the local radio station, which broadcasts for three hours every Sunday, has picked up listeners all over the world.
"I devour the papers and we all meet every Monday night for a brainstorming session," shares Brenda. Green Party MEP Grace O'Sullivan, IFA President Tim Cullinan, musician Lisa Lambe, writer Kate O'Riordan best known for the show 'Smother' and Dr Julie Maguire from Bantry Marine Research Station are some of her interviews.
The other volunteers who keep the radio broadcasting are Paul Moore on controls, Eileen Murphy and Dominic Hallahan, Dorothy Brophy and Ann Marie Manser, John Walsh and Paul O'Shea.
A native of Bantry, whose mother hailed from Bere Island, Brenda met her husband Paul, a teacher, while she was training to be a nurse in the UK. "I literally hit him with my basket as I came racing out of mass one day during Lent," she smiles remembering. After many happy summer holidays spent on Bere island, when a teaching opportunity for Paul presented in Castletownbere in 1970, the family jumped at the opportunity to move from Lancashire to Bere Island, where they settled on a small suckler farm. Brenda worked as a nurse in Bantry Hospital until a job came up in Castletownbere Community Hospital soon after having child number 13.
At the age of 50, when her children were still young, Brenda somehow also found the time to do a stint with the Irish Coast Guard. "I really wanted to do something different but I couldn't afford to do anything different," she says laughing. "Volunteering with the Coast Guard was exciting and enjoyable.'
Still showing no sign of ever slowing down, Brenda says she doesn't have a bucket list. "I take life as it comes," shares the octogenarian, "…but hopefully I have a few more trips abroad in me yet!"