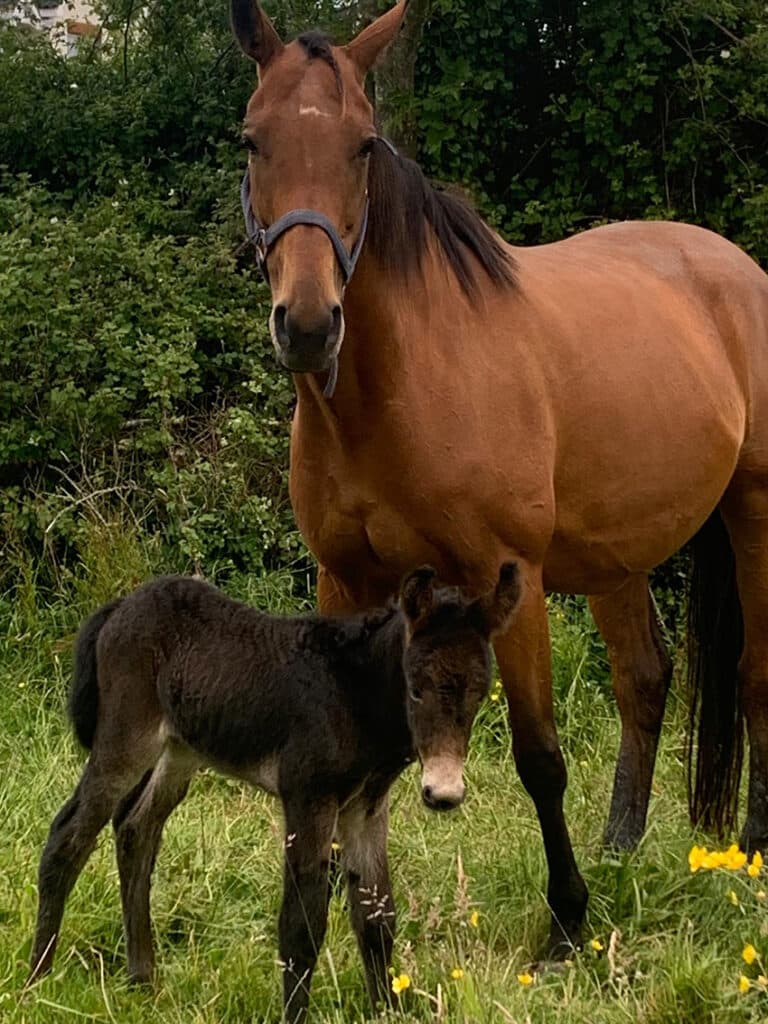 Robbie Cronin, third generation owner of Dan Cronin's Pub and nightclub in the square in Newcastlewest, Co. Limerick arrived out to a field on Saturday last (June 6) to get the shock of his life. His thoroughbred brood mare 'Jimmy's Choice', a lovely 8 year old bay mare by 'Jeremy' (USA) out of 'Amtara' (IRE), had given birth to a beautiful black mule foal – not the thoroughbred colt or filly foal Robbie thought he was getting from a mating to the thoroughbred stallion 'Renaissance Man' by 'Galileo', a very well-bred stallion that is standing locally at Western Road Stud. The proud father was in fact Robbie's French Poitou donkey stallion 'Bob Marley'!
This was a one in a million result for the 'Lynch Gang' syndicate of the Donkey and Mule Speed Derby racing yard managed by Robbie and a few of his friends. Robbie is a member of the Irish Donkey Society and shows his donkeys and mules at the RDS and Balmoral horse shows every year.
Before this, Robbie believed 15.2 hand high 'Bob' had become infertile, as he tried to cover three mares last summer – none of whom went in foal, so he left 'Bob' off in a field with three mares, including 'Jimmy's Choice', thinking "he will never breed again".
He covered the mare with 'Renaissance Man' and left her in the field with 'Bob' and the other two mares. She was scanned 21 days later by Derrick Long of the Dealside Veterinary Clinic in Rathkeale, Co. Limerick and showed up in foal.
Robbie went up to the field on June 6 to check on her and and knew she was going to foal that night. He went back just one hour later and could not believe his eyes when he saw a beautiful black mule foal… he had to think – "is it or isn't it?"
A prize is being offered for entries to name the mule foal. Entries to irishdonkeysociety@gmail.com where the Hon. Secretary of the IDS Helena Loney will make contact with the winners.
The IDS just launched their new website at https://www.irishdonkeysociety.ie to let donkey lovers the world over know what is happening in donkey land in Ireland. There is a page on the site where you can join the IDS for only €25 per year for a family.