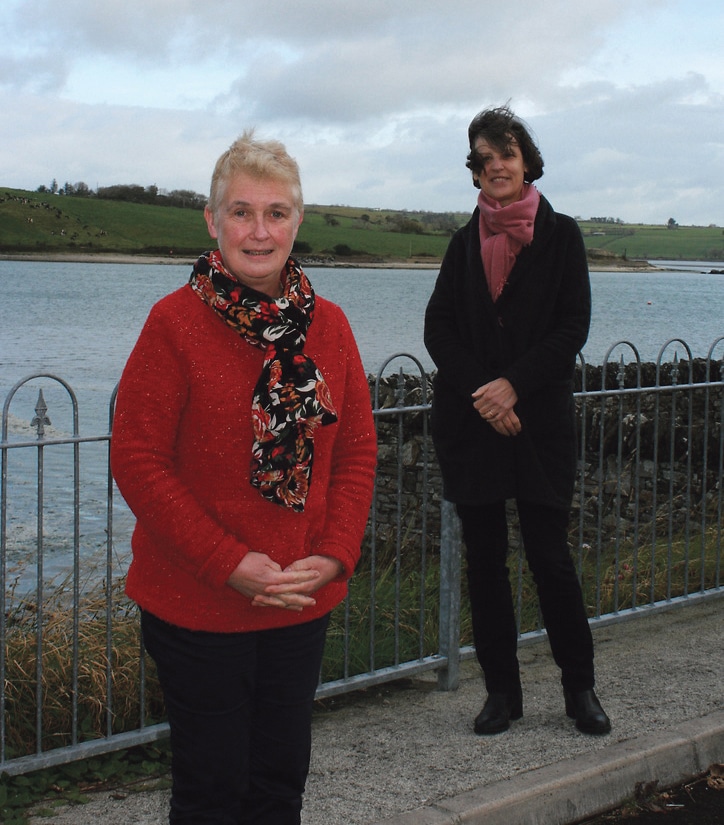 The legacy of Good Shepherd Sister, Sr Colette Hickey, who today has reached the great age of 102, has gone from strength to strength since Good Shepherd Cork was founded more than 40 years ago. Under its umbrella, women, children and families who are vulnerable to homelessness are supported across a range of services.
The independent, Cork-based charity runs Edel House emergency shelter for women and children, Redclyffe family hub, B&B outreach services, Riverview (a residential centre for teenage girls who are out of home), Bruac (an education project for young women who are out of school), Baile an Aoire (long-term supported housing) and, through its Support and Advocacy service, also supports vulnerable women and families in the community.
It is the only homelessness agency in Cork that can accommodate children who are homeless.
Organisational challenges facing Good Shepherd Cork, as for most charities, centre on being able to secure sufficient income to provide the range and quality of services needed to make lasting positive change in the lives of the women, children and families the organisation serves.
Now under Level Five restrictions, the organisation faces new challenges; not least the probable drop in funding from its seasonal fundraising activities. "We're not sure what Christmas is going to bring this year," says Good Shepherd Mission Leader and Courtmacsherry native, Sr Jane Murphy. "Usually it's a very busy time of year for us and we get a lot of donations of food, gifts and goods for our service users, as well as people running fundraising activities such as the Courtmacsherry Christmas market, and Church Gate Collections, but I just don't know what's going to happen this Christmas. If people are in a position to donate, we would really welcome vouchers or money."
"Obviously we still want to create a sense of Christmas for the people we support," continues Allison Aldred, CEO Good Shepherd Cork. "People will still want to give and we have always relied heavily on the generosity of local people to make Christmas special for those in our services. But with the pandemic, we have had to greatly restrict visitors and goods coming into our premises as we work hard to keep Covid-19 out. We don't want to turn anything away and are making arrangements to manage donations off-site, but, as Jane says, money, including online donations, or vouchers will be much easier to manage this year.
Allison explains what being 'locked down' means for the people that Good Shepherd Cork supports.
"Being 'locked down' at home when home is a crowded emergency shelter or family hub is very demanding and often stressful, as everyone tries to responsibly social distance in busy communal areas or to keep to themselves in cramped rooms.
"Life can be even more challenging for families we support in B&Bs and other private emergency accommodation where they may be confined to bedrooms without any communal space and lacking basic facilities.
"For the women in our long-term supported housing and those we support in the community, Level Five will mean a lack of interaction with others and hence, for many, loneliness and isolation.
"And for our staff, for whom building trusting relationships is central to the supports they provide to women, children and families in our services; the requirements of social distancing, of masks and remote interactions, and the endless cleaning regimes, make it much more difficult to deliver supports and to find the satisfaction they have always enjoyed in their personal interactions with our service users."
Since 2014 there has been a 900 per cent increase in children in emergency accommodation across Ireland. In 2019 Good Shepherd Cork worked with over 950 women and children; this figure includes more than 400 women and children who stayed in Good Shepherd accommodation and over 130 families that the organisation supported in B&Bs and other private emergency accommodation.
Department of Housing figures reveal that at the start of 2020, there were 111 families, including 264 children, living in emergency accommodation in Cork and Kerry.
While one of the positive impacts of this pandemic has been to reduce the numbers of families in homeless services, Good Shepherd Cork does not believe that this reflects a long-term resolution of the homeless crisis and expects numbers to rise again, as and when, society moves on from Covid-19.
Allison explains: "As of August 2020, the latest figures available, there were 62 families homeless in emergency accommodation in Cork and Kerry, with 157 children. Whilst this is still a shockingly high number, it is much lower than at the start of the year. We believe that the impacts of Covid-19 have reduced numbers of families in homeless services partly because there is more private rented accommodation available, as there are many less students and tourists, and also the ban on evictions has prevented many families moving into homelessness. Whilst this fall in numbers of families who are homeless is welcome, we don't believe it is going to last."
Good Shepherd Cork is near completion of the first phase of a construction and refurbishment project that will see a major re-development of Edel House and its facilities.
St Jane explains that "It will provide residents with a much more dignified environment, with ensuite single rooms and one and two-bedroom family units. There will also be more space for therapeutic, educational and other supports."
Another significant development in 2019 was the formal transfer of the long-term supported housing project, Baile an Aoire, from the Congregation of the Good Shepherd Sisters to Good Shepherd Cork in May 2019, giving the organisation 30 units of accommodation for vulnerable women.
Currently in discussion with the Presentation Sisters about a gift of land, Good Shepherd Cork hopes that in the future it will be able to move forward with a social housing development.
In 2019, through the support of charitable donations, the organisation made a number of enhancements to its residential services. This comprised of investment in a wider range of therapeutic, educational and developmental supports for service users, including a range of specialist supports for children who are homeless. A Dual Diagnosis (DD) Worker was recruited to support service users with mental health and/or substance misuse challenges. The organisation also expanded its Making Change programme in 2019, employing part-time Making Change Coordinators in Edel House and Redclyffe. "The Making Change programme is about building confidence and self-esteem and teaching lifeskills," says Sr. Jane.
A Good Shepherd research project completed last year found that the homelessness crisis in Ireland is exacerbating the impact of domestic violence in Irish society. It also found that children who grow up in a family where there is domestic abuse or violence are more likely to go on to experience violence in their adult life.
While Good Shepherd Cork is working to provide improved services with the confirmed funding from the Department of Housing, Planning and Local Government for the re-development of Edel House, this research shows the importance of continuing work, not just to tackle the immediate need for shelter, but also to invest in one-to-one supports in a safe and secure environment.
If you would like to support Good Shepherd Cork this Christmas, you can donate via the website: www.goodshepherdcork.ie or by post to Good Shepherd Cork, Edel House, Grattan Street, Cork.
---
Mary's Story
As a child Mary recalls how she often had to leave her home with her mother, brother, and sisters due to their abusive father. Edel House, Cork's emergency shelter for women and children, run by Good Shepherd Cork, became their home from home. She remembers Sister Colette welcoming them each time they arrived and how she always felt safe and secure there.
During her teenage years Mary started to use alcohol and drugs to help her cope with her challenging home life. She left school early and spent time in Bruac, Good Shepherd Cork's Training and Education Centre. But the death of her only brother, due to a drugs overdose, had a big impact on Mary, and she went further into a life of addiction. Her relationship with her family was suffering at this time due to her addiction and she eventually left home. She spent time living with friends on couches and then in an assortment of rented apartments, but her addiction meant she was never able to sustain a tenancy. Mary went on to have two children, but found it difficult to care for them fully, so they were brought up by their paternal and maternal grandparents.
There were many times during these chaotic years when Mary made her way back to Edel House and manged a few months of sobriety and stability, through the caring support of the staff there and her own desire to lead a better life. However, the level of her addiction kept dragging her back into her chaotic life and Mary got hooked on heroin for many years.
Christmas 2012 saw a shortage of heroin on the streets of Cork and Mary again made her way back to Edel House where she began her road to recovery. The staff in Edel House welcomed her back without judgement and helped her to get onto a methadone treatment programme in a HSE addiction service. Mary hasn't looked back since. The team in Edel House supported her on her journey and helped her find private rented accommodation in the City. Once Mary moved on from Edel House she was supported by Good Shepherd Cork's Support and Advocacy team who helped her establish links within her new community and encouraged her to stay on her life-changing journey.
Fast forward to Christmas 2020 and Mary is still sober and living her life to the full. She has rebuilt her relationship with her now adult children and her family. Mary says she will be forever grateful to the staff of Good Shepherd Cork for their continued support to her and her family throughout her life. She believes if it were not for this support, she would not be alive today.
Note: Mary is not her real name. It has been changed to respect her privacy.