At this time of year buzzards are ready to set up their nesting territories. Listen out for their cat-like mewing call says Nicholas Mitchell Birdwatch Ireland West Cork. You may see a pair circle and soar over a suitable patch of woodland, or male buzzards putting on an aerobatic display to impress females, flying up and the plummeting down again.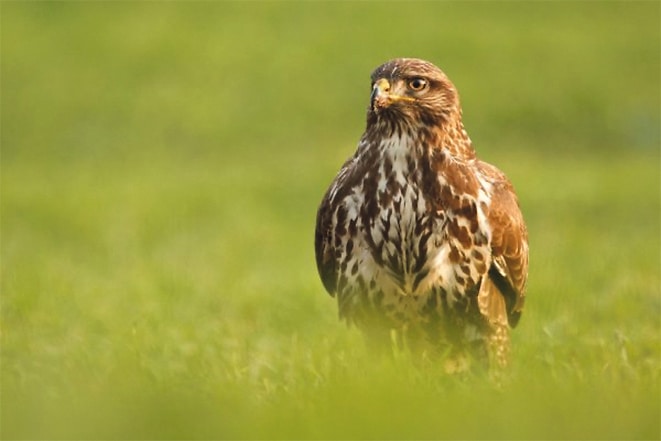 The story of the buzzard is one of the few ecological success stories that we can point to in an otherwise declining trend for a lot of our other species. Numbers of this magnificent bird of prey have increased in Ireland and it is now breeding across the east side of the country and increasingly spreading westwards. The sight and sound of a buzzard is almost becoming an everyday occurrence in West Cork. Often, the first indication that a buzzard is nearby is their call, and scanning the sky will reveal a large, broad-winged bird, with feathery fingers, soaring over the countryside. Buzzards have a wingspan of over one metre, bigger than a hooded crow, but considerably smaller than either of the two eagles present in Ireland. The white-tailed eagle has a wingspan of over two metres.
Buzzards are native to Ireland, but they went extinct as a breeding species over 100 years ago. With intensive persecution of birds of prey, our other birds of prey, the golden eagle, white-tailed eagle and red kite populations also suffered serious declines to the point of extinction at that time. Buzzards started to re-colonise Northern Ireland in the 1950s and then expanded to Donegal. This first re-colonisation attempt failed when Myxomatosis dramatically reduced rabbit numbers and deprived buzzards of their main prey. The Irish population became extinct again by the mid-1960s. Another re-colonisation ensued in the 1970s and 1980s but its rate of progression was slow. It is thought that this partly due to the use of poison strychnine for controlling foxes and corvids (members of the crow family). A ban on strychnine in 1991 undoubtedly had a positive effect on the buzzard population and facilitated their return to areas in Ireland where they had not been present for over 100 years. Buzzards started to be seen more regularly in County Cork in the early 2000s, although breeding wasn't confirmed until 2004. Since then, birds have continued spreading across the county.
So what other factors have caused this recent increase in buzzards? When they first colonised the county, they were associated with tillage areas. This is not surprising given that three of the four most common prey items are rook, woodpigeon and brown rat, all commonly found on arable land. A County Cork study over 2011/12 found that their most common food prey (nearly 40 per cent) was rabbit. Buzzards, particularly young birds, will also take a lot of invertebrates like large beetles and earthworms. It is not uncommon to see numbers of buzzards in a recently ploughed or reseeded field as they hop around the field, almost vulture-like, to grab any worms available. This wide-ranging diet is a factor in their recent success.
As top predators, buzzards are an excellent indicator of the wellbeing of the environment. Their presence should be viewed as a positive indication of a healthy countryside, as well as a benefit to local agriculture. Their re-colonisation has restored a natural balance, filling a vital ecological niche, which has been empty for decades. By feeding on carrion, and through direct predation, buzzards help to keep numbers of corvids in check. It seems strange therefore that the buzzard is sometimes seen as a problem species whereas it is in fact is a welcome addition to our skies, with a role in maintaining a healthy and functioning ecosystem. It is likely that these glorious birds will continue to colonise further west and become an everyday sight across the whole of West Cork.
In recent times, we have heard a lot about the biodiversity crisis and the loss of some of our wildlife. We were confronted with this very issue in December 2019 with the appalling discovery of 23 buzzards poisoned right here in West Cork. This is despite the fact that, since 2010, legislation has prohibited the use of poison to kill birds or animals with the exception of rats and mice. This incident made headlines in the national newspapers, it prompted a question to the Minister in the Dáil and has rightly been condemned across all sectors, from politicians to farmers and members of the public.
How can you help? Members of the public can become citizen scientists and help monitor the distribution and range increase of the buzzard by reporting sightings to the National Biodiversity Data Centre at www.biodiversityireland.ie, or recording sightings on the BirdWatch Ireland West Cork Branch via our Facebook page. The public can also help in monitoring the impacts of illegal poisoning by reporting any raptor carcasses found, or any suspicious incidents regarding the misuse of poisons, to their local Wildlife Ranger in the National Parks and Wildlife Services (NPWS) via 1890 383 000 or email nature.conservation@chg.gov.ie.
For more information about the Branch contact Nicholas Mitchell at secretary@birdwatchirelandwestcork.ie or join our mailing list by sending an email to mailinglist@birdwatchirelandwestcork.ie.