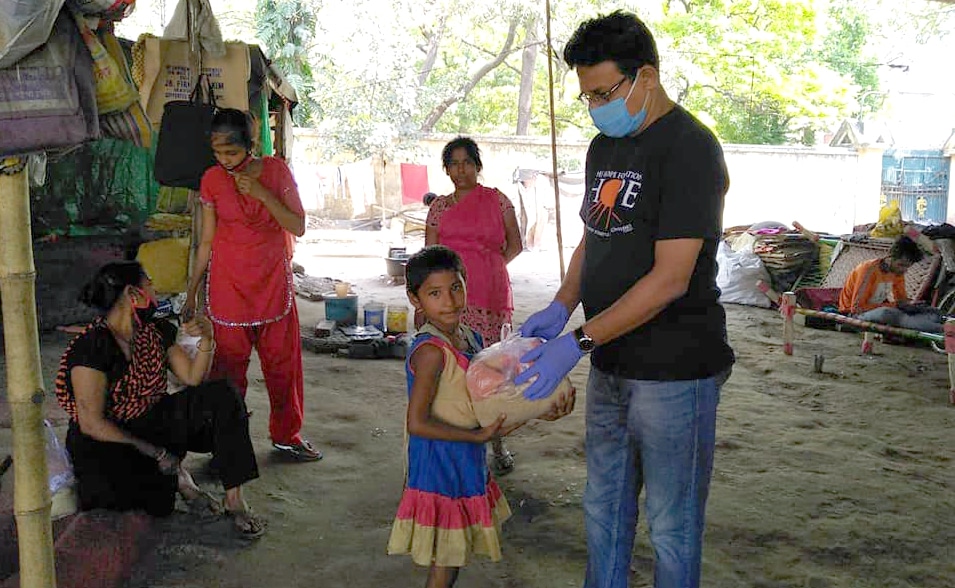 When the world's biggest lockdown began in India, renowned Irish charity, The Hope Foundation, immediately knew that a secondary crisis was going to arise very quickly – a hunger pandemic. HOPE knew that life for the daily labourers, like rickshaw pullers and rag pickers, in West Bengal would see their meagre income decimated. They would not have enough to eat; their children may never return to school. The loss of their daily income for their daily bread instilled the very real fear that starvation would take their lives before Covid-19. We do know that we are all in a global crisis together but we are not all in the same boat.
Founder and Honorary Director of HOPE, Maureen Forrest, who was recently honored in New York for her 20 years of service and dedication to the children of Kolkata, India and who is cocooning in Mogeely in Co. Cork, immediately started setting up a crisis response on the ground in Kolkata, motivating her teams in Ireland and India to act fast to help stave off the hunger, allow the people to stay at home and ultimately help to stop the spread of the virus across the city.
The Foundation's efforts have been critical in saving many lives, lives like those of Basu and his family. Basu is just five-years-old. He lives on the street with his parents and one little sister who is just 18-months-old. They sleep under the flyover bridge at Hastings in Kolkata. Basu first came to HOPE's care when he was rescued by our Night Round Mobile Medical Unit almost three years ago. At that time, he was dying from malnutrition and was gradually nursed back to health in the HOPE hospital. Since then HOPE Night Round Mobile Medical Team have always checked on his well-being and that of his family.
For this little family Covid-19 has made their lives in abject poverty even more difficult. Basu's father is a rickshaw puller, and has no fixed income and no savings. Now, due to the lockdown, he has no way of earning and the family are desperately looking for food. With your help we have provided Basu's family, and thousands like them, with the raw food materials and cooked foods to help them survive this crisis.
Recently scientists and philanthropists have pointed out how we must try our best to help developing countries through this pandemic on a humanitarian level; to help rid the entire globe of Covid-19 we need to have a global response. As Michael Ryan from the WHO was recently quoted "no one is safe until we are all safe".
Speaking of her deep appreciation for all the support so far, Maureen said: "It is an extraordinary testament to the kindness and understanding of the Irish people that we have been able to feed so many families and help stop the spread in Kolkata. We have always been a nation led by kindness and empathy to those less fortunate and we are so grateful that people have chosen to give, even in their own time of crisis"
A food pack for €20 will feed a family of five people for two weeks. If you would like to support HOPE's Covid-19 Emergency Response please visit www.hopefoundation.ie.