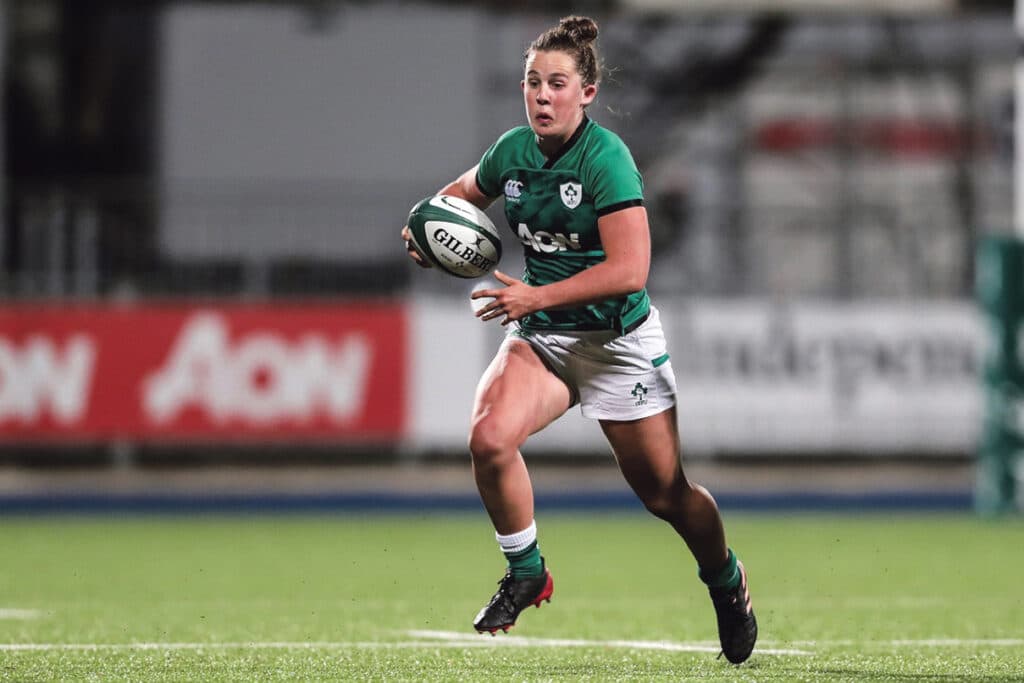 Enya Breen is a high performer, both on and off the pitch. At 21-years-old, the West Cork native already has a number of full Munster and Ireland rugby caps and is completing a physiotherapy degree at the University of Limerick (UL).
Enya has a lifelong passion for sport. Earliest memories include playing various ball games her five siblings. "As soon as I could walk, I had a football or camogie stick in my hands most days in the green across from the house or in Shamrock GAA club in Shanbally near Cork city. I started playing rugby in the Carrigaline club with my brother's team from about the age of eight for a couple of years. We moved to Castletownsend when I was about 10, but I continued playing with them for another year after that." It's clear that Enya was dedicated to her sport, even during her formative years.
"I played lots of [Gaelic] football in Castletownsend National School and with the O'Donovan Rossa club. There wasn't much access to Camogie, unfortunately, in West Cork at the time. I attended Mercy Heights post-primary school in Skibbereen, where I mostly played football and basketball."
"I'd say I was kind of a teacher's nightmare at times because I made myself part of every possible team I could have been in. I missed so many classes. I've an All-Ireland table tennis medal, badminton medal and participated in many other things. Once it got me out of class, put me on a bus and I was ready to go."
"I just loved the freedom that came from playing sports and the ability to express myself. Sport has helped me build confidence in myself and social skills that I use day-to-day outside of sport. Growing up, it was just about a load of kids having fun. Really that's what it was. I started off having fun and I still try to keep it as enjoyable as possible, even to this day."
Enya's family is steeped in sport. Her father, Ian, was match-of-the-match, as part of O'Donovan Rossa 1993 All-Ireland senior club football final win, and played rugby for Douglas. Her uncles on the O'Mahony side had lifelong involvement in hurling, with their father, John, being chairman of the St. Vincent's club in Cork for a number of years. But it was her mother, Catherine, that acted upon an advert she spotted in a local newspaper, which proved to be pivotal in the development of Enya's rugby career.
Bantry Bay RFU had started a girls' team when Enya was around 14-years-of-age. It didn't take much convincing for her to check it out, nor for her parents to make the 70 to 80-minute round-trip. And with local friends, including classmate Claire Coombes (sister of Munster star, Gavin) also joining, it made the experience all the more meaningful. "As we moved to under-18, we had some girls who represented Munster. We also won the Munster league, cup and 7s [7-a-side] competitions around that time. For a newly formed, small club in West Cork, it was showing real promise. West Cork has a great rugby tradition, of course, with a club in most towns, which helps, but mostly men's rugby."
Despite showing prowess in a number of sports, it has been rugby that Enya has advanced most in. In recent seasons, she has progressed all the way through the IRFU Player Pathway, starting with Munster Under-18s and Ireland Under-18 7s teams. Enya also thrived in club competitions and received the Women's All-Ireland League (AIL) Rising Star award with UL Bohemian in the 2018/19 season. Now a regular starter with Munster and Ireland, she made her senior international debut against France in the 2019 Women's Six Nations championship, playing in the centre position.
When asked what in particular has sustained her involvement in rugby, Enya notes that "it just captured my interest from day one. One particular day that stands out for me when I was quite young was when the pitch was destroyed. I think it had been raining a lot and, after training, we just started doing mud-slides down the pitch. My parents had to buy bin bags and line the car seats. I think the physical contact element of rugby must suit me. And with the success I was getting from it, it was naturally the one that I chose."
"Playing with the boys team and my older siblings growing up helped me prepare for the physical element of game. The boys didn't show me any mercy and, so, you just have to get stuck in and get on with it. I had to learn to deal with the onslaughts. This is the same approach I took when stepping up from Under-18 to senior teams. Playing other sports, especially basketball and football, helped me build my skills."
Enya was 15-years-of-age when first spotted by Munster rugby and was selected for Under-18 development squad for three consecutive years. On her second year, she made the Irish Under-18 7s who played in the European championships and made this squad the following year too. " I was still in school throughout all this. I continued playing basketball with Skibbereen Community School, until I finished there, doing my Leaving Cert. The last game of football I played was in 2018 for the victorious O'Donovan Rossa team against Castlehaven, ironically, in the county junior football final replay. Straight after Under-18, I was selected for the Munster senior team. And then the Irish senior teams after my first season with Munster. This is when it started getting more serious and became my sole focus."
Enya transferred to the UL Bohemians club in Limerick when she started as a student in UL. During her first year, she played a number of intervarsity games and AIL games concurrently. "Since breaking into the Munster and Ireland teams, I have had to get cleared by management to play in the college games, which is a bit disappointing but I can see the great cause behind it. I am still a very active member of the club off the pitch."
"In terms of a playing season with Munster, it's the same as it was underage. It's just one interprovincial competition. Last year that increased to five games, so we play a round-robin tournament and then there's a semi-final and final, all played at the end of August and September. From then on, we can play with our to an extent, in as much as the international schedule allows. Most of our national team training camps would be at weekends, which limits the amount we can be involved with the club. While we train with the club during the week, we only play a handful of games in the year. But like missing the college games, I understand why it needs to be this way."
"Around 6 Nations time, we'd have an international training camp or match-day camp every weekend. October and November would be the other intense period, where we'd be at training camps every weekend in Dublin. A typical week in January, for example, would involve a Monday off where I catch up on study or do some recovery work. On Tuesday we'd be in the gym in UL. And then on Wednesdays we'd either have a running session to do, or else we could go club training and then on Thursdays we would be off to recover before we're in camp on Friday, Saturday and Sunday.
This demanding training and game schedule hasn't affected Enya's performance off the pitch, as she is now in her final year of her degree programme. "I think sport helps me to be honest. It gives me a bit of a break from all the study and makes me manage my time a bit better, instead of lazing around and avoiding everything. Once I have the time to do something, I just to get it done."
Like many others, Enya has found the transition to online classes challenging with the onset of Covid-19. "I've just finished a 10-week physiotherapy placement in the University Hospital Limerick and all classes have been online in recent weeks. I find that environment a bit difficult. I'm more of a practical learner and there are too many distractions at home."
There is little doubt that an elite athlete reaches that level without the right support and influence and Enya is acutely aware of this. "I was a huge Ronan O'Gara fan growing up. In terms of coaching Damien Hicks in Bantry and Denis Stevenson and Ben Martin with Munster have been very supportive throughout my player pathway journey. They played at high levels themselves and have mentored me along the way. I couldn't thank them enough for the positive influence they have had on my career.
Having dedicated much of her life to sport, Enya reflects on what it all means to her. "Sport has provided me with an environment where I can be myself and it has helped me to figure out who I want to be off the pitch as well. It has given me the skills to communicate better, be a good leader, and opportunities to continually improve myself. I really want to see if I can achieve the goals I have set myself and make it to the highest level of rugby. I really love the game. Ultimately, sport has given me lots of friends and allows me to enjoy myself, both as a player and person."
"The plan over the next few months is to prepare for and play the 6 Nations in February, qualify for the World Cup, while trying to graduate at the same time. Hopefully, I'll get a seat on the plane to New Zealand to play in the World Cup against the very best players. In the coming years, I'd love to play rugby as a full-time professional."
Enya shows no signs of slowing down. In a rugby context, her natural talent, the right environments and access while growing up, have all been critical factors of this success. What seems to underpin it all is a deep determination, work ethic and sheer love of playing with others – all the while being humble. If young people in West Cork and beyond are looking for a role model, they couldn't do much better than Enya!