When Clonakilty Black Pudding's Colette Twomey, the sponsor of the town's rugby club, cut the red ribbon to open their brand new 4G pitch recently, the hard work of all at the Clonakilty Rugby Club was felt. Club chairman Eoin Hurley was happier than anyone to see it open, as it creates further opportunities he tells Matthew Hurley after a fantastic 2023.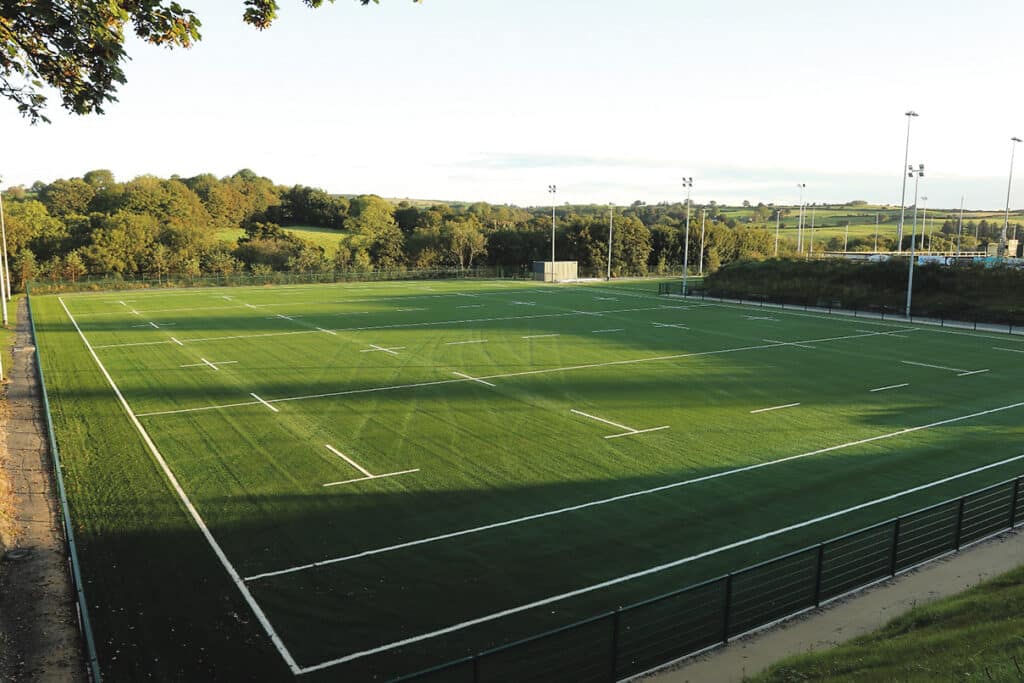 "It's extraordinary. It's bigger than we dreamed about when you see it in reality; the space we now have and the opportunity to train. In any weather, we can stick to our schedules and it's a huge opportunity to get the kids out there training," says Hurley.
"We can plan better too. Previously, we used two pitches and the training area, where the astro is now. That wasn't sufficient (for winter). We were using places like a small farmer's field, the GAA astro in Ahamilla, the hockey club and tennis courts. Sometimes we even went to Inchydoney beach, depending on the tide. This will make our lives easier but also gives great opportunities to the kids in a very safe environment."
The Astro has been two years in the making. One for the fundraiser. One year to build the new 4G pitch.
Munster rugby stars and Clon graduates John Hodnett and Cian Hurley, as well as Skibbereen grad Gavin Coombes were there to witness this historic event. As was Town Mayor Chris Hinchy.
To have the all-weather pitch now, especially with the storms the county has had over the past month couldn't have been more perfectly timed. During a time when rugby is at the forefront of the news with the World Cup, it's quite fitting that a rugby club got a brilliant new facility in West Cork.
"A lot of people have witnessed the construction throughout the summer but there were a lot of people that didn't see anything at all and were absolutely flabbergasted. We had a great day, thankfully the weather was good to us. We had a good crowd as well, I couldn't tell exactly how many but we certainly had 500 to 600 people there. There was great interest from the town and great support.
"We had a good branch of people down from the IRFU and Munster Rugby. It was a great day of celebration and went late into the night. Great sense of achievement, that was the main thing. It's great recognition. We were delighted to have people out to join in on the celebrations," the chairman adds.
It was a monumental occasion for the town too.
"It's a win-win for everybody. At the moment we are in the infancy of the astro and have been approached by other clubs to see if they can use it. We'll see how it all works out and we'll review it in six to eight weeks time. If there are slots, we'll certainly make them available to those who are interested.
"Whether it is local schools or the local soccer club or whoever. Even some businesses have requested opportunities to use it for five-a-side or seven-a-side soccer for internal things. We've had interest from Macra as well. They have their own competitions from time to time. It's great for the wider West Cork area I feel."
The kids have heroes in John and Cian and they can realise their dreams even more now that they get the chance to play in a new all-weather pitch.
"They were really happy to be there. I think more importantly though, the kids can see that they have managed to succeed in a very tough environment and excel in it. We have girls now in the Munster U16s at the moment," Hurley adds.
"We have some lads in various age groups, things that John and Cian did years ago and hopefully the kids from today will be just as successful. As a club, it gives us great pride in the two lads. We see more coming in the conveyor belt."
After the ribbon was cut, the U14 girls team played a red versus green match to open the astro in style. Fitting, considering the club has plans for an adult women's team in the near future.
"We had a ladies team a long time ago, it kind of dwindled away. It's almost 20 years since then. It is in a building phase at the moment, I can't see us yet being able to put out a strong 15 with five or six substitutes, we simply don't have the numbers," Hurley explains.
"It's a two to three year operation to get it fully up and running. We have a big conveyor belt of girls coming in. Our U16s and U18s are particularly big. We're in development this year, probably next year too. It'll be all go in the third year, in the Munster area anyway."
A year of progress and success in 2023 and the club wants to push on from it. The growth is evident on and off the pitch.
"It's a huge year for the club overall. We have achieved an awful lot. I think our girls group in particular has gone from strength to strength. We had a number of girls teams in the various leagues this year. The fact is though, to raise the money that we did and spend it well, it's already been a fantastic year for the club. We're absolutely thrilled with the product," the chairman concludes.