Relationships in Practice is an evidence-based programme to support frontline practitioners to take a relationship-centred approach in their work and to understand the transformative impact of positive relationships in their work.
The programme runs under the Social and Health Education Project (SHEP) and in collaboration with the Ag Eisteacht Foundation. While based in the SHEP offices in Ballintemple, Cork, the programme has national reach via its national network of trainers and through its online initiatives.
The Relationships in Practice team is Fern Higgins Atkinson, Programme Manager; Robyn Pinkham, Training and Development Coordinator; and Norma Roche, Advocacy and Training Coordinator.
The team gives us an insight into the Relationships in Practice programme.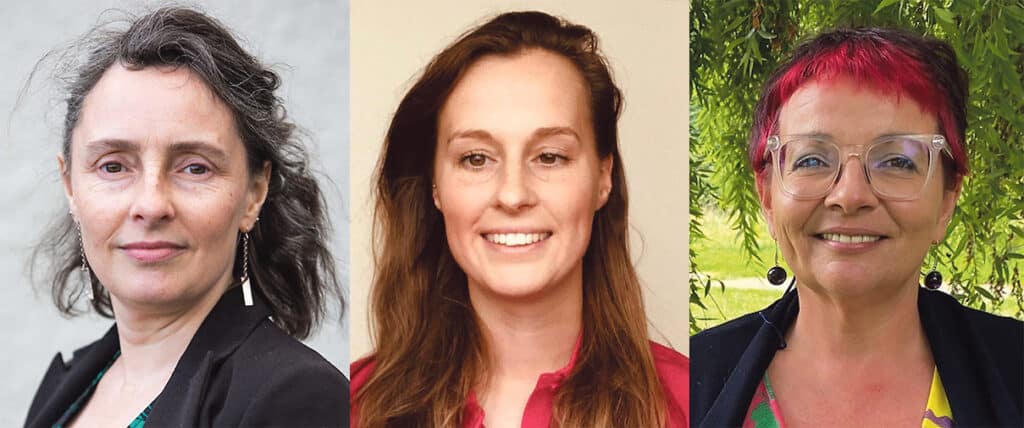 What is involved and how does it work?
There are four strands to our work: ABLE brief intervention training, advocacy, collaboration and evaluation.
We aspire to an Ireland where all practitioners are empowered with the skills and resources to respond in a sensitive and focused way when someone turns to them for help, particularly during times of change or relational distress.
Using our evidence-based ABLE training model (Adopt a relational approach, Build, Listen and Empower), we share knowledge, insight and tools to enhance practitioners' understanding of the transformative power of relationships. The ABLE model also gives a framework to manage their time and boundaries, which is so important given the pressure people and systems are under.
How does this contribute to better health and wellbeing?
Relationships are one of the key social determinants of our health and wellbeing. Evidence shows that positive relationships in our lives are buffering and protective; they make us feel safe and secure.
Frontline practitioners are ideally placed to build positive relationships in community settings, schools, healthcare and social care settings, and this has a positive impact on health and wellbeing outcomes for the service users, clients/patients they support.
The greatest gift we can give someone is our time, attention and respect so everything we do is centred around our mission to enhance their capacity to be present and attuned.
Take our work with schools, for example. When school leaders, teachers and SNAs understand the transformative impact of relating with empathy and compassion – or simply of listening actively and reflectively – we know from our evaluations and from the feedback we receive that this has a positive impact on outcomes.
But it's not just about training. On the advocacy side of our work, we have provided free and facilitated screenings of the documentary, 'Resilience: The Biology of Stress and the Science of Hope' to 700 diverse community-based practitioners throughout Ireland to date to raise awareness of the buffering impact of positive relationships, particularly for those who have experienced childhood adversity.
A big milestone was having this work honoured at the All-Ireland Community and Council Awards 2021 when we were awarded the Best Community Health Initiative and the overall Grand Prix award for our 'Relationships matter: building ACE awareness in the community' initiative.
Who can participate?
Every strand of our work has a focus on early intervention so the practitioners we welcome on our ABLE training programmes and other initiatives include early years professionals, teachers, principals, youth and community development workers, family resources workers, healthcare and allied professionals, social care and social work teams, speech and language therapists and many more disciplines.
Where does it take place?
We provide online and in-person courses. Our ABLE training offer includes a three-day ABLE4Practitioners programme, one-day commissioned courses, a five-day summer course for teachers and this autumn we will be running our online programme for principals and aspiring school leaders – ABLE4School Leaders: How and Why Relationships Matter in Schools.
This interactive, evidence-based programme has been endorsed by the Centre of School Leadership (CSL) and is now in its third consecutive year.
As it is online, this makes it accessible to school leaders from all over the country, and we hope that principals from schools throughout West Cork will join us in this small group, experiential learning experience this year.
Bookings are now open as it starts on October 11, and it will run over five days until November 15. It will include two further days in January 2024 to help establish a community of practice for school leaders interested in taking a relationship-centred approach in their schools.
As with all our courses, it is heavily subsidised as we work on a not-for-profit basis.
In a course evaluation, 83.3 per cent agreed that the course was relevant to being a school leader and agreed that it developed their skills to build quality relationships.
A previous participant said: "It provided me with the critical skills to deal with complex issues that arise daily in a dynamic environment. Keep doing what you are doing – the training is fantastic and the more people that avail of it the better for our education system. Míle buíochas – you are amazing people and you understand the needs of children and adults especially those with significant aces in their lives."
For training details please see www.relationshipsinpractice.ie/able4schoolleaders or contact robyn.pinkham@relationshipsinpractice.ie to secure a place or phone her on (087) 1466011.
For programme details contact fern.higginsatkinson@relationshipsinpractice.ie or (087) 1751259
For advocacy information contact norma.roche@relationshipsinpractice.ie or (085) 8619468