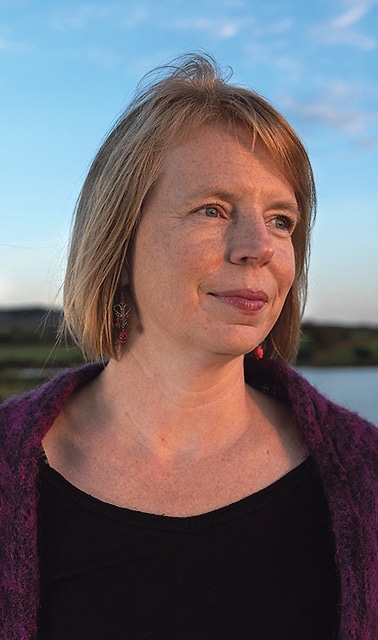 E
nd of Life Matters
End of life Doula Melissa Murphy, a companion, guide and resource supporting our community in end of life matters.
www.starsbeyondourskin.com 
If you're familiar with this column, you have an idea of what 'end of life' or 'death doula' means – a profession, as well as movement, that's expanding globally. Simply put, it's a non-medical role providing accompaniment, navigation and education about end of life. I'm one such person offering this service while growing a practice here in West Cork. I learn from every individual story and experience that finds me, while continuing to refine what this work means. An end of life doula can be defined in a number of ways depending on who they're assisting. I resonate with being an informed companion bringing comfort, compassion and assistance to individuals as well as their loved ones; creating a space for them to feel safe and supported during the transitions of dying, death and grief. End of life doulas are not entirely new, as throughout history, people have been supporting dying and death in their communities. Today those of us engaged on this path are inspired by the role of birth doulas, also non-medical supports for individuals and families planning for birth. Birth doulas are often involved in preparations before, during and after a birth happens (i.e. post natal care). I too support people in personalised pre-planning (helping to clarify end of life wishes), during the transition of dying (i.e. vigil if requested) and in bereavement/grief, care after death has occurred.
I'm often asked: who is it that contacts me? And my answer varies. Certainly included are people who have faced or are presently living with life-limiting illness, those receiving hospice or palliative care, others living in care homes, and carers themselves. Some would like in-person visits, while others solely prefer phone contact. I connect with a range of ages and genders, locals and 'blow-ins' – all are impacted by grief. There are also a good few who want to learn more about how to 'do' this work while others are curious to research or share more about it (via various media platforms). For those looking to hire a doula, contact might be a one-off or it can be ongoing; monthly or as needed. Those who contact me for self-referral are primarily seeking companionship; meaning someone to talk with about anything to do with the end of life. Some people have a broad support network around them, but still feel they'd like a neutral person (someone not directly related or involved emotionally) to share candidly with. While important and deeply meaningful, talking with someone close to us can be gently supported with additional guidance. I've also come across individuals who want to be proactive and are genuinely open to approaching the end of life in an integrated way. These folks tend to view death and loss as a part of life; something we must face as with all other stages and milestones.
Caregivers: sometimes these are the people I'm exclusively in contact with; offering listening and acknowledgment; witnessing their own unique grief. As an end of life doula, I help them to navigate a lot of information while being a steady presence for the multitude of decisions they often must make. Again, our contact may be only from time to time (I'm always led by those I support). In these cases, some have expressed that just knowing they have someone to call offers much relief.
For those already receiving palliative care or hospice services, my role can be a complementary to the collective. As an end of life doula, I have more time to spend with contacts as I'm not limited by regulations or numbers of people I must attend to. I understand this well, having been a health care and specifically hospice-based social worker, in the past. As an end of life doula, I can also offer to bridge gaps as they occur with these services. Like healthcare providers, I advocate for the people we support by validating their wishes and needs, but I can also show up at times when it's not possible for others. I've had the opportunity to be involved in working partnerships at a local care home. When all are in communication for the greatest good of 'patients' and families, this creates an enriching experience to mutually reflect upon. As an example, a 'patient' adjusting to a care home move then began their transition of dying. It was evident that their complex physical needs required the attentiveness of multiple nursing staff in the care home, as well as palliative care to supplement for optimal comfort. During this period, I was able to be with the family as they requested. In doing so, there were opportunities to be present for anyone in need of extra support. There was also ample space to normalise the dying process and to facilitate plans for the remaining days, including after death. I could be there for the 'patient' with regard to expressing his wishes. They needed to be thoughtfully communicated because of an inability to verbalise due to progression in illness. I now continue to provide bereavement support to the family since the death occurred last month and have been asked to join in a personalised celebration of life that's being crafted by them.
As an end of life doula, I'm a presence attuned to the personal needs and priorities of those I'm privileged to support (after all, the root meaning of 'doula' is to serve). By practicing humility, I can step back as people connect with their inner 'doula' – the role is also about empowering people; reminding them of this truth. I'm inspired by and continue to learn from others who work as end of life doulas or in similar roles at life's thresholds. Canadian Sarah Kerr is one such person who shared the following poignant reflection: "You can't prevent death from happening, but you can choose to meet it in a sacred and healing way."
To learn more or to connect with Melissa, email her at starsbeyondourskin@gmail.com or visit www.starsbeyondourskin.com.
She also welcomes your questions or ideas for future columns.