by Elizabeth Walsh
Walking in my shoes – accessibility explained. Each and every day our lives impact on each person's life whose path we cross, metaphorically and physically, positively or negatively!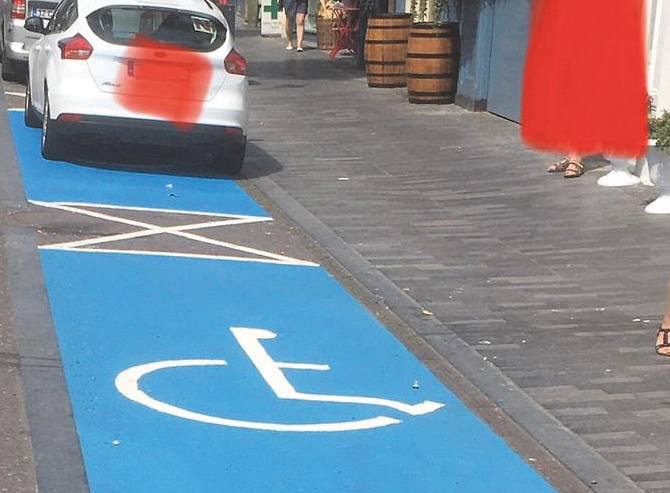 She reverses in slowly, raising the windows, closing off the welcome air supply. A glorious day. She gathers handbag, mask, phone. Positions walking aid within reach, about to push open the car door. A car skids to a halt and begins reversing into the hatched area between the two accessible car parking spaces. Effectively, imprisoning her in her car. She beeps the horn, politely. The driver looks. She lowers her window again and explains that "It is not a parking space; the hatching is to enable People with Disabilities (PWD), like me, to enter and exit their vehicles". The woman drives on.
An articulated truck is parked in an accessible space and the hatched areas, either side of the space, blocking a second accessible space. The driver is unloading. A man enquires why the truck is parked illegally blocking the accessible parking spaces. "There are no parking spaces available, I have to do my job".
His parked car comes into view as he rounds the corner in his wheelchair. He slams his hands to his wheels to brake. "What the hell"! He rolls closer. No solution. Been there before. A car is parked so close to his door in the hatched area, it cannot be accessed. Bucketing down rain. Another sit and wait job.
The young man is conspicuous. He sits in a car in an accessible parking space, without a blue parking permit displayed. A quiet Sunday morning, there are many available spaces, just not at the 'door' of the shop. Asked politely if he realises that he is parked in an accessible parking space, his response is, "I'm only here for two minutes! My partner is not long out of hospital"! He is politely told, "This is not a two-minute parking space. It is not a parking space for people not long out hospital, it is accessible parking for PWD, is enforceable by law, and is subject to a €150 fine for violations". The young man moves his vehicle.
The car becomes conspicuous as the driver suddenly emerges, rapidly, having been apparently waiting, no obvious disability. It may be a hidden disability, there may be a passenger with a disability, it may not be possible to identify a blue parking permit on the windscreen. Ten minutes later, the car is still there, not displaying the appropriate blue parking permit. Inside it a woman and two children are enjoying an outdoor dining experience with a box of take-away pizza. She mouths, through pizza, "I know, I am only here two minutes". The response, "You are here a minimum of ten minutes, and this is not a two-minute, a ten-minute, or outdoor dining parking space, it is an accessible parking space". The remaining two slices of pizza are dumped on the child's lap in the front seat, and she takes off at speed.
She sees the car in the accessible space of the multi-storey carpark and realises that it is not displaying a blue parking permit. She climbs out of her car, and laboriously makes her way to the driver's door. "Could you please let me park here? I need this space". The young girl issues a shocking expletive in her direction. Resignedly, and hopeful that her young daughter had missed the exchange, she makes her way back into her car. She reassures her daughter that she will find a space and manage. She parks in a standard space which appears to have the most width from other cars. Her disability makes it challenging to exit the car. She struggles to unload her daughter's wheelchair, jokes with her, to lighten the moment, dissipate the tension, alleviate her distress. So difficult to haul her out a half open door to a wheelchair at the back of the car. Finally, as they roll towards the lift, the young girl drives out of the accessible parking space, past them. Lunch is over.
Second time around the town, eyes darting, searching for an available space. So busy. So frustrating. One available accessible parking space, a car is parked across the hatching behind it protruding into the space, effectively rendering it unusable. A van is nosed right up to the space at the other side. Maybe third time lucky.
Supermarket parking is always busy but especially in the summer in West Cork when visitors and tourists abound. Especially for PWD. Accessible parking is not a concession, but a necessity to access the shop. A woman, with children, a supermarket car park. An entire car park reverberates with the news that she can identify a PWD parked in the family spaces. PWD do have children, sometimes several; family spaces are also accessible spaces. PWD have families. This woman looks around and in outrage, parks in an accessible space.
Flashy vehicle, devoid of a blue parking permit, young driver, chatting in sunshine, parked in accessible parking space. "Excuse me, I notice you don't seem to have a blue parking permit, you are parked in an accessible parking space?" "Two-minutes" he responds. "This parking space is for PWD; while you are blocking it, an actual genuine PWD who needs and is entitled to the use of this space, may pass as it appears occupied, and be unable to park". A woman lurks nearby, "Leave him park where he wants," she says. "Waiting for someone in shop, be two-minutes. Not moving". Takes out phone, more harassment emanates from lurking bystander. "That's ok so, I will just give the Garda station a call, there is a fine of €150 as you are breaking the law". The jeep pulls out, drives off.
The take home message is that accessible parking spaces are exactly that, not two-minute parking spaces, not delivery spaces, not outdoor dining areas, hatching is not to be parked on, and having children is not a recognised disability. Selfishness, lack of a moral compass and low integrity, does not excuse poor and unacceptable behaviour. Think before you steal someone's independence, right to access and mobility. What if it were you, your child, your friend, your family member? Does your moral compass extend to people whom you do not know, what example do you give to your children, to others in the community?
Please report all violations of accessible parking to the Gardaí. In standing together we support our most vulnerable. A community can surely be judged by how it treats, supports, and protects, their most vulnerable citizens. A community will surely command the respect of others, by the respect it affords PWD.
Note clarifying accessible parking spaces:
Accessible parking spaces are provided for PWD who are entitled to, and who are in possession of, and displaying, the statutory blue parking permit, on the windscreen of their car, issued by relevant authorities. These accessible spaces are defined in law, therefore, anyone violating these spaces, by parking in them illegally, and breaking the law, becomes subject to a fine of €150.
On-street accessible parking spaces should have hatched areas (accessible parking standards best practice, IWA) to the front and back of the parking space. This is to enable the loading/unloading of wheelchairs/mobility equipment/passengers/drivers from the rear door of vehicles. Car park accessible spaces should have hatched areas to either side of the accessible space. This is to enable the driver/passenger to open their door fully to exit/enter the car (dependent on their specific disability), unload/load wheelchairs/mobility equipment and for the safety of PWD who require additional space to manoeuvre in. It is important to note, that many PWD cannot exit or enter their vehicles, transfer in/out of their wheelchairs or use their mobility equipment, without the use of an accessible space.