Cork golfer John Murphy talks to John Bohane about his recent win, the prestigious Byron Nelson Award for 2020, following a very successful season operating in the US College circuit.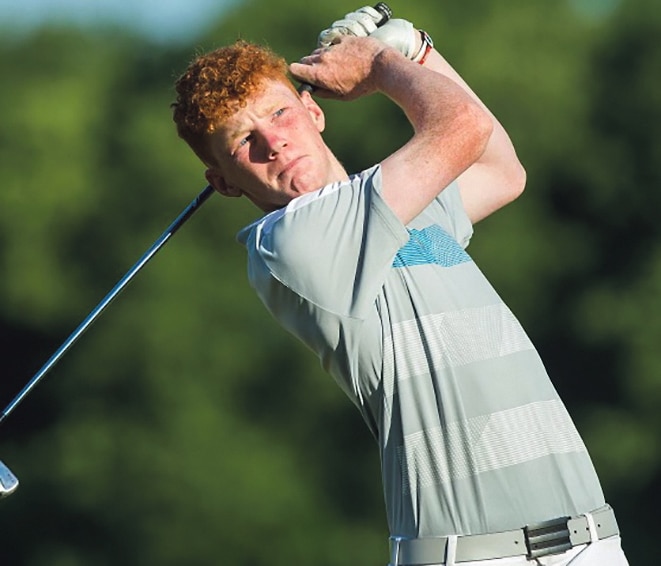 As a result of capturing the Byron Nelson Award, John will gain a PGA Tour start in the AT&T Bryon Nelson Classic, which will be held in Dallas next May. This will represent a huge moment in his golf career and reinforces his status as one of the most promising young talents currently plying his trade in the US at present. The talented golfer, currently back in Kinsale for the summer, also plans to return to Louisville for another year of college golf when the US colleges re-open this autumn. The Byron Nelson Award is based on the candidate's academic and sporting stats over the college year. It also places huge significant on the integrity and character of the nominee. John excelled in all categories and deservedly captured the award.
John has easily established himself as one of the most promising players in the US College circuit following a series of outstanding displays over recent months. The Kinsale man chose to study Marketing in the University of Louisville on a full sports scholarship. John quickly settled after moving over to the States. He relished his time in Kentucky. "It was undoubtedly the best decision I ever made. The numerous student-athletes all working collectively towards a common goal makes for an incredible atmosphere," revealed the golf star.
John quickly learned to balance most effectively his academic and sports requirements. Participating in golf tournaments throughout the States requires a lot of travelling. John managed to excel at both thankfully, as he revealed. "It was quite challenging trying to balance studies with time spent in the gym, travelling and going to the golf course. We are very lucky with the help we get and the resources that we have to make it all possible. The overall facilities of the university are super."
The Cork golf ace who enjoyed a brilliant underage career on the Irish golf circuit had an array of US Universities lining up in a quest to secure his much coveted signature. John is thrilled he chose to link up with the Louisville Cardinals. "I was talking to a few other universities, but the assistant coach at the time, Aaron O'Callaghan of Douglas, was exceptional with the recruiting process. He gave me the opportunity to compete here and worked extremely hard to make sure I was eligible to play in time. I have really enjoyed living here. The culture is quite different. I live with two Irish friends, which helps. There's also Mairead Martin from Kanturk on the women's team who just finished her second year here. The city of Louisville doesn't really have any sports teams, so the fan base of Louisville is essentially based around university athletics which is pretty cool."
Since making the move to Kentucky on a full-time basis three years ago, John is very positive that his golf game has improved substantially since he made the brave move. "The facilities are second to none and they have certainly led to the improvement of my game. I've felt great about my game the last couple of years. I was disappointed with how I had been playing last summer, but I managed to put that behind me. Since I returned to Louisville, I have enjoyed a season that I was very happy with. I have been putting in a lot of work with my coach, Ian Stafford who I have been with since I started playing golf. Getting advice from Ian and other coaches Paul Kiely and Neil Manchip has really helped my golf game. It has made me realise the importance of surrounding yourself with a good team."
The proud Cork man loves travelling home when he can at summer and Christmas time. His busy schedule ensures he doesn't suffer from too much homesickness. John is grateful to his family for their supportive role. "Even though I love Kinsale and Cork so much, everything was almost moving too quickly for me to miss it initially. Every semester flew by. There were certainly times where I would love some of my parents cooking or to meet up with my friends, but you can't have everything. My family are incredibly supportive and would follow me everywhere if they could. I owe everything to them. My sister, Faye, has also had to sacrifice a lot for the benefit of my golf, which is something I am very grateful for. Growing up in an area like Kinsale, I didn't quite realise how lucky I was until I got the opportunity to travel more. It's an amazing place and community. I'm glad I can always call it home."
John was made an honorary member of Kinsale Golf Club in 2018, a huge honour for the proud Kinsale man. He loves representing his beloved golf club. "I owe a lot to the club and the work that they do to allow juniors to develop. The junior section in Kinsale is exceptional. Ger Cullinane was my junior officer when I first became a member there and the work he did for us was exceptional. We had so many opportunities because of him. I love coming back and getting to play in Kinsale. It also enables me to see a lot of people. Becoming a life member there was a great honour and is something I will never forget."