Former Castlehaven and Cork senior football star Colin Crowley is loving life in New Jersey. The talented GAA star is the owner of Benessere Wellness Center and Spa. Covid-19 has posed a huge challenge this year from a business and health perspective, but the sports star is optimistic for the future. John Bohane catches up with the ace forward who enjoyed such a successful career for both club and county.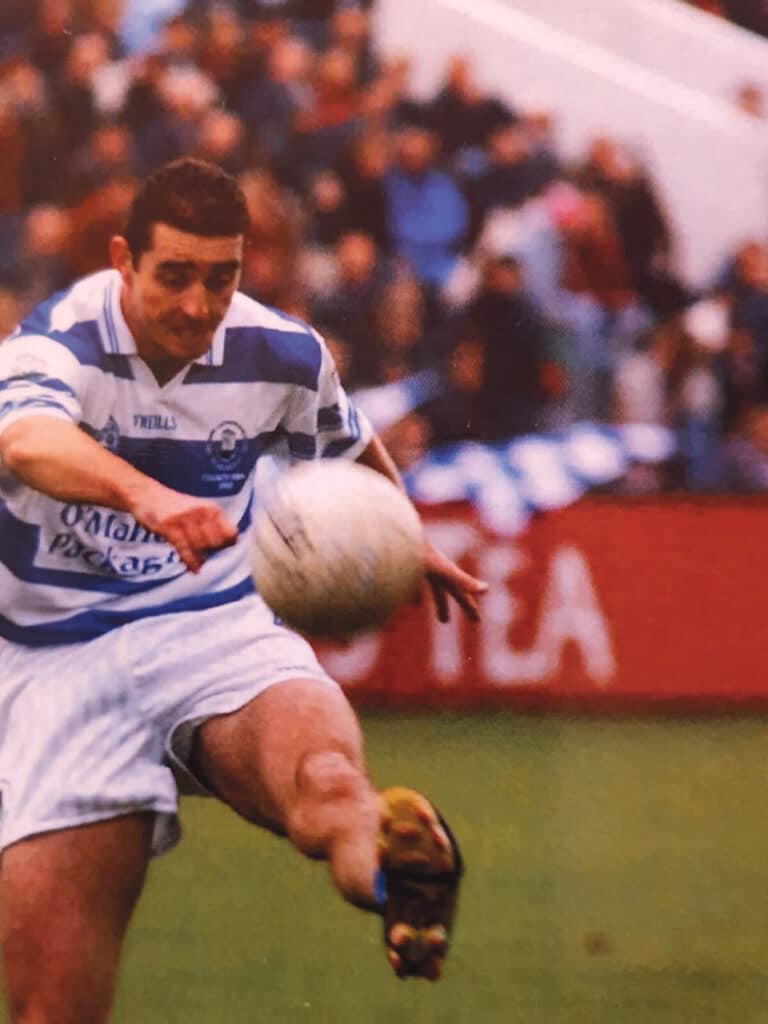 Colin Crowley made the brave decision to move to the States over ten years ago. "Initially the change was difficult and challenging having to establish a new career and lifestyle," he explains. "But the people in New Jersey are hard working and very gracious, so I quickly felt comfortable and wanted to start new roots. I am extremely thankful for the opportunity my move to the US has afforded me. I have also remarried and am lucky enough to be part of a wonderful extended family here now both in New Jersey and California."
The recent global pandemic Covid-19, which ruthlessly swept through every country, has left its mark on the USA in tragic fashion with substantial deaths still being recorded and a trail of destruction left in its wake. New Jersey has suffered immeasurably reveals Colin. "We have been impacted very much so I'm afraid. About three weeks after our first coronavirus infection was discovered here in this region, we accounted for roughly five per cent of global confirmed cases, making it an epicentre of the pandemic, which prompted our governor to take hard action. The social and economic impact has been devastating, but our community is doing its best to support one another. New Jersey continues to be one of the only states in complete lockdown, but we are optimistic that businesses will be allowed to reopen again very soon."
Colin and his family try to return home to Castletownshend to visit family and friends once a year. He admits that leaving to pursue his goals in the States was the hardest decision he has ever made. "Without a doubt, leaving Castletownshend, Castlehaven, Cork, and Ireland, was the toughest thing that I have ever had to do. It was a life-changing decision in many ways, but once you make a decision like that you have to commit fully to it and make the best of the opportunity ahead. Leaving my father Denis, my mother Frances and my brother Alan was extremely difficult, but they were so supportive and positive about the move. At the time I had been working with An Garda Siochana at Anglesea Street Garda Station in Cork City with an exceptional group of people for about ten years. The decision to leave such a prodigious organisation and a lifelong career wasn't without doubt. We try to get back to Ireland every year, again depending on the demands of the business. At some stage, I would love to return as, at least, a part-time resident."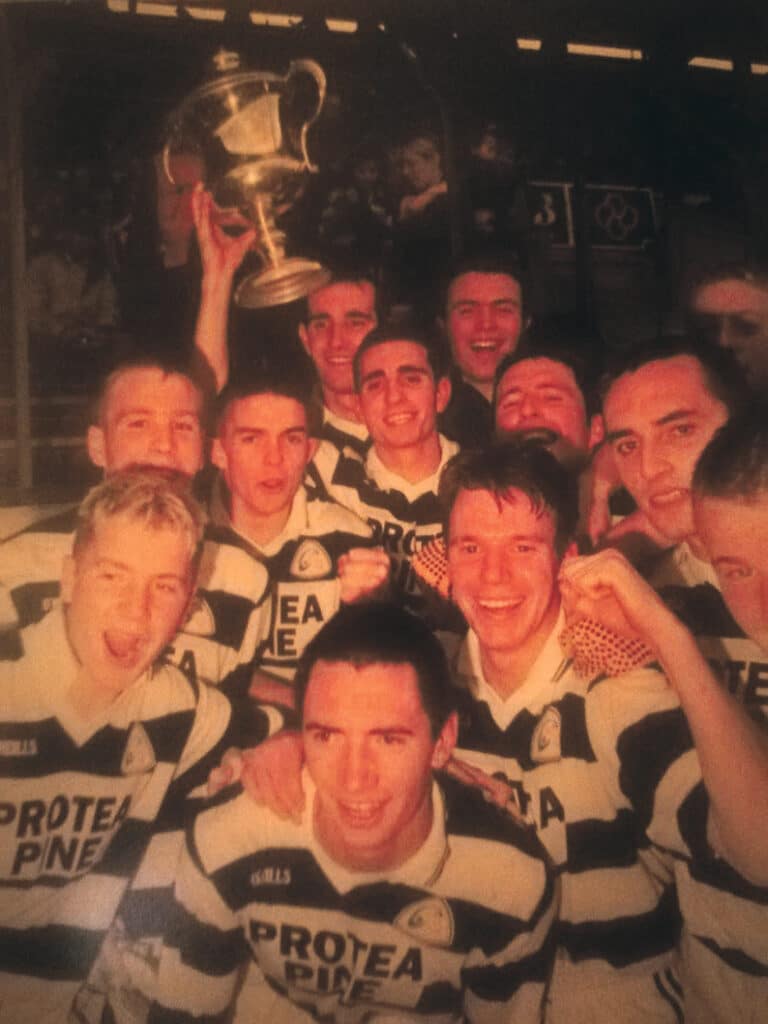 Throughout his sporting days, Colin loved being active, fit and strong and saw a niche in the market for personal health and fitness, establishing his own business in 2013. He is delighted with the initiative thus far. "I really wanted to begin a career that culminated all of my passion, experience and knowledge gained through my years as a GAA player and my further education in strength and conditioning and corrective exercise. In 2013, I decided to take a leap of faith and created a new business here in Summit, New Jersey, called Benessere Wellness Center. Over the years we have expanded to include over 50 different services ranging from corrective exercise and physical rehabilitation to acupuncture and therapeutic massage, all of which are designed towards creating optimal health and wellness with a holistic approach. Pain management and postural rehabilitation tends to be the largest part of our business. I love the challenge of helping people create healthier lifestyles and all the challenges that come with running a business. We have developed some wonderful clients and friends."
Colin still keeps in regular contact with his former Castlehaven colleagues. He continues to follow their progress from afar. He loved his time playing for his beloved Castlehaven. "I love following the Haven in the club championship and Cork in the All-Ireland championship. I keep in touch with a lot of the lads from the 2003 county winning team. I get regular updates and they keep me up to speed with the club's prospects and fortunes in any given year. I was very lucky to have been given the opportunity to play for both Castlehaven and Cork. I look back with fondness and pride to have been a part of it. My senior club career with the Haven started when I was 17-years-old. There was a great team there at the time. Niall, Dinny and Fra Cahalane, John, Denis and Edmund Cleary. Larry Tompkins, Dave O'Regan, Mike and John Maguire, Brian Collins, Donal McCarthy and Liam O'Connell. Then you throw youngsters like myself, Alan Crowley, Kevin O'Donovan and Brendan Deasy into the mix and it's a formidable team. Playing on that team, with players that I would have looked up to for years, as a kid, was a very special memory for me. Winning an All-Ireland Sevens in 1995, a Munster Club in 1998 and a county in 2003 were amazing memories for me. Every time I got to put on a Cork jersey in the National League or championship was also a wonderful memory."
Colin enjoyed a very successful club career with Castlehaven. The highlight of his club career came when he helped them defeat Clonakilty to capture the senior county title in 2003. The gifted forward has great memories of that fateful season. "Winning the county final that year was certainly one of the highlights of my football career. It was an important victory because it marked the arrival of a group of successful underage players that now needed to produce the goods on a senior level. It certainly was a fitting end to all of the hard work and dedication that the entire Castlehaven parish put into the preparation and readiness of our senior team that year. Not for just the players and coaches but for the coaches and management team, the families, former players and, of course, the supporters of Castlehaven all over the world."
GAA clubs are notorious for having family dynasties backbone a lot of their success. Castlehaven were fortunate to have the two Crowley siblings, Colin and Alan spearhead their quest for glory. Colin enjoyed winning and playing alongside his brother Alan. "Castlehaven have produced some exceptional football players and athletes, the finest in the country. I'm sure all Castlehaven people who witnessed Alan Crowley in action, believe that he is up there with the very best. Alan also played minor, U21 and senior football for Cork. What a lot of people don't know is that Alan at that time of the 2003 county final he had a degenerative spinal disease and he still made a conscious choice to push his body to the limit. He knew it would take him weeks of agonising back pain after each game just to recover and put himself right back on the field again. I am extremely proud of him. My father Denis sacrificed his life for the GAA to witness Alan making a similar sacrifice. It was very tough for me, but it was also a massive motivational factor for me to produce a level of performance that they would all be proud of."
Colin underlined his star ability, as he produced a Man of the Match performance in the 2003 county final. He recorded a personal tally of 1-4, which enabled his side defeat Clonakilty. The modest star is full of praise for his colleagues. "I have wonderful memories. There were many candidates for that man of the match award on the day and I'm lucky that I was chosen. Our forwards diligently did the job in the first half by pushing us well clear at halftime. Our backs led by Liam Collins weathered the late onslaught and pushed us home for a win in the second half. That was a great win. It was an amazing day for the parish. Winning it on behalf of my parish, coaches and teammates gave me great satisfaction. All you can do is prepare for a game like that the best way that you can to give your team the best opportunity for success. As a team we had trained so hard. So many people in the parish gave everything they had to the cause that year and they deserved that win. It's funny because when I look back at that accolade I don't think of 1-4 scored in the county final, I remember the hard work done during training on the sand dunes at Inchydoney. I remember the sacrifice made by my teammates at every training session. There was an unbelievable philosophy that year both from the coaching staff led by James McCarthy and also by Darren Fitzpatrick who was our strength and conditioning coach. He was instrumental in our success that year. From the very first day that he arrived in Castlehaven to meet us he demanded a change in attitude, a change in mindset. He had a vision of training like a professional team and he made sure that we all bought into that philosophy. I loved that physical stuff. The man exposed team weaknesses, broke us down and then rebuilt us as a team in a way that was astonishing. Fitzy created a bond of strength and union in that team that was forged from suffering and pain."
Following on from the 2003 senior county title, Colin was afforded the huge honour of captaining the Cork senior footballers for the 2004 season. He relished his time playing with the Rebels. "I feel very privileged to have been the Cork senior football captain in 2004. Billy Morgan is a Cork legend and was the senior coach at the time, so to be able to work closely with him and learn from him was a real highlight of my career. It was impossible not to listen and learn from him. He commanded respect from his players. I remember Billy having such a strong vision and intensity that had to be matched in each play on the field and if this didn't happen, he would let you know about it. Billy is a great communicator. He had a way of making you feel like you were invincible playing for him. There were some fantastic players on the Cork senior football team at that time. It was an honour to play alongside them and to have the opportunity to captain them. I also have some great memories of playing for Cork in the late 90s and early 2000s under Larry Tompkins. Growing up, Larry was a huge inspiration to me. He gave me my debut as a Cork senior footballer and I will be forever thankful to him for that and for all the guidance and encouragement he gave me throughout my career. Just having the honour to wear the blood and bandage after guys like Larry, Niall Cahalane, Conor Counihan, Stephen O'Brien, Billy Morgan and so many other fantastic Cork players was a real privilege. A particular game that sticks out in my memory for me was scoring two goals and three points against Kerry in 2003. They were reigning All-Ireland champions and it was the league opener at Pairc Ui Rinn. It was the very first national league game televised under lights, so it was a nice evening to perform well. Beating Kerry in the Munster semi-final and winning a Munster final against Tipperary in 2002 were also great memories."
Colin has no regrets from his gloried playing career. He followed in the footsteps of his father in playing with great distinction for his local GAA Club. He hopes one day to be involved with Castlehaven GAA Club once again. For a young sports-obsessed teenager from Castletownshend, he has fulfilled all his ambitions from a sporting perspective. He looks back with great pride on his club career. "Having been lucky enough to grow up in Castletownshend, it was a dream come true to play for them. The Castlehaven people are just amazing. Gaelic football courses through the veins of everyone living there. It's in their history. It is in their DNA. It is in their dreams of what the future holds for the next generation. Our foundations in the club were laid by the hard work and endeavours of those who came before us in the 50s, 60s and 70s from Junior A to Intermediate and then our first senior county final in 1979. My father Denis would have played alongside most of those fellas. Unselfishly everybody in the parish is involved in the club. I was well aware of this in my young days. My four heroes at that time were three Castlehaven and Cork stars John Cleary, Niall Cahalane, Larry Tompkins and Cork legend Billy Morgan. You would see the Haven senior players in the village on a daily basis and I would beg my mother to take me to watch them train a couple of nights a week. As a kid, I remember waiting for any opportunity to stand behind the goal to gather a loose ball and kick them a pass in hopes that they would notice that you have a decent peg. Luckily I had the opportunity to train with the senior team when I was 16 and then the following year it was a dream come true to line out next to John, Larry, Mike, Niall and the rest of the team. These guys were on a different level, possibly the best footballers in the country! I will be forever thankful for that opportunity.
"As a player you always have that one coach. For me it was James McCarthy. James had an immense influence on both my underage career and senior career. He was my coach at all the underage grades. We won West Cork championships in all the grades. We won county titles in minor, U21 and senior together. He was responsible for pushing me into the senior spotlight as a youngster, Jim Nolan gave my brother Alan and I the opportunity to go with the senior team and play in the All-Ireland seven-a-side tournament, which we ended up winning. Christy Collins was the first senior coach to give me an opportunity to play with the senior team. I will always be thankful to Christy for that opportunity. He had a passion for integrating youth and experience into a side and making it look seamless.
"There's an old Greek proverb that tells us, "A society grows great when old men plant trees whose shade they will never see". The Gaelic football culture in Castlehaven echoes that philosophy."