Skibbereen's Coombes family has become well-renowned in rugby circles in recent years. Gillian Coombes is a member of the successful Munster Women's side that won all their matches in the Vodafone women's interprovincial series for 2023. They beat Ulster (34-0), Leinster (26-17) and Connacht (50-24) to retain their title and the 29-year-old Coombes, who now plays club rugby with Ballincollig RFC as a second row, tells Matthew Hurley how delighted she is with their success.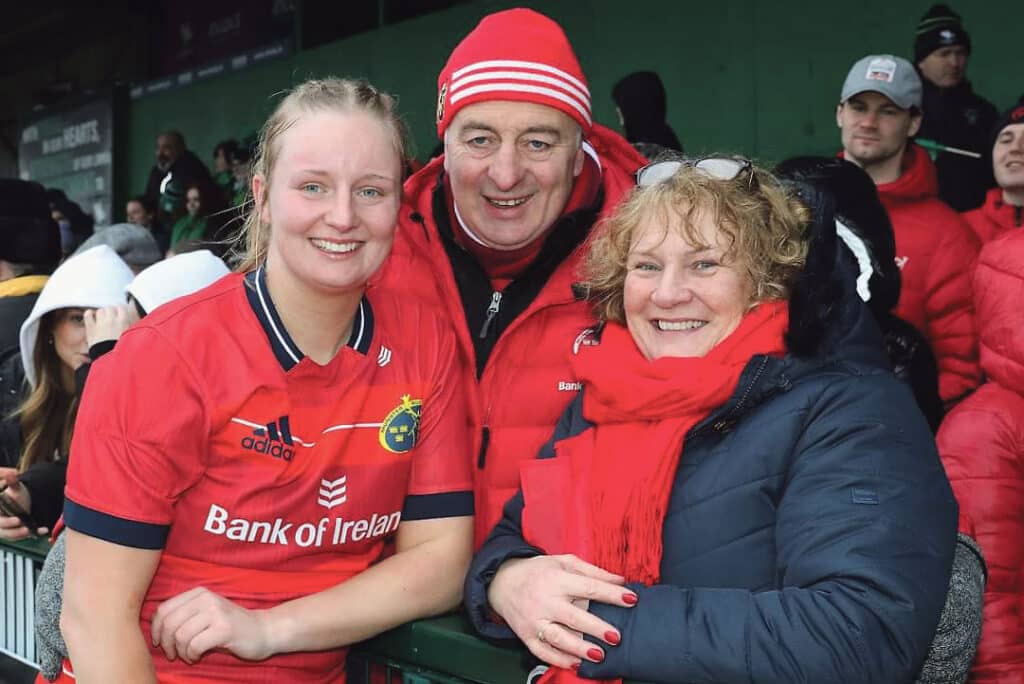 "The instant feeling was joy and delight. I know a lot of the girls on the team won it the year before so to win it back-to-back was very special. It was unbelievable in my first interpro series. It made the journey even better," she says.
The team has four West Cork girls in their ranks. Skibbereen natives Coombes, Enya Breen, Abbie Salter-Townshend and Urhan's Laura Sheehan all played their part.
It is a thrill for Coombes to play with girls who originate from West Cork. "It was lovely. We are all so spread out now. Laura Sheehan is playing in England for Exeter Chiefs, Enya is playing in Dublin for Blackrock College and Abbie is playing in Limerick with UL Bohemians. Typically, I wouldn't get to stand on the pitch with them, so it is just a great experience to have the opportunity to do that."
It was extra special to play with Breen and Salter-Townshend especially because of the Skibb connection. "Our families would all know each other. We grew up together, so it is great," Coombes says.
Munster won the interpro title in 2022 too and the clear aim was to win it for the second time in a row, a brilliant achievement.
"It was a bonus that we were able to do it with a clean sweep. We saw the Leinster game as the one to win especially," Coombes explains.
"That most likely would have determined who would win the series. All the teams were tough though, Connacht put it up to us too in the last game."
Family is important to Gillian. Her brother Gavin (25) was part of the recent Irish Grand Slam winning side. When she made her debut against Ulster, it became a brilliant occasion not just for Gillian but for the whole Coombes family that weekend.
"You just want to go out and perform. Once you look back at it, you only realise then that it was a dream come true. It was extra special because Gav played on the Friday night in Musgrave Park, and I was able to play on the same pitch the next day. It was nice for my mom and dad to see both of the games," she says.
In general, the Coombes' have played a huge part in keeping Skibbereen RFC going, although Gillian didn't start playing the sport regularly until after college.
"My dad would have played rugby when I was a child, and we'd go to the Skibbereen RFC games. The sport has always been a part of my life though.
"I would have played a bit of underage with Skibb U10s boys team but then I stopped as there was no girls team.
"Dad was a big part of the club obviously, Mom was always in the kitchen helping out every Sunday after matches giving out soup and sandwiches. It was always an element in my life," Coombes says.
Gillian's other brother Kevin (27) also played underage rugby for Skibbereen along with Gavin while her sister Claire (24) played for Bantry as there was no underage girls side in Skibbereen.
The oldest of the four children, Gillian played basketball and Gaelic football going through college.
"Even though my siblings are younger, they've been playing a lot longer than I have. I followed them," Gillian laughs.
In playing different sports, her skills on certain aspects of rugby has developed her into an accomplished player today.
"Football and basketball are useful for a lot of things including hand eye coordination. It's important for children to grab that opportunity. Our parents would have encouraged us to give everything a go. Then when we were older we decided what we liked most," she explains.
Coombes is currently a teacher in Bandon and, like many athletes that have a job alongside a high-level sport, it is a challenge at times. She isn't the only player to have a job along with playing though.
"It's tough. During interpro time, we were up in Limerick three times a week in the evenings on top of my job. The fact I finish school at three o'clock, I'm kind of lucky that I have the time to drive up and down to Limerick," Coombes says.
"When we had to do gym work in the mornings, there was a lot of commitment to get to the level. It was a lot of effort from all the girls, some would have been travelling from Dublin. Laura Sheehan would have been travelling from Castletown, that's three hours just to get to a training session."
Being a Munster rugby player takes up a lot of time management too as Coombes has found in the past year.
"It does take a lot of organisation from your own perspective because you have to fuel prep as well. It was important that our nutrition was right. It takes a lot of commitment if you want to succeed at the highest level."
In terms of club rugby, Gillian used to play for the Skibb boys at underage before playing for Bantry at adult level and what followed was a move to Ballincollig.
It is fair to say that the trajectory of the club in Mid Cork has gone up since she joined them.
"When I started with Ballincollig, we were just in the Munster junior league whereas now up in the All-Ireland league which means we do an awful lot of travelling around Ireland. We could be up in Belfast, Galway, Dublin. It does take up a lot of time, you got to go to extra gym, training twice a week and nothing more. It is a big step up in intensity and commitment required. In addition, the general standard is much better," the 29-year-old admits.
Continued success with Munster is a big aim for Coombes and the rest of the team.
"We need to make it three-in-a-row of interpros. It was a little bit disheartening to see people who should have made that Irish squad that didn't. We were so dominant this season, so it was a shame more of them didn't make the cut. I have no doubt that it will light more fires in peoples bellies to go on and progress.
Despite the hope for her teammates and the whole Munster team next season, Coombes admits that she is thinking about going back to basketball. One more season of rugby perhaps.
"I'd say if I make a Munster squad again next year, it would be a big achievement for me. I'm older now so I don't think I have many years left playing rugby unfortunately. My body is not able for it anymore.
"I would like to stay involved somehow, like helping out an underage team. I would actually like to go back and play basketball someday to keep fit. That might not be as hard on the body as rugby is," she concludes.
Whatever the future holds for the Skibbereen woman, this season has been a memorable one for her. Not just in a sporting context but having success with the girls she grew up with too.