It's rare to see a West Cork athlete ply their trade outside the country, but Bandon born Ronan Crowley, who plays for the Robert Emmetts Hurling club in London and for the Exiles at inter-county level, is one to watch says Matthew Hurley.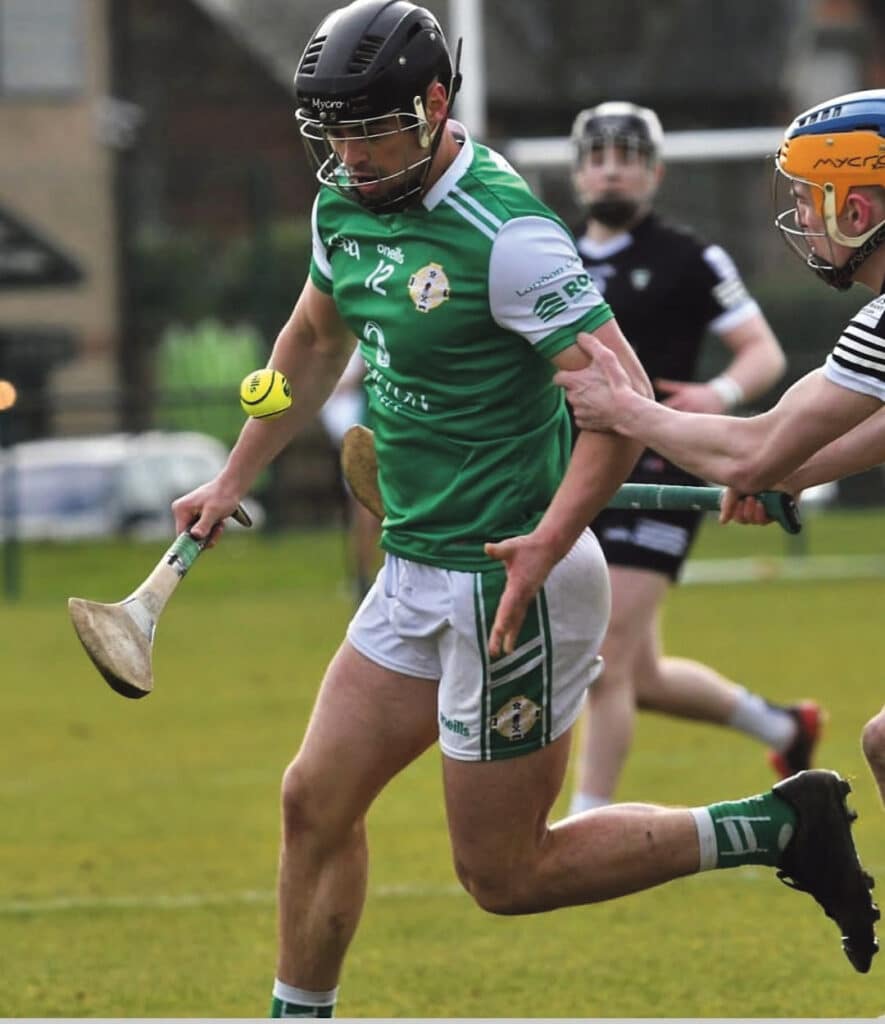 Crowley was the third top scorer in the Allianz Hurling League Division 2, scoring 2-41 in five games as London survived relegation to Division 3 with a win over Sligo, 1-27 to 1-25. 
However, Crowley and co lost to the same opposition in the first game of the 2023 Christy Ring Cup, 2-20 to 1-20.
The Exiles find themselves in a group with Sligo, Tyrone, Mayo, Meath and Derry with the top two going to Croke Park for the final.
After playing with Lancashire initially between 2017 and 2020, Crowley moved to London in 2021. Living in Ireland and in the UK has its fair share of differences, never mind playing hurling, as Crowley shares.
"Coming from West Cork, it's not quite the same as living in inner city London. As for the GAA side of things, it is a massive commute to get to a pitch for all of us," says Crowley. "Here it takes over an hour to get anywhere. It's not like rural areas where you can drive for five minutes down to the pitch. There are many positives too though; there is no shortage of stuff to do."
Crowley went across the Irish Sea initially to study radiography in Manchester, thus played GAA with Lancashire before London.
He spent around four years in the Northwest of England while also sometimes going home to Bandon.
"The first year there, I don't think they had a team set up. First of all, I was allowed to play with both Bandon and Lancashire which was a unique experience. I had some unbelievable experiences when playing with Lancashire," he reminisces.
"To play in Croke Park, to train competitively. We trained the same as at home, twice a week. We pretty much played all our home matches in Abbotstown in Dublin so there was a lot of flying involved. It was great that the family were able to come up and watch. The craic on the plane going back was always very good too."
Once Crowley got used to his surroundings and settled in the UK, he flourished; he is now five years there.
"My main concern when going to Manchester was not playing football or hurling regularly. The English GAA inter-county setups get a load of backing from the GAA and county boards.
"If anybody is apprehensive in moving away from the GAA, there's loads of it here. It may be playing with different fellas but when you're playing in a city like Manchester or London, you will have automatically have 30 new friends in the first team you join for however long you're there," he says.
The club scene in London may not be known to Irish sports enthusiasts but it's a championship to look out for.
Crowley's club, Robert Emmetts, has competed in the last two finals, winning in 2021.
"There's some strong teams. We've been in battles with St Gabriel's and Brothers Pearse in the last couple of years. Gabriel's beat us last year in the final, we beat them the year before. It's very much the same structure as back home, train twice a week and then matchday," he explains.
"The county final feeling are the same as back home too. The build-up is big and if you can win it, the celebrations are immense but the downs of losing a final is terrible. What's unique about London is nearly all the players know each other, especially through the London team. That winning feeling is something I'd always have."
A championship win for London would be huge as they battle for the Christy Ring Cup this year.
The Joe McDonagh Cup is the competition above with the Liam McCarthy Cup at the very top, a championship the exiles competed in as recently as 2014.
"There's some tough teams in the Christy Ring. Meath and Derry obviously. Mayo are an interesting one. The only reason Mayo are so low in the leagues is because the Tooreen lads don't play with them until the end of the league. They got to the Christy Ring Cup final last year, same year they got relegated from Division 2B. It's almost impossible to read into their league form.
"We've already lost to Tyrone this year and they won the Nicky Rackard Cup last year, getting promoted. If you get a few wins on the bounce, Croke Park could be on the cards but if you get a bad run, relegation could be a possibility," admits the West Cork man.
The Nicky Rackard and Lory Meagher Cups are the two other competitions in the hurling pyramid and Crowley played in the Meagher cup with Lancashire.
He noticed a key difference between middle tier and lower tier hurling.
"In the Lory Meagher, there's good teams in it. When I was playing with Lancashire, we played Sligo a lot and now I'm with London, we've already played them three times this year. We were playing Kildare last year and recently they were one win from promotion to Division 1.
"The only difference between the Christy Ring and Lory Meagher is the panels. Numbers are strong in Christy Ring like ours whereas they might not be as big in the Lory Meagher," he explains.
He may have been one of the top scorers in the whole National Hurling League, but Crowley pointed out a flaw in that stat despite his exploits.
"The way I'd look at those is I'd take the frees out of it. I think having the players scoring from play only and ones taking frees in the same bracket is unfair," he acknowledges.
"Jack Goulding (his London teammate) has scored pretty much all of his scores from play and he's one of the top scorers in the league. I'd look more at the stats being put up from play rather than frees. Frees is just a job you take on. It's nice to be up there but it's ones from play I'd look at."
Looking back to his days playing for Bandon, Crowley has great memories. The current London star won a premier intermediate county hurling title and intermediate football title in 2016.
"It's something I'll never forget. To win a county with your club is a dream but to win two in six days was incredible with virtually the same set of players The hurling celebrations were a bit tapered due to the football being on soon after, but the football celebrations went long into the winter. It's something myself and the lads still talk about whenever we meet up."
He got called up to the Cork minor hurling team in 2008 too.
"Growing up, playing with Bandon was all I ever did. If I wasn't at home, I'd be at the GAA pitch practicing with friends," he said.
"Getting selected in the Cork minor panel then was a dream from when I was about 12. To win a Munster out of that was fantastic."
Crowley was on the Cork panel that won the All-Ireland Intermediate Hurling Championship in 2014 when he was home too.
"That was a great experience too, as back then Intermediate games were the curtain raisers to senior games. We got a couple of days out in Thurles. A couple of my friends, Mark Sugrue and James McSweeney from Bandon, were on the team as well, that made it extra special," says Crowley.
The possibility of coming back to Bandon is there for him but he is keeping his options open.
It's not just the GAA club which makes him contemplate coming home.
"I don't know," Crowley answers on whether he plans to come back.
"It's a question I've been asking myself. Life is good in London, but you do miss being home. My brother recently had a baby boy so things like that make you miss the family a bit more. Everybody else seems to be going to Australia as well; between the three of them I'm pretty torn at the moment," he laughs.
"There's always the pull for coming back to play with Bandon especially with the fact I'm pushing on; I'd love to go back."
The West Cork club are currently in the premier intermediate county championship in both codes.
No matter whether he comes home or not, Crowley is making a name for himself over in the English capital and will be a player to watch in this year's Christy Ring Cup.