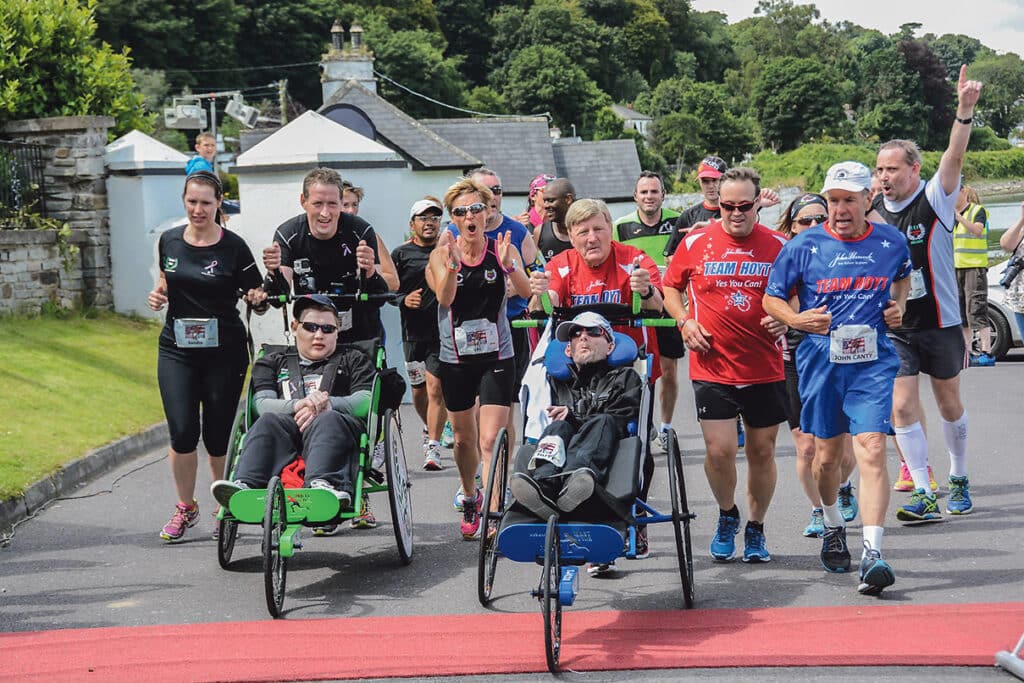 This year's Clonakilty Waterfront Marathon XIII will take place on Saturday, November 25, with a 9am start from Courtmacsherry, and three race distances – a full and half marathon and a 10k distance.
With organisers forced to cancel last year's full marathon due to part of the course being flooded, leaving almost 700 marathon runners disappointed, the decision was made to stage this year's race on the shorter or looped course in Courtmacsherry, a very scenic run around postcard-pretty Courtmacsherry Bay.
The course for all three races runs through Courtmacsherry up to Timoleague, with the full and half marathons running out towards the Pink Elephant to Kilbrittain beach and back to Courtmacsherry. There will be a second shortened loop for the full marathon, back out to and beyond Timoleague – the same route to make up the full 26.2 mile distance.
Set up to promote Inclusion for runners, walkers and people with disabilities, as well as encouraging health awareness and community spirit, Clonakilty Marathon has taken place every year since 2010 bringing many visitors to West Cork from all over Ireland, Europe, the USA and further afield.
Organisers have cut this year's registration by over half, to 1000 entrants, to ensure everything runs smoothly in the location, a small village, and to ensure that anyone who deferred in 2022, will get to run a full marathon this year. The response from race participants so far has been heartwarming.
The Clonakilty Waterfront Marathon supports charities, individuals and organisations in need, which this year will include The Seven Heads Walk.
Parking will be provided in the first field entering the village near the church, kindly lent to organisers for the day by local man Richard Drake.
To avoid traffic congestion and delays, organisers are asking all race participants to car pool where possible and to allow ample time for travel and parking.
The race start/finish line is a 15-minute walk through the village to the Courtmacsherry Hotel side.
Organisers have asked Cork County Council for permission to close the Courtmacsherry to Timoleague road from 8.45am to 11am to ensure that the majority of race participants are safely finished their race.
The Coastal road from Timoleague, out past the Pink Elephant Hotel to the turnaround at the bridge by Kilbrittian beach will remain open to traffic so RULES OF THE ROAD APPLY and all motorists are asked to drive slowly and with care; and all race participants are asked to exercise caution and road traffic awareness at all times.
Please use the footpath from Timoleague to Courtmacsherry to ensure a safe and great race day.
Race and diversions signage, marshalls and clean-up crew will be on the race course throughout the day with a race lead car and a back of the race car..
The Clonakilty Waterfront Marathon XII could not take place without the support of Cork County Council, Garda, Civil Defence, Irish Red Cross, medical team including Dr Fiona O'Reilly, residents and businesses in the local community, as well as friends and family who give their time to welcome the runners, walkers and wheelchair participants.
"The support and patience of everyone in the community is greatly appreciated and on behalf of all The Clon Crew, we sincerely thank you for all the years gone by, as we look forward to another safe and great race day in West Cork," says organiser Bob Hilliard.
Please contact Bob Hilliard on 086 6484811 with any queries.