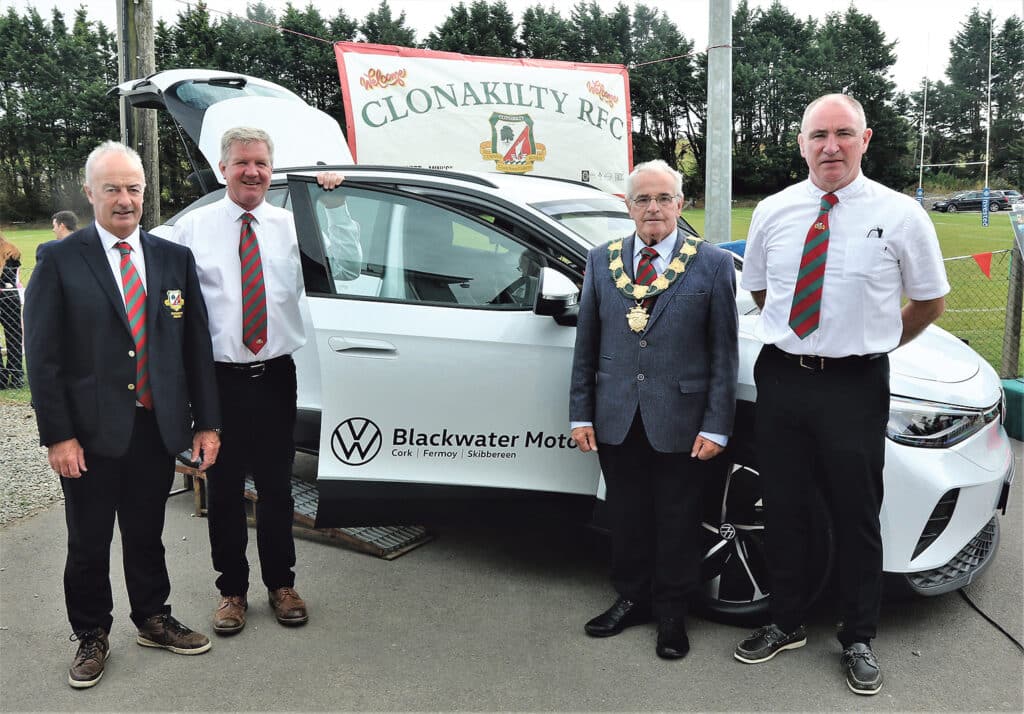 Sunday, August 28 marked a huge day for Clonakilty Rugby Club. Not only did the club kick off their new season, they also launched an exciting new 'Electric Car Draw' competition. This competition will replace the club's normal Christmas draw, and will run from August to December 2022. There will only be 2500 tickets available for sale, at €100 each. The draw for the prizes will be held on New Year's Eve – what a way to start the new year for the lucky winners!
First prize is a VW ID.4 Life Electric SUV, worth €55,000. The second prize, worth €5,000, is a pair of Orbeo Keran 30 Electric Hybrid trail Bikes. Third prize is a pair of Audi – Segway Electric Kick Scooters, valued at €2,800. All fabulous prizes, and what a great way to start 2023!
Clonakilty RFC serves Clonakilty and surrounding areas in rugby but also plays other roles in the local community, for example, the athletics club trains their junior members on the Clonakilty RFC pitch and recently the Clonakilty Playground committee has hosted fundraising junior discos at the clubhouse. These are just a couple of the many community initiatives the club is involved in.
Clonakilty Rugby Club has grown exponentially in the last few years. In 2021, the club had over 650 underage players registered and over 60 adult players. This has required some creative use of pitches, community astro surfaces and the beach, to get sufficient training hours for all teams.
The club desperately needs a 4G all-weather astro to ensure that all teams can train at the club during the wet weather months. This draw is aimed at raising at least €100,000 towards the installation of the new pitch. It will go into what is currently known as 'The Bowl' at the club – the lower pitch. This all-weather astro will be available for the club's winter training needs and also will be available to rent by other Clonakilty sports teams needing additional space.
Tickets can be bought online at clonakiltyrfcprizedraw.ie or from registered outlets – Fuchsia Footwear Clonakilty, Scannell's Bar and A Cut Above. In addition, tickets will be on sale at the club during minis training times – Sunday mornings in September to mid-October, then Saturday mornings.