While winter might be a strange time of year to see Cork GAA in championship action, the football match against Kerry is a rivalry we're all familiar with. Pre Covid saw a number of Clonakilty players donning the county red with Sean White, Maurice Shanley, Thomas Clancy and Liam O'Donovan all making League appearances. Last year's starting keeper Mark White could possibly return to the squad having been forced to abandon his travel plans making it the strongest Clon presence on the Cork team in many years.
September 23, 2020 marks the 75th anniversary of Cork's third All Ireland triumph in Gaelic Football and this was a team that was backboned by Clonakilty players. Clon at the time dominated Cork football. Having experienced so much heartbreak in the 1930s when they lost the county final six times in seven years between 1932 and 1938, Samuel Kingston says that one would be forgiven in thinking that they had missed their chance.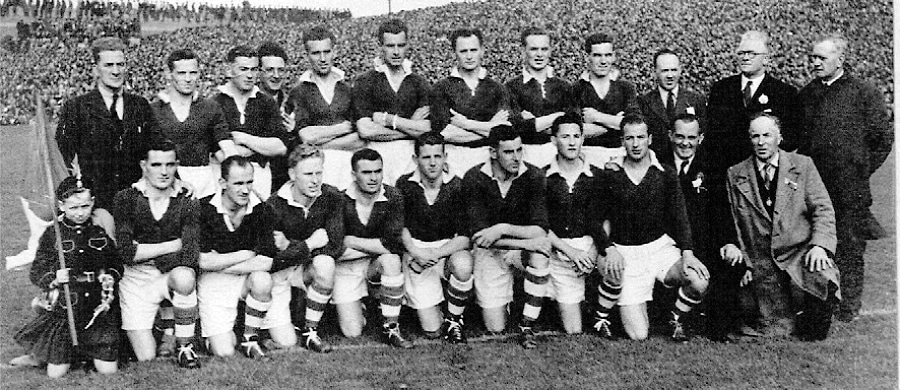 In 1939 as the country plunged into the Emergency and with war escalating in Europe, Clon finally conquered the county title beating Beara in the final, revenging their defeats in 1932, 33 and 34. 1940 was a bad year in Clon with the closure of Deasy's Brewery, which gave the town its nickname and unfortunately the Brewery Boys of Clon GAA crashed out to Beara in round 2. A year later after an epic five match tussle with Dromtarriffe in which Clon finally advanced, they would end up being disqualified after a dispute with Bantry who were also disqualified.
Then in 1942 began the start of Clon's golden era and their rivalry with Fermoy. Clon became one of the few clubs to win three in a row defeating the unfortunate Fermoy in each final. Each campaign bringing excitement to the town and of course, in the middle of all this Clon had the surrealness of the US warplane T'aint a Bird landing in White's Marsh in April 1943. Even Tojo the Monkey couldn't distract the Clon players as they started out on their 1943 campaign a few weeks later.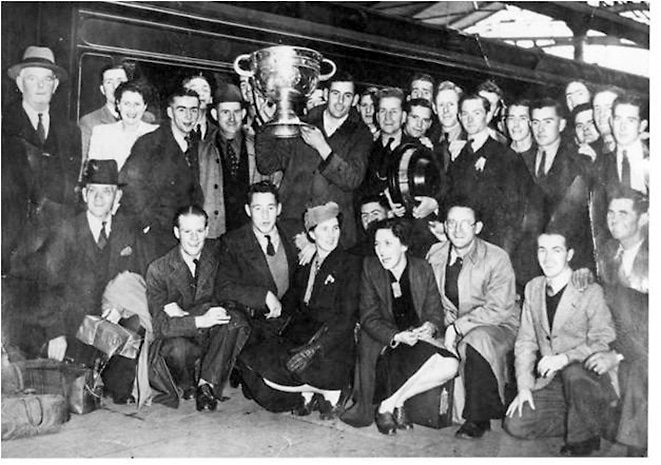 All this success inevitable attracted the attention of the county selectors. In 1943, Clon stalwart Tadhgo Crowley was captain of the Cork senior team that secured their first victory over Kerry since 1928 with the team going on to lose to a strong Cavan in the semi-final. Two years later Crowley was again captain as Cork secured another Munster title. After beating Galway in the All Ireland semi-final, they now had to face Cavan in the All Ireland final. By now Crowley was joined by many of his club mates. In total there were nine Clon players on the county panel in 1945. Five starters in the final – Tadhgo Crowley as captain, Moll O'Driscoll in goal, Fachtna O'Donovan in midfield, Edward 'Togher' Casey at right wing forward, Humphrey O'Neill at centre forward and with Mick Finn, Fr. Jim Ahern, Dessie Cullinane, and Paddy 'Hitler' Healy in reserve. An incredible feat for any club. Cavan were defeated by 2-5 to 0-7 but two years later they claimed their third title in a triumph over Kerry in the famous final staged in the Polo Grounds in New York. Kerry, in the 1947 Munster final, had beaten a Cork team with six Clon starters. Dessie Cullinane was now county captain and he was joined by Tadhgo Crowley, Moll O'Driscoll, Fachtna O'Donovan, Humphrey O'Neill and Fr. Jim Ahern.
As the Sam Maguire cup had only been introduced in 1928, Tadhgo became the first Cork captain to bring the cup back to Sam's home county. He was greeted with jubilant scenes in both Cork and Clonakilty. Cork GAA was on a roll at this time, the county won an All Ireland every year between 1941 and 1946. Hurling in 41, 42, 43, 44 and 46 and football in 1945. Jack Lynch, the future Taoiseach would win a medal for each of these, starting at corner forward in the football final.
The All Ireland success, while great for Cork, took its toll on the Clon players who still had a county final to play. Fermoy finally succeeded in getting their victory. Back in Clon where the victory parade was already being planned there was shock and disbelief. Normal service would resume in 1946 with Clon once again defeating Fermoy and the golden era would end the following year with Clon defeating Jack Lynch's St. Nick's in the final.
It was a remarkable era for Clon football winning six county titles between 1939 and 1947. If a club All Ireland championship had existed at that time, it would be fair to think that Clon would surely have captured one or two titles and certainly the club's impact on the Cork All Ireland in 1945 lends credence to that notion as well.
I want to acknowledge the work of Tom Lyons in recording the history of Clonakilty GAA. The books he complied and wrote were a massive help in putting this article together. The books are available to borrow from Clonakilty library.
Samuel Kingston is a freelance TV Producer, writer and local historian from Clonakilty, West Cork. He is currently writing a book – 'The Sporting Irish' – which tells the story of the Irish impact on sports around the world.