Formed in 1964, Bandon Athletics Club, like many of the sports clubs in Bandon, has been on the rise in recent years. Brendan Crowley, Club President since the passing of one of its founders, Billy Good, chats to Matthew Healy about the club's continued development.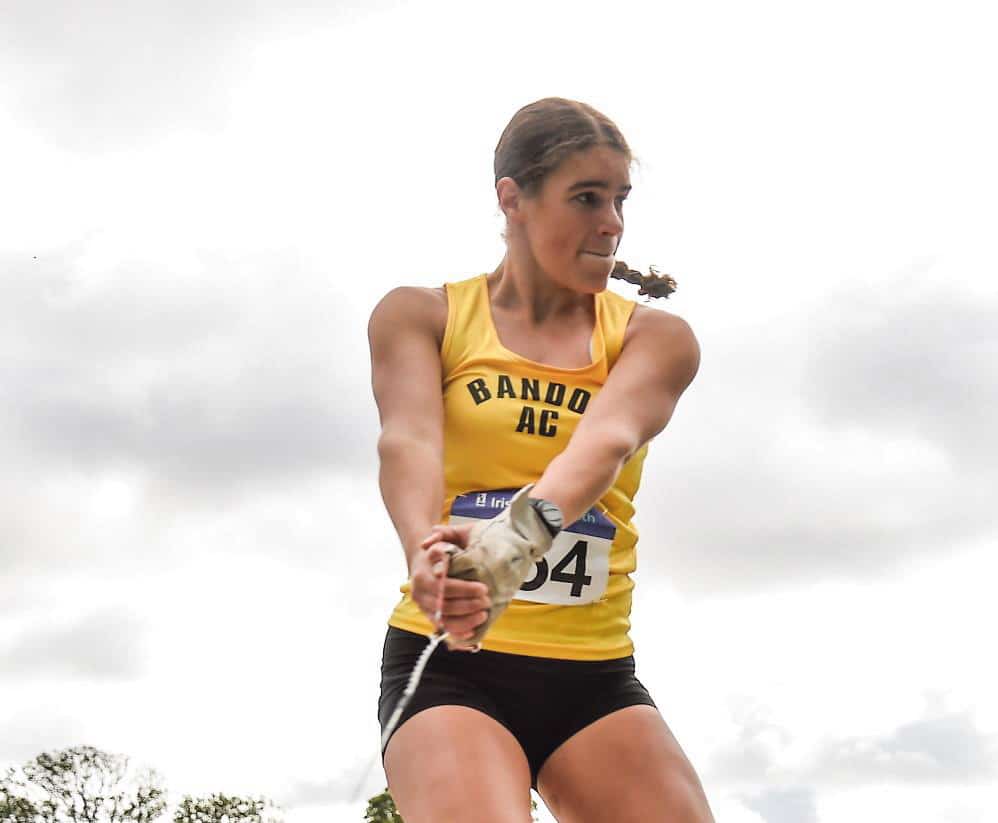 Bandon Athletics Club graduates Phil Healy, a runner, and new kid on the block Nicola Tuthill, a hammer thrower, represented Team Ireland at the European Games in Krakow, Poland in June. Another athlete from West Cork on Team Ireland was Phil's sister Joan, who was with Bandon AC, before going to Leevale AC in Cork City.
One of the most renowned sports clubs in West Cork, the age range at Bandon AC is from seven to Masters or, as some may call it, the senior veterans category.
"The club is in a very healthy place at the moment. There's good registration, in fact there's up to 500 members making it the biggest club in Cork. Catering for track and field and cross country is top notch," says club president Crowley.
"There's all ranges of abilities with the development of the athletes being the major objective. We're proud of our stars but we're equally as proud seeing people having a go at the running, throwing and jumping. While success is a vital element of an athletics club, it's equally as important to cater for the athletes of all levels."
Athletics is a sport where someone doesn't just compete with others but themselves too. That's how they improve.
"You can compete with yourself. For instance, be it your last jump, your last throw or your last race. You can improve your time, distance or height," adds Crowley.
"It's great to see the buzz at training with all the youngsters and the time being put in by the coaches who selflessly give their time in coaching them. Since those humble beginnings in the 1960s, we've come a long way."
The success of the club's athletes has been extraordinary. Even before Phil Healy, they have had Olympic level athletes. "Breda Dennehy, whose daughter is performing brilliantly in America at the moment. Richard O'Flynn, whose daughter is competing for us as well. Richard was in cross country, Breda was in the Olympics," the current president points out.
'Ballineen Bullet' Phil Healy has been the standard bearer for the entire club and a sportsperson to look up to in the last decade. She was joint-captain of Team Ireland in the European Games in Krakow along with Waterford man Thomas Barr as the Irish won Division 3 ahead of Austria and Israel.
Phil shows that any youngster can go from training within a local club to the Olympics or other major events.
"We're thrilled with her. She's had an enduring impact on the young athletes who look at her as a hero. It shows that with commitment, effort and skill, it can be done," says Crowley.
"Phil was encouraged by the late Catherine Duggan to take up athletics and she started when she was in her early teens. She's broken the Irish record at schools level. It is her drive and enthusiasm that has kept her going."
One athlete who would have been in awe of Phil growing up is Nicola Tuthill (pictured left), who herself is making strides in hammer throwing. The Kilbrittain youngster is currently part of UCD AC and competed for Team Ireland at senior level at just 19 years of age.
"She has a bright future and has broken numerous records for such a young athlete. While she damaged her hand and it put her off training for the season, she kept herself in shape to get to the World Championships in Colombia.
"Nicola started off as a young athlete with her sisters. Her mother used to bring them into training and they enjoyed taking part in many events. She then took a liking to the hammer and you can see where she has gone from there. She is specialising in it and is becoming Ireland's finest hammer throwers," says Crowley.
This is not the end of the production line with plenty more Bandon AC members who could realistically make the breakthrough in the next few years on an international level.
"We're privileged to have others coming through as well. Fiona Everard for instance runs with us. She competed in the Irish cross country team in Belgium and has won three national titles in quick succession," Crowley acknowledges.
"Fionn Harrington, All Ireland schools champion is on scholarship in the USA, Laura Nicholson similarly. Shane Howard was the Irish long jump champion for four seasons in a row.
"Ella Collins won an All Ireland schools in the steeplechase, Aoife Callan was an All Ireland schools winner. Max Clover won a gold and silver in the All Ireland schools. The future is bright and there are way more names there too."
Sport in Bandon is excelling. There's the soccer club, Bandon AFC, who enjoyed promotion to the Munster Senior League Premier Division, the GAA club, which has had some good years in recent times and then there's hockey, golf and tennis.
"We're looking forward to upgrading our facilities too to make Bandon even more of a successful sporting town," says Crowley.
"Bandon is a great place for sport and you have Town Park in soccer which is a great facility too."
The goal is clear for Bandon AC in the next few years – to get their current athletes to maximise their full potential.
"It has been shown that hard work mixed with talent can develop a person. We have some of the best facilities for our athletes, they deserve it.
"The late Billy Good was a large driver of starting the development of our own all weather track. These facilities would have our athletes training in Bandon rather than going to the Mardyke for instance.
"Things like this don't happen without incredible drive from the committee, the track development people, the coaches and the fundraising committee," Crowley says.
There is a summer camp commencing on July 4 too, a camp where both Phil and Nicola started their development.
Bandon Athletics Club is the place to improve in all aspects of athletics.