West Cork's favourite surf shop, Jellyfish, is celebrating 20 years in business this year. Owner Nollaig Hurley says the years have flown by as the business has gone from strength to strength. She shares her pride in reaching such a milestone with West Cork People.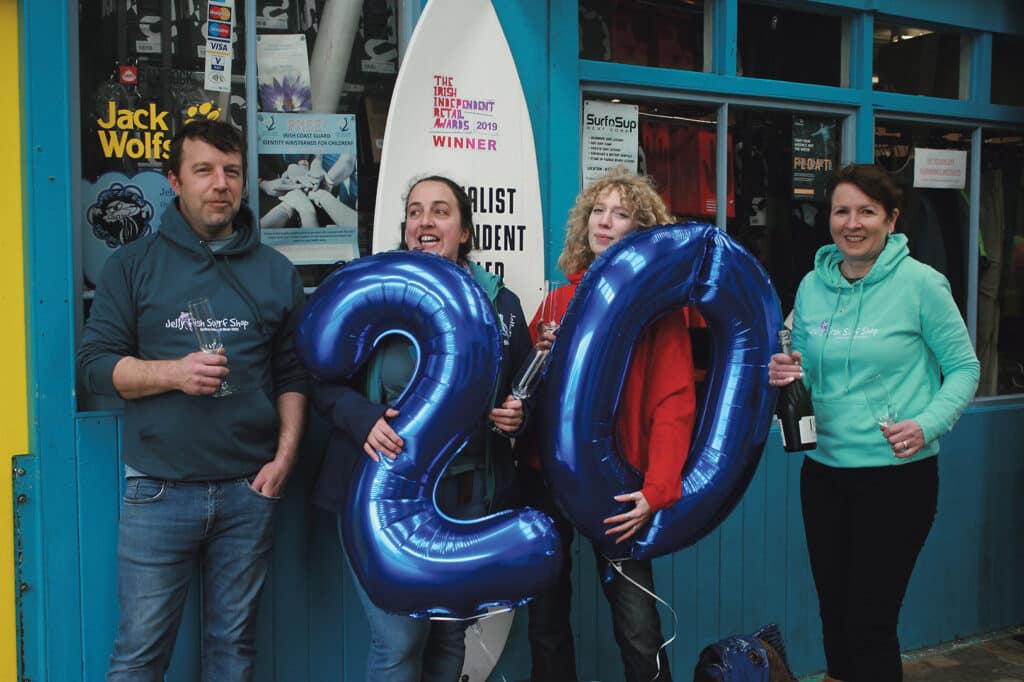 "It certainly doesn't feel like that length of time has passed," says Nollaig. I'm so appreciative of the community in West Cork and the loyal customers that have supported Jellyfish over the years and they are the reason the  business is still operating and able to offer the service it does."
The first seeds of the idea for opening a surf shop were planted over a pint after a surf session when some of Nollaig's surf buddies were bemoaning the fact that the nearest place to get board wax was in the city.
Although her background was in hotel management, words of advice imparted to her from her dad years earlier came back to Nollaig. "My dad always said "know what you are passionate about and find a job related to that and you will always be happy in your work," says Nollaig. Bitten by the surfing bug and lucky enough to grow up a stone's throw from the sea in West Cork, after years of managing other peoples' businesses, Nollaig decided that it was time to follow her own passion, with becoming self-employed the next logical step in her career path.
So in the summer of 2003, she opened the doors of Jellyfish Surf Shop.
While the business was initially based mostly around surf products and lifestyle clothing, over the years this has evolved and expanded to include swim-specific products and a wider range of clothing and accessories. Most recently Jellyfish has launched an e-commerce website, which had proven to be a very significant development in the continued success of the business. Customers from all over Ireland can now easily access products from Jellyfish, which now trades seven days a week.
Over the past 20 years, Jellyfish has grown into a team of four, all sharing a passion for the sea and water sports and all hailing from West Cork.
With a degree in outdoor education and love of all things sea-related, Ellen joined Nollaig in the very early years, in 2008. "She has comprehensive product knowledge and customers trust her advice and expertise," says Nollaig.
Ten years later, in 2018, Ciaran was welcomed into the fold. He also has a qualification in outdoor activities and more than a decade of experience in water sports merchandise retail. He is happy on or in the water and happiest when talking technical!
The newest member of the team is Helena, who joined Jellyfish in 2021. Having grown up in West Cork, she naturally has an affinity with the ocean and is now a valued member of the team.
"I truly believe the human resource behind the company is the best asset Jellyfish Surf Shop has," says Nollaig sincerely.
While the challenges have been many – floods, recession, a pandemic – like so many businesses in West Cork, Jellyfish has come out the other side more resilient.
In 2019, Jellyfish was recognised with an award of Specialist Independent Retailer of the year and, in 2021, Nollaig claimed the Network Ireland West Cork Established Business Woman of the Year award.
"Covid was a massive challenge and we had to pivot the business to put the website front and centre, as the shop door remained firmly closed under the Government restrictions," says Nollaig. "In the first few weeks, I genuinely thought that the lockdown would prove to be the end…The prospect of having to let my staff go was the worst part. Luckily it is behind us now and the supply chains and product shortages are no longer an issue.
"The main challenge at the moment is the increase in costs coming from all sides but I think like lockdown this is a challenge that is facing all sectors."
At the end of the day what makes it all worthwhile for Nollaig is her happy customers, so many of whom have experienced the life changing effects of the sea.
"Whether it is a small piece of advice we have given or sold them the right product to help them on their water sports journey, the positive feedback gives us great job satisfaction," shares Nollaig, who loves the variety that her work brings.
"I love that every day is different and that I work with a great team I can rely on and still have a laugh with."
While right now swim-specific wetsuits and accessories are outselling the surfing products at Jellyfish, come the summer, surfboards, bodyboards and skimboards will no doubt be back on the leaderboard.
In the lifestyle clothing department, Quiksilver, Roxy, Billabong and Weirdfish are still some of the most popular brands but Jellyfish Surf Shop's own brand products are also in development with buff's, t-shirts, hoodies and towelling robes in a choice of colours and sizes currently in stock, as well as Jellyfish Nordic and budget all-weather changing robes.
"Keep your eyes peeled for our new special edition Jellyfish Surf Shop branded t-shirts and hoodies to celebrate the 20th anniversary in some fun new colours and designs," says Nollaig. "We plan to extend our own brand range further, so I would love to hear any suggestions from our customers as to what new products they might like to see added."
While continuing to source the best and innovative products and upgrading the website are short-term ambitions, looking ahead Nollaig says the next 20 years will be about maintaining a nice balance of work and play and keeping the doors open and the lights on!
www.jellyfishsurfshop.com