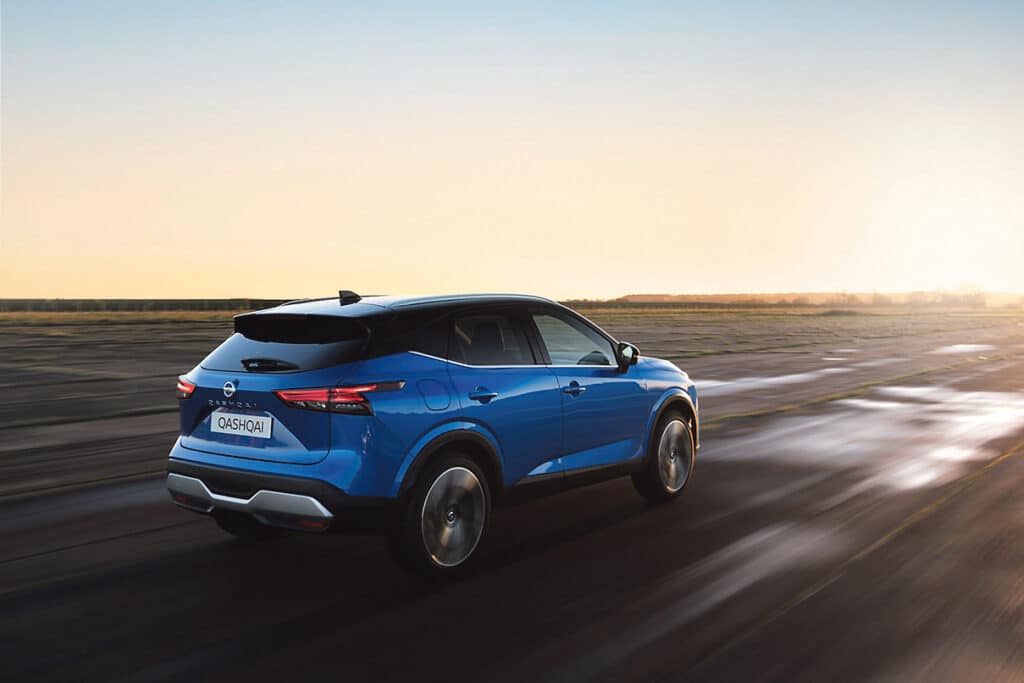 The Nissan Qashqai has been one of the most popular crossover cars in Ireland since it was launched here 13 years ago. That's not just PR speak, the company have figures to prove it, as 50,000 Irish motorists drive a Qashqai and Nissan has sold over three million units of the car in Europe since it was launched.
Recently Nissan launched the third generation of the car that became known as their 'cash-cow.' The new version is slightly bulkier looking, but the big attraction this time is that the new Qashqai for the first time will offer hybrid and electric versions. I suppose that was an obvious addition, as Nissan have been pushing their electric Leaf for a few years now.
Nissan say that the all-new Qashqai is a key part of the company's strategy to achieve 50 per cent electrified sales in Europe by 2024. Similar to the Leaf, the new Qashqai e-power benefits from the 'one-pedal' driving experience called e-Pedal. Drivers can start, accelerate and decelerate using only the accelerator pedal. I tried the e-Pedal in the Leaf and it take a little time to get used to it.
The third generation is definitely more muscular, sharp and modern. On the exterior, the Qashqai's enhanced body stance is more purposeful, with prominent shoulder lines, an extended wheelbase and imposing 20-inch alloy wheels introduced to Qashqai for the first time.
The new version will not only be available with a 1.3 DiG-T petrol engine equipped with mild hybrid technology, but it also represents the European debut of e-power, Nissan's innovative and award winning powertrain, that draws technologies from the Leaf.
The 12V mild hybrid system available on new Qashqai is a more affordable hybrid technology that provides torque assist, extended idle stop, quick restart and coasting stop with improvements to both fuel economy and CO2 output. It's mated to the refined 1.3 Dig-T petrol engine that was introduced to Qashqai in 2018.
The 1.3 petrol motor will be offered with two power outputs, 138hp and 156hp, with either a 6-speed manual transmission, or new Xtronic gearbox. Max engine power arrives at 5500rpm, with maximum available torque of 270Nm at a convenient 1750rpm on 156hp Xtronic and high power MT variants.
The Qashqai also offers an advanced infotainment system with a broad portfolio of connected devices including effortless integration of smartphones, in-car Wi-Fi for up to seven devices and Nissan Connect Services, a dedicated app with which to interact with and monitor the vehicle.
Inside an innovative new 10.8-inch heads up-display display (HUD) provides the biggest-in-segment image size. Key navigation, driver assistance and road information are projected onto the windscreen within the driver's line of vision. Home-to-Car features are compatible with Google Assistant and Amazon Alexa devices.
Pricing will be announced this summer. Further information and details about Qashqai are available by contacting your local Nissan dealer or by visiting www.nissan.ie.
The first customers who order are being offered a special launch version called the Premiere Edition, which will offer an extended palette of two-tone colour options and advanced technology convenience features.
Seamus Morgan, M.D. Nissan Ireland said: "The new Qashqai combines the best of Nissan's pioneering crossover and EV expertise. It allows new and existing Qashqai drivers to experience hybrid and electric driving without range or charging concerns in an unmistakably stylish crossover that continues to deliver everything they would expect from a family car.''