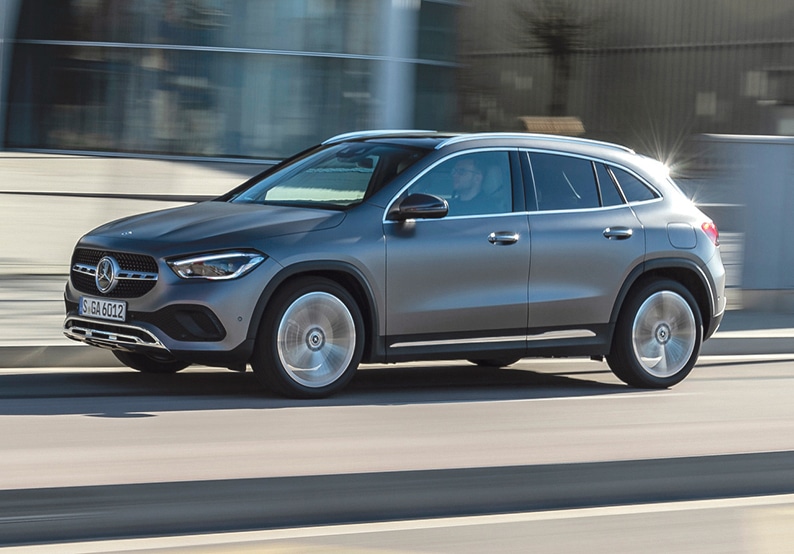 A few years back at a Mercedes 'refresher day' the company's Irish Sales manager Ciaran Allen said that buyers of new cars now spend approximately 11 hours researching information on a car before buying. But those prospective buyers spend only 30 minutes in garage forecourts. Buyers know what type of car they want before they go into a dealership; it's just half an hour of haggling over the price.
A lot has happened since that 'refresher day,' including two Lockdowns this year, during which time buyers had plenty of time to do some research on new cars.
Last week I drove the second edition of the Mercedes GLA, which was a really comfortable motor. The GLA, which is based on the A-Class, was launched in 2013. It had a make-over three years ago and now we get the second edition, which is a big improvement on the first version.
It's a massive step up from the old GLA, which suffered from styling issues and a cabin that was a bit cramped in the back.
I was told that in the offices where Mercedes decide on names for their cars, GL stands for Gelanderwagen or off-road vehicle. I checked the word 'Gelandewagen' on Google and the English translation was that it's a cross-country or general-purpose vehicle. I didn't have any reason to go off road last week, but I'm sure the GLA would not let me down if I needed to leave the tarmac.
I drove the Mercedes GLB a few weeks back and noticed that instead of getting a 'beeping' sound if I crossed the yellow line on the road without indicating, the brakes were applied instead. It's the same system in the GLA.
The new GLA could be described as stylish crossover SUV rather than an off-roader. The car looks imposing, but the dimensions are compact; it's 14mm shorter, 2mm narrower and 104mm taller than the car it replaces. Of course those are small measurements. It also has shorter front and rear overhangs.
Every time I sit into a Mercedes car I make the usual mistake of hitting the gear stalk when I want to indicate. It only happens once; I presume if I owned a Mercedes I would not make that mistake every morning. But every time I sit into a new Merc it's a dream come through for a country boy like me!
The boot is a decent size, 435 litres to be exact, but sadly no spare wheel. I had to deliver some new eight-foot long skirting boards to my daughter's house and they just about fitted in; it was a tight squeeze length-wise. All the family appreciated the heated front seats as the weather turned really cold for a few days last week. The seats came in Artico leather/dinamica microfibre black.
The 2.0 litre diesel produced 150 brake horse power and if it's speed you are after you can get from zero to 100/km in 8.6 seconds. To tell the truth I didn't check out that out figure. At my age I am more interested in comfort and that's what I got in the GLA.
Prices start at €40,022, but with AMG Line, metallic paint and a few more goodies, the price of the car as tested came to €50,442. Road tax on my diesel model is €270. And when you spend that half an hour hassling over the price, try and get a spare wheel also.