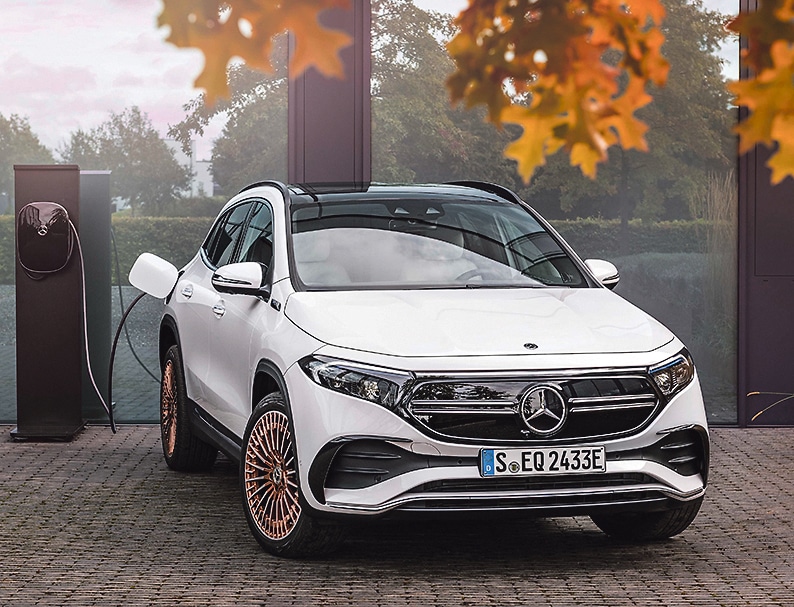 Mercedes were a bit slow to the electric market, but they are planning to launch several new electric models in the coming years. Last year the German manufacturer launched their massive electric people carrier the EQV and now they have the impressive EQA 250 SUV electric car on sale.
I drove it last week and was very impressed. In the recent past the problem with many electric cars is that they were not very attractive to look at. But the EQA looks like a regular Merc. The only external clue is the normally attractive grille is now much duller.
The famous Mercedes three-point star has long gone from their cars, but there is a badge on the bonnet and their logo now brightens the rather dull looking area where the grille used to be.
As usual with electric cars, the first questions I am always asked refers to range and price. Well the range in the EQA is decent at approximately 380km and the price is €56,120. Road tax is €120.
Now that's certainly not cheap, but what you are getting is a really classy-looking Mercedes. Basically it looks like a regular Mercedes with the gear lever where I always think the indicator lever is. But you get used to it after a few hours driving.
My test car came in a very attractive denim blue colour. Inside you would need sunglasses, as the cream leather seats are so bright. By now I am very familiar with the controls on the dash of a Mercedes, which are really user-friendly. I love the way, at the touch of your finger, all the radio stations come up on screen.
The boot is huge, but with all electric technology to be accommodated, there is no room for a spare wheel. Two silver roof rails add to the SUV look.
You probably saw Minister Eamon Ryan on television recently launching a range of new charge points at the Mayfield service station near Monasterevin. We need fast charging points at every cross roads in the country if we are to go fully electric by 2030.
There used to be a joke in the telephone section of the old department of Post and Telegraphs that each application for a phone took the P&T by surprise. Cruel, but it was often true.
Now if we are to be fully electric by the year 2030 we need some 'joined-up' thinking and planning and allow space for charge points in the various five and six-storey apartment blocks being built in every large town and city around the country.
Meanwhile take a test drive in this gorgeous Mercedes EQA, I guarantee you will not be disappointed. When I was a young lad it seemed that only managing directors of companies drove a Merc. Now Mercedes has a car for everybody.
One problem with all electric cars is that they are so quiet. How do you warn pedestrians of an approaching vehicle and can anybody produce an audible warning that is both effective but still gentle?
There is a man named Laurent Worms, who is Renault's Audio Strategy Manager and he is working on this project. But we will have to wait for Renault's new Electric Megane to hear what sound he comes up with.