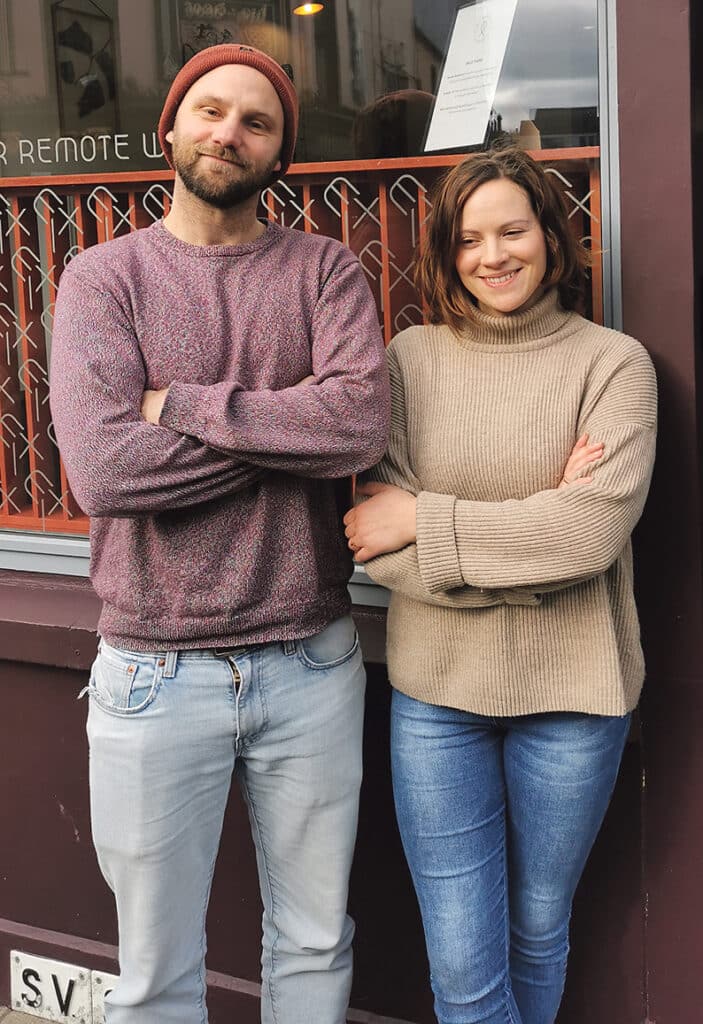 MIX Coworking opened its doors at 8 Wolfe Tone Street one year ago this month, on March 14, 2022. The upstairs was a grain store for many years and still bears handwritten tally scores on the wooden beams. Now it's an open-plan workspace for remote workers, with fibre broadband, smart-door access, ventilated phone booths and social space. 
The interior fit-out at Wolfe Tone Street was part-funded by SECAD Partnerships LEADER Programme, an EU-funded grant. A few months after opening, MIX Coworking secured a second grant, part of The Connected Hubs Fund from The Department of Rural and Community Development. The Connected Hubs Fund was launched in 2022, specifically for the development of digital hubs across Ireland, covering the bulk of project costs. With this grant, MIX Coworking has added 12 solar panels, which means the building will be entirely passive in the summer months, and helped along in winter months with the new Microgeneration scheme.
Private pods and additional phone booths have also been added, meaning more private spaces for calls and meetings.
As a commercial enterprise entrant, a component of the funding achieved is for MIX Coworking to provide a community dividend over three years. Rachel Kelleher, co-founder, shares their plans: "We're delighted that there is a community dividend element to the funding we received. With this, we are now offering the social space/meeting area entirely for free to any community group, local volunteer group, business network, local events and festival group, and projects funded by the Arts Council. If you're a group and you need a place to meet, get in touch!
"We are also now offering a 'Student, Start-Up and Artist Discount' at a 50 per cent reduced cost on our prices from March to June and from September onwards for a select number of seats. So if you fall into this category and need a productive space to work during the day or evenings, get in touch!"
For remote workers in the area, prices are reasonable regardless, with a flexible hourly rate of just €4/hour, capping out at €20 for a full day. Full-and part-time membership seats are nearly filled, with sit/stand desks and monitor screens
included, so if you are
interested, contact Rachel at
hello@mixcoworking.ie today.