The Wellbeing Network, West Cork and 49 North Street Skibbereen have launched details of The West Cork Feel Good Festival, taking place in early October to coincide with World Mental Health day on October 10.  
The Feel Good Festival, which has been running for a number of years, promotes and celebrates community wellbeing, while linking with many ongoing health and wellbeing resources across West Cork. The Festival is all about community, connection, engagement, slowing down, having fun and feeling good.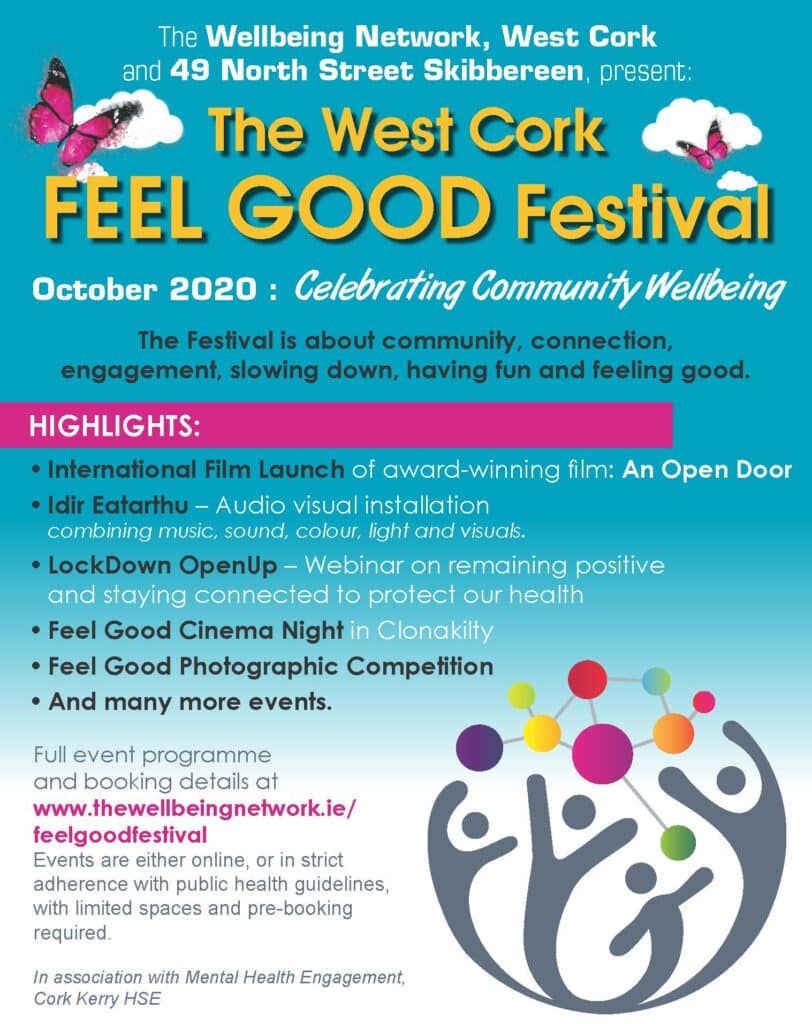 While it is challenging to organise anything in the current environment, the organisers felt it is more important than ever, to offer a showcase of hope and optimism. The aim of the festival is to inspire people and communities across West Cork to safely do what they can to engage in activities that connect people and communities safely and in the process contribute to wellbeing.
"The festival is about finding ways that we can still join together in community and support each other in these difficult times, within the current public health guidelines," according to Kevin O' Shanahan of 49 North Street.
Events include an audio visual installation space at 49 North Street, Skibbereen entitled 'Idir Eatarthu', which translates as between worlds, echoing how we currently find ourselves in a place of uncertainty or transition. The installation combines music, sound, colour, light, and visuals, offering total immersion in a calming setting, to provide a much-needed rest for the senses and total relaxation. It can be enjoyed individually or in small groups from a single household. The space was developed in collaboration with artists Tomasz Madajzak, Aoise Tutty Jackson, Nikki Fitzpatrick of Myzenpod.com and original compositions by Kevin Mc Nally, Kevin O'Shanahan of Gamelan Spréach Geala and guitarist Gerry Leonard, who has worked with David Bowie and Suzanne Vega amongst others.
Another key event in the festival is a webinar on Tuesday, October 13 on reclaiming positivity in this challenging year. The panel includes author Louise O'Neill, Dr. Pat Bracken Independent Consultant Psychiatrist and Rory Doody, who works as area lead for Mental Health Engagement across Cork and Kerry HSE. The panel will discuss the challenges the current pandemic presents to our wellbeing and will offer practical advice to the audience on what they can do to remain positive, stay connected and look after their own and their family's health and wellbeing. MC for the webinar is Bantry native, journalist and broadcaster Alison O'Connor.
Community based events include a feel-good photographic competition in conjunction with Beara Camera Club and a special feel-good film screening in The Park Cinema Clonakilty organised by the Clonakilty Wellness Committee. Getting outdoors and exercising is so important for general health, especially as we are coming in to winter and the Rosscarbery Steam Walkers are hosting a two-hour walk on Saturday, October 3 as part of the festival, with walkers invited to wear a funny hat to generate the feel-good factor.
The pandemic we are all grappling with has undermined many of the usual ways we support and look after each other as families and communities with social engagements, group activities and larger gatherings curbed. So we need to be imaginative about finding ways of filling those gaps and opening up spaces and opportunities for people to be creative, get out doors and reconnect. "There were some brilliant community initiatives and online projects to keep people connected earlier in the year and we hope the festival will inspire people to continue to find creative ways to engage and connect, be it online, engaging in the arts and creative activities, or by getting outdoors and having some fun," adds Ita Murphy, Coordinator of the Wellbeing Network, West Cork.
Information on all of the festival events is at: www.thewellbeingnetwork.ie/feelgoodfestival
Events are either online, or in strict adherence with public health guidelines, with limited spaces and pre-booking required.
The festival is organised by 49 North Street, Skibbereen, The Wellbeing Network, West Cork and Mental Health Engagement Cork Kerry, working in partnership with community groups and organisations.
---
The Wellbeing Network, West Cork presents 'LockDown OpenUp' Webinar on Tuesday October 13th at 7pm.
The Panel will discuss positive actions you can take to protect and improve your mental and general health in this challenging year.
'This webinar will offer insight and practical advice on being open to new ways of connecting, staying positive and resilient and minding your own/your family's health, amidst the concerns and uncertainty around what the future holds for ourselves and the way we live.'
Register on Eventbrite at: https://lockdownopenup.eventbrite.ie(A recording will be available after the event, so if you are interested but can't attend on the 13th, please register and you will be sent a link to the recording)
https://www.facebook.com/events/630679321151272
PANELLISTS:
PAT BRACKEN – Independent Consultant Psychiatrist
LOUISE O'NEILL – Author
RORY DOODY – Area Lead for Mental Health Engagement, Cork Kerry HSE
MC: Alison O' Connor, Journalist and Broadcaster