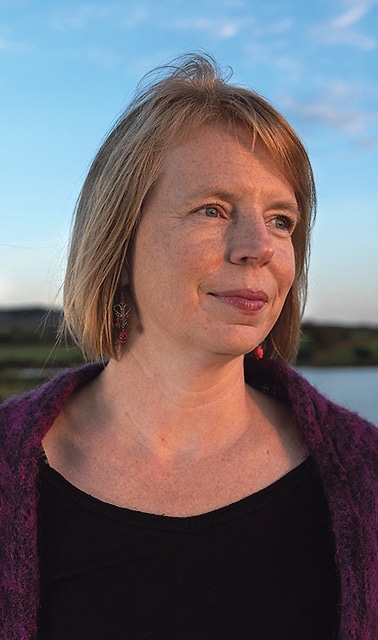 E
nd of Life Matters
End of life Doula Melissa Murphy, a companion, guide and resource supporting our community in end of life matters.
www.starsbeyondourskin.com 
Recently a friend expressed appreciation for a social media post I'd shared featuring practical reflections for how to be present for someone who is dying. It inspired this month's column when I realised it might be helpful to expand this to include being present for ourselves and one another in loss and life in general. It seems especially needed at this potent and tender time of year for many. For some, it's an exciting season of much light, as we move into the darker days of winter: a time of abundance and giving, gratitude and long-anticipated reunions, while for others it's a reminder of what we have lost and long for. Perhaps a home we can no longer return to and being ever-reminded of precious people that are no longer with us. Not to mention the wild times we humans are collectively living in.
So let's start with ourselves. Here's an invitation to take a moment to pause and breathe. What is true for you at this time of year? What do you feel in your body? How is your heart? Consider what the holidays were like for you as a child – do you have a favourite memory? What stories and memories do you carry? Do you know about your ancestry and any of the traditions they may have held? As you've grown older, what do you look forward to during this season? And are there things you honestly dread? What do you long for this time to be like, to feel like, to represent? What does your holiday grief need from you in terms of care? (A loving reminder that grief isn't just for death – it can be missing the certainty you once felt, living with financial changes, self expectations, health issues and so on). The things we grieve for are a non-exhaustive list really! At the moment, I'm considering many of these questions for myself while living far from family, sensing a shift in friendships that had once been close for years, reflecting on the work I've done over the past year, what I'd like to let go of, simplify, or change, the grief and loss witnessed, as well as what I'm presently carrying; the choice made to bypass the Christmas period this year; taking space from familiar celebrations. So equally I am holding both the blessings and beauty of my days, as well as broken-heartedness. We can indeed feel the joy, sorrow, struggle or a combination of all these days.
Presence (meaning you're offering the energy of possibility, being open, spacious, aware, quiet) is the most precious gift you can give to yourself and this is also so for another human being. It's been said by teachers and leaders such Marshall Rosenberg, the Dalai Lama and others. But how true it is. Can you recall a time when you've experienced authentic presence from another person even just for several moments? It really is special and indeed rare. So, as we meet others who, like ourselves, are walking with grief in these days to come, we need not avoid them. I hear this time and again from grievers – (maybe you've even experienced it too). Someone crosses the road to avoid you, perhaps because they might feel like they don't know what to say or fear saying something wrong. We can simply be honest and say just that. Don't be afraid to just listen. How are they doing now? But also honour them if they don't want to talk. Let them know you hear them regardless of what and whether they share or not. And if they do, refrain from comparing their story with your own. Let them feel what they feel, be open to their needing to be and do things differently whether it's for the holidays or for any day. Follow their lead as much as possible. Grief has no timeline and it takes up a lot of bandwidth in the brain. However, don't be afraid to make someone laugh. Please don't try to fix or change them. If they've experienced a death for example, it's ok to say the name of the deceased or share a memory if you knew them, but resist catch phrases such as "they're in a better place," any personal or religious beliefs you might have (even if you see them at mass, they may not feel the same as you in this matter) and skip the "at least you have x,y,z…" It's not easy – we humans want people to feel better – this includes ourselves (and perhaps to gain some distance from the grief stuff!). Many also cringe with the very well-meaning "let me know if you need anything." Rather ask them what they'd like or might need. You can also offer specific support, and always thank them for what they have shared with you. Follow through and show up on what you've offered. A little presence is a big deal and goes a long way. Truly this being present is a lifelong learning experience, so be gentle with yourself. Like love and grief, this practice has no end.
To learn more or to connect with Melissa, email her at starsbeyondourskin@gmail.com or visit www.starsbeyondourskin.com. She also welcomes your questions or ideas for future columns.