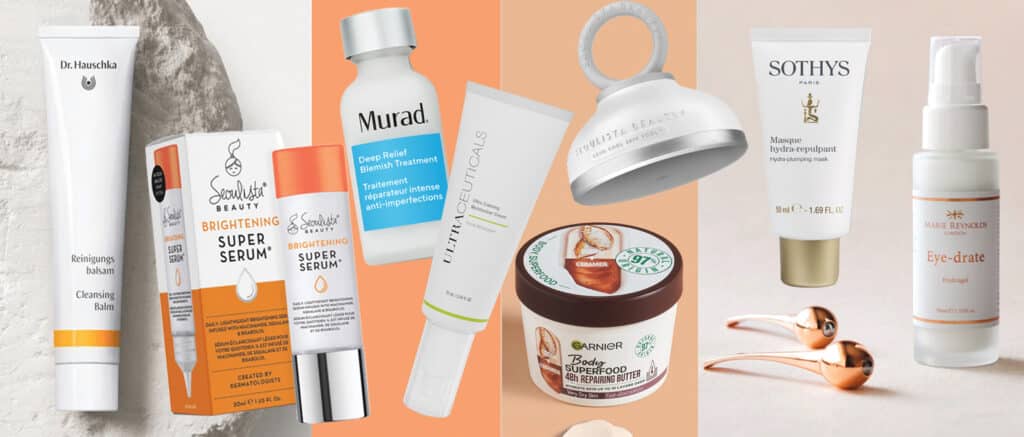 Seoulista Beauty Super Serums & Seoulista Cryo Cool
Elevate your daily skincare ritual with new Seoulista Super Serums, a supercharged range of three concentrated formulations designed to address specific skincare concerns, including hydration, brightening, and calming. The Brightening Super Serum with niacinamide, squalane, and bisabolol promotes a brighter, more even-toned complexion. In addition to the new serums, the new Seoulista Cryo Cool tool soothes, depuffs and lifts the complexion to a healthy, radiant glow. Harnessing the power of cryo-technology, the thick, aluminium cooling plate remains icy cool, even if stored at room temperature for convenient use anytime, anywhere. Powerful alone but better together, the serums have been designed to be used in tandem with the Cryo Cool Tool to create a high-performance daily skincare ritual. Available from selected pharmacies nationwide, Dunnes Stores and online from seoulistabeauty.com. Seoulista Super Serums €24.00 each, Cryo Cool €25.
Sothys Hydra-Plumping Mask
The dual hydration and youth solution in a mask. This mask combines two Sothys patented active ingredients with high molecular weight hyaluronic acid. Designed to provide an instant burst of hydration, this mask also has a pleasant rich and enveloping texture. In minutes, skin is visibly plumper and appears rejuvenated, and the complexion glows once again. One hundred per cent of people noticed who tested the Hydra-Pluming Mask saw an immediate hydrating effect after removing. The skin recovers lasting suppleness and intense hydration with every application, €37.90 available in selected salons and spas nationwide. Facebook: @SothysIreland
Marie Reynolds Eye-Drate Eye Cream and Eyeballs
MRL Eye-Drate (€48) is a rich soufflé, hydrogel consisting of a sumptuous combination of natural ingredients to help quench and nourish your skin without leaving a greasy residue. The unique cocktail of botanical oils includes Kukui, and Green Coffee Oil known to soothe, protect and stimulate the skin around the eyes. The ergonomic and cooling MRL Eyeballs (€26) are the perfect way to apply Eye-Drate, whilst supporting drainage of stagnant lymph and blood flow. Eyeballs soothe and calm the skin around the eyes as you glide the spherical metal ball around the orbital of the eye socket, focusing on key acupressure points to stimulate the meridians associated with eye strain, migraines, and tension. For an added cooling affect the MRL Eyeball can be kept in the refrigerator overnight. Available online from mariereynoldslondon.ie and selected MRL stockists nationwide.
Murad Deep Relief Blemish Treatment
Inspired by derm procedures for deep, uncomfortable blemishes, Murad's New Deep Relief Blemish Treatment with two per cent salicylic acid provides accelerated healing and helps clear skin, while a premium, ground cherry extract reduces redness and hydrates to soothe discomfort. The powerful leave-on treatment stacked with actives and skin-healing ingredients gives quick and long-term relief. The best part? It's all backed by our exclusive phytosteroid-based blend and clinically proven results to deliver a clearer, healthier complexion. Amino acid technology precisely targets the 'bad bacteria' (c. acnes) that triggers among the most severe types of acne while an invisible film-forming polymer creates a 'second skin' to keep ingredients in place longer on the skin for better penetration. Top Tip! It can also be used as an occasional targeted treatment for blemishes that flare up here and there, €46 available from selected Murad Stockists nationwide and online from ASOS.
Garnier Body Superfood
Skincare shouldn't stop at the neck! New from Garnier, Body Superfood is a moisturiser as comforting as it is efficient. This new take on body care combines the power of active skin supplements with superfoods providing 48 hours of hydration and instant visible results. There are four formulas to choose from depending on your concerns, among them Body Superfood Repairing Body Butter with Cocoa and Ceramide. This rich and creamy formula quenches dry skin and provides ultra-nourishing benefits. The luscious body butter features 97pc natural origin ingredients, including moisturising cocoa and ceramides encouraging lasting soft and supple results. Fast-absorbing, the cream leaves skin feeling silky without any greasy residue, so you can apply, get ready and go. €12.99 available to pharmacies and stores nationwide.
Dr Haushka Cleansing Balm
With its innovative gel-to-milk texture, the new Cleansing Balm now complements Dr. Hauschka's facial cleansing range. Its application is quite simple: When mixed with water, the balm forms a light milk that thoroughly removes impurities and make-up, leaving the skin feeling smooth and refreshed. The main ingredient which acts as a cleansing substance is Rügen chalk which absorbs impurities and excess sebum. Organic apricot kernel oil nourishes the skin and makes it supple, while extracts of anthyllis, birch and calendula give it a revitalising boost. The result is a mild formulation which helps preserve the skin's own oil-moisture balance and prepares your skin perfectly for the next care step. Simple to use, thorough and nourishing, €22.95 from Dr. Haushka stockists nationwide and online from drh.ie
Ultraceuticals Ultra Calming Moisturiser
This very gentle, soothing moisturiser was created for even the most sensitive skin types and will leave your skin feeling instantly soothed, cool, and calm. Ultra Calming Moisturiser counteracts the four core characteristics of sensitive skin by calming hypersensitivity and reducing visible redness with a calming peptide, reinforcing the skins natural protective barrier with a complex of ingredients to hydrate and nourish and balancing the skins microbiome with a prebiotic ingredient. Hypoallergenic, dermatologically tested, non-comedogenic this vegan friendly hydrating moisturiser is effective for all skin types. FACT: Ultra Calming Moisturiser increased hydration by up to 60 per cent after 30 minutes of use, €59 available from Ultraceuticals clinics nationwide and online from ultraceuticals.com/ie
For all the latest beauty news follow me on Instagram and Facebook @shernamalone.ie
Book Online for one of my advanced facial treatments or a skincare consultation
www.shernamalone.ie
Advanced Facial Treatments | Professional Peels | Medical Microneedling | Byonik Laser | Dermalux LED Light Therapy | Teen Facials