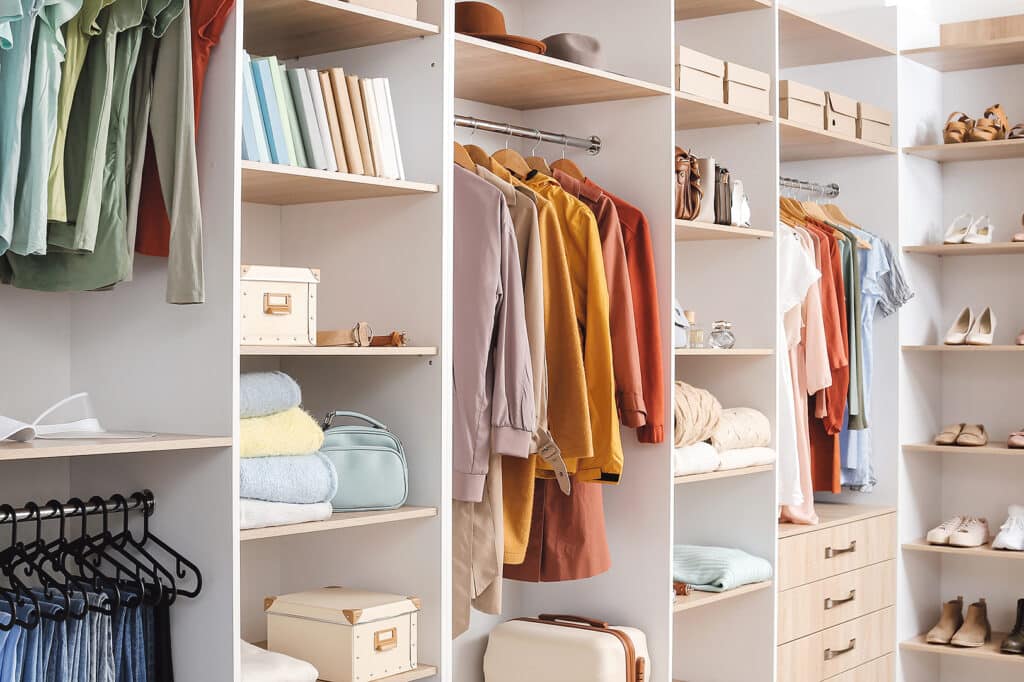 It's absolutely impossible to know what to wear at any given moment with the changeable weather we experience at this time of year. People are always curious about the 'rules' for dressing during transition seasons, which items to put away, and which ones to continue to wear. While there are no definitive rules, common sense and staying warm will always prevail. I pay more attention to the weather than the date on the calendar. After all, when it comes to fashion these days, there are NO RULES.
How you go about transitioning your wardrobe takes patience, especially if you don't want to end up with piles of clothes everywhere simply adding to your confusion. Most of us pack away our 'off-season' clothes, so in order to make some room for them again, we need to set aside the heavier winter gear and get it ready to be packed away. I know that space is always precious, but I always recommend that you ask for the shoe box or boot box when you are buying footwear. Storing your shoes properly adds significantly to their lifespan: Invest in some big labels to paste on the front of the boxes so that everything is easily identifiable and also allows you to re-use the box if you discard the shoes inside. This is a really good time to dispose of whatever is simply taking up space in your wardrobe, those bits that you are just hanging on to for no good reason.
Here are a few tips to help you make some space in your wardrobe:
1. It really is ok to let go of clothes that you spent a small fortune on but never wore.
2. 'Skinny' clothes do far more damage than good! These are clothes that you used to fit into but no longer do. There is a misbelief that even when our weight doesn't change as we age, the same size clothes should still fit us! Everything changes; we lose elasticity, we can lose our waist, our legs may lose definition or gain it in some cases and so on…so limit yourself to keeping a very select few 'skinny clothes', you don't need the emotional turmoil screaming at you every time you look at your wardrobe.
3. Trouser hangers are an absolute must, no excuses, just invest in some top quality ones.
4. Always have a good dressmaker on speed dial and if anything needs altering or stitching don't put it off. A good seamstress will also tell you when it is time to retire something – which might nudge you to let it go when you had no intention of doing so.
5. Don't shy away from being creative with your clothes, I have worn so many things backwards or in ways that they were never meant to be worn and, in doing so, some incredible outfits were born. That said, some things just don't work so let them go. Style is meant to come easy, you just can't force it.
6. Always hang similar colours together. Why would you keep six purple tops if you don't wear purple very often? We can all be slaves to a season's must-have colour but again the solution is to let go.
7. If you have the courage to do what I call a 'God almighty purge' then bravo, there is nothing better. This is not about removing a few things and passing them on or taking them to a charity shop – this is about taking everything out of your wardrobe and every drawer and container and box and being brutally honest with yourself. The first hour will involve picking only the pieces that you truly love and adore and wear regularly: Place those pieces back into your wardrobe. Because clothes can pick us up or pull us down, only choose clothes that spark joy in you and only those items are allowed back in your wardrobe.
8. Every item in your wardrobe needs to go through this test: Put it on and ask yourself 'Is this one of the 'I might want you someday pieces' or is this an 'I love you and want to wear it right now'. The answer will always be glaringly obvious; keep or eliminate based on that. Don't panic if the pile that you are letting go of is a hell of a lot bigger than the pile that you are keeping, remind yourself that this is progress and that everything going back into your wardrobe you absolutely love and do wear.
9. Some people have a really hard time letting go of clothes, even if they don't fit or make them happy. It may seem wasteful to give away perfectly good clothing but just remember it's not if it goes to someone who needs it.
10. Finally, use the notes section on your phone to jot down what you start to notice about your wardrobe, what you need, the brand of jeans that you wore most, the brand that was never quite right, the neck shape that was most discarded, the brand of dress that always loves you and so on. This might seem obvious but writing things down helps the brain to process information more efficiently and more effectively. Wandering aimlessly into a huge department store without that list is a recipe for disaster. The list helps you to shop with purpose and confidence.
Now that you have all this new found space in your wardrobe, it will be much easier to transition to a Spring wardrobe. You can still get cold weather protection while updating your look. Lighter and brighter puffy jackets instead of black ones are the way to go. Go one shade lighter in jeans and match them with a cute wide short cardigan. Trade heavy coats for lighter layers, you are not forfeiting being warm here but rather adding another thin layer underneath. Get those trench coats out, I adore them with leggings, a fitted top, runners and a glorious hat. Work more formal or business attire into everyday smart casual wear so that everything in your wardrobe gets regular wearing!
Lovingly wear your spring dresses with boots (and tights) and short chunky jumpers under a denim jacket. Carrying a large bag will never go out of style (we hope) and these bags serve as a carrying device for extra layers, or a hat or umbrella so that you are always covered.
Choose to wear pumps every so often on milder days, leave your boots at home. Put a little fake tan on your feet and legs so that you will look and feel better. Invest in some big scarves with some of the coming seasons colours in them, they will give instant WOW to your wardrobe.