I have to start by saying that this will be a short one, despite the fact that I have been almost 20 years writing in this wonderful paper, I forgot to have an article ready. Time is literally whizzing by and I am chasing myself. I made a commitment to Munster Rugby's MAR to run everyday from April until December 21 for Youth Mental Health Awareness and while I have already run almost 700kms and am really reaping the rewards of it, my time has become even more precious and scarce. I have missed about six days so far but I'm ok with that. If you are shocked that I am running, join a long list of people, my husband, my kids and myself to begin with…I have discovered that there is a beauty to running in the rain, a connection to nature that is raw and earthy. I did have to get the professionals in to show me how to run; it's not as easy as you might think. So, if you have tried and failed, like I did a few years ago, it might be because of your posture, how you hold your body when you are running and how your feet land on the ground – you won't die and your lungs will keep sucking in oxygen. The cause that I am running for keeps me going when I want to give up, I think about how our young have suffered, most especially over the last year and a half. In my own house, I have spent years looking forward to a twin debs that sadly that will not come to pass. Silly, you are probably thinking but a rite of passage for them none the less. Galway appears to be the destination choice for the 'Leaving Cert holidays' when it is normally a package holiday to the sun. They are all in it together, that's what's important.
WHAT AM I? This is a question that I am asked all of the time. What shape am I? What suits my shape best? What should I avoid? I have never been someone for labels because there is always and will always be exceptions to the rule and may limit someone who would look absolutely incredible in a cut or colour that would not 'under normal guidelines' suit. Our bodies 'house' who we are and they are simply remarkable but they do not stay the way we want them to, they change, and this can lead to chaos. When you are used to being a certain size or shape and then your body decides to move and grow in places that prevent zippers from closing and causing buttons to pop. This is the time when you have to start a new relationship with the casing that houses you. It's not like you can trade it in or anything like that…and yes, some head off under the knife but most of us will work with what we have got, frustrating as that may be at times. Those of you who know me are probably thinking that it's easy for me; yes I am lucky, my weight hasn't changed since before I had my daughter, who is now 25, but my shape has, and therein lies the quandary. Change must be met with open arms and for many, a size up. Have you heard about the 'Rule of Thirds'? This has been putting a big smile on women's faces for years. Instead of dividing your body into a top half and a bottom half, divide it into thirds with one third on top and two thirds for the bottom. It elongates and tones your body in a flash. Choose shorter tops to fit inside higher waist skirts, trousers and jeans.
What do you do if you have a big bust? Wrap style dresses or tops draw the attention from your bust and will emphasise your waist, they will also make sure that you don't look like you are wearing a tent. Choose tops that show a little bit of skin, they will elongate your neck and balance your bust. Another great tip is to wear your jewellery a little higher up – it will draw the attention towards your face and not your bust.
How do you flatter a lower belly bulge? Choose a fitted top that is stiff but kicks out a little from halfway down your middle. Layer a long fitted top with a slightly-longer-than-normal bolero jacket that kicks open – it creates a wonderful illusion and hides a multitude.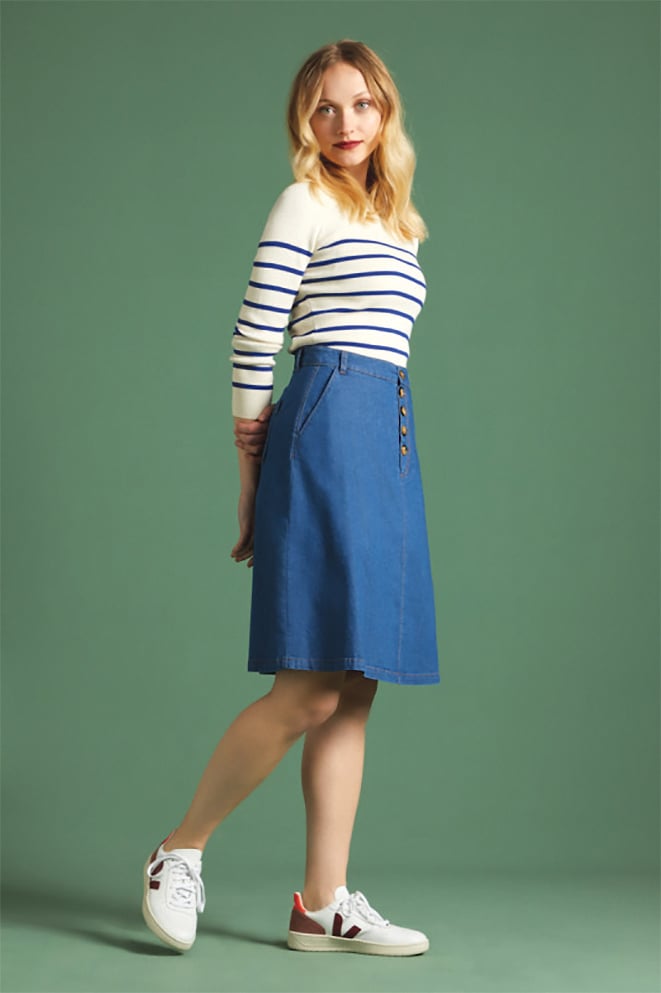 What do you do if you want to look taller and slimmer? Wear v-necks and solid colour sheath dresses to create long lines. High-rise pants make your legs look longer and have an overall slimming effect. Wear a monochrome outfit and nude shoes to create one long visual line.
The question that will always top the list is 'How to style a pear-shaped body?' Here goes, sleeve (shoulder) details add volume to balance hips and high waist pants will highlight your narrow waist. Wrap dresses will show off your waist and balance your silhouette. Vertical lines are slimming and off the shoulder tops add volume up top and distract the eyes.
I've packed quite a bit of food for thought and trial in there. A great look doesn't just happen. Research your way into becoming your own style architect – have the confidence to take control of your wardrobe.
'There's a confidence you find when you finally feel right in your body' Ariel Winter