"I wish I had invented blue jeans. They have expression, modesty, sex, appeal, simplicity – all I hope for in my clothes…" Yves Saint Laurent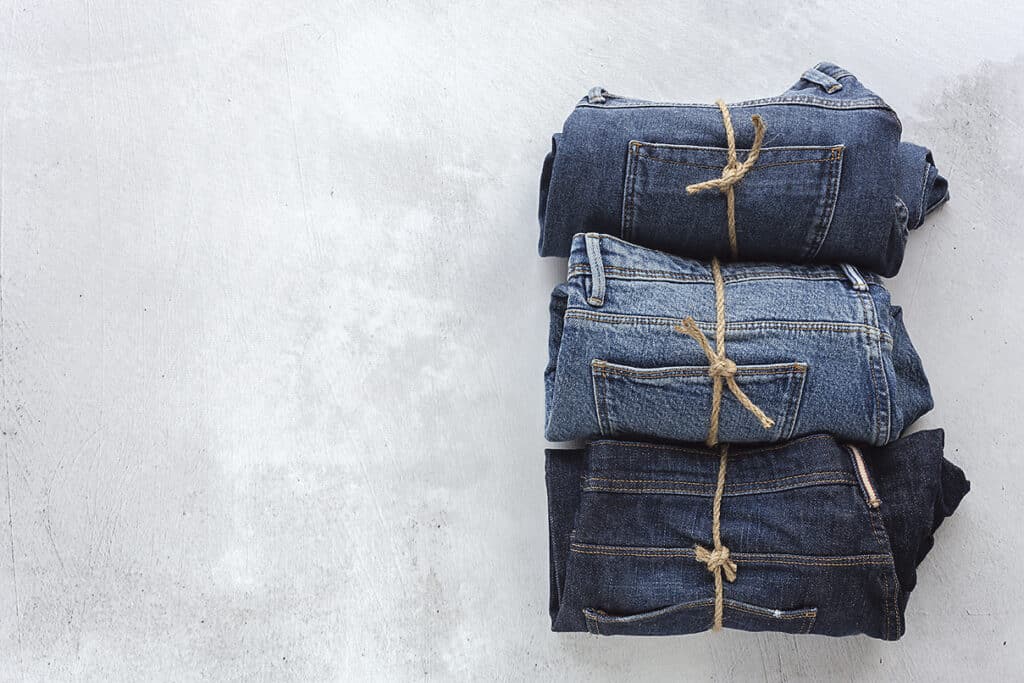 'There is more to life than a great pair of jeans': I know plenty of people out there who would emphatically argue with me on that point! How could anyone possibly live without jeans? We all have our favourites, our extra sexy pair, the every-day pair, the 'Mass' pair, the 'fat days' pair and the other four pairs that we might fit into one day with perhaps one pair in there that are too big. There was a time when jeans were uncomfortable to wear but designers have tirelessly worked to soften the fabric in just the right places and worked tediously to mould and shape them so that they flatter our wonderful curves. Fashion dictates the cut that we tend to wear but we have now found ourselves in a bit of a quandary…there are multiple styles in vogue, so which direction should we go in? Most of us are desperately clinging to our 'skinnies'. Familiarity most definitely sums that up. We need to be nudged in a new direction and change, while difficult at times, almost always benefits us enormously. 
Before I start picking apart all the different styles, it might be a good time to look at the functional side of jeans. When do you wear them and to what? It is now acceptable to wear jeans to any event, at any time, and to anywhere. Isn't this just fantastic? What does change is the style of jeans: As the event moves up the scale from casual to glam, or more formal, the style has to be more sculpted – no baggies, rips, or mom jeans. The choice of shoe or boot that you wear underneath can add to your overall glamour or play it down.
Which of you hasn't had a moan about shopping for jeans? Yes, finding a great pair will undoubtedly involve some work and lots of time, but trust me, it is worth it. More than any other item of clothing, shopping for jeans requires the entire devotion of your attention on any given shopping day. In other words, if you are shopping for jeans, then it simply must be jeans only. Try on as many pairs as you possibly can, every cut, every price! This is the only way that you will know what works best.
So many of you ask me to recommend which brands are best: There is no way that I could, because our shapes vary so dramatically. What works for me, most likely, will not work for you and the only way to find out is to keep trying pairs until you know…and YOU WILL KNOW! When you find 'those' jeans, buy two pairs, or at least the same pair in blue and black denim. For years I have been saying that jeans are perhaps the best weight barometer that there is. We can instantly feel a little extra or a little less weight when we tie up our jeans – a good reason to make sure that you wear jeans regularly!
Denim jeans have become an integral part of everyday life, so much so that most of us never stop to question where our favourite pair came from, how they were manufactured, and the history behind jeans. It is fascinating and I'll try to condense it for you. Levi Strauss moved to San Francisco during the 1853 California Gold Rush, to start a branch of his family's dry goods business out west. Originally a German immigrant, he moved to New York first in 1851 with his brother. He sold many products, one of which was the sturdy imported cotton fabric, denim. Strauss partnered up with a tailor, Jacob Davis, and their denim was used to make horse blankets, wagon covers and tents. They were then commissioned by a gold mining company to create trousers, which were strong and could withstand hard work. They patented their jeans on May 20, 1873. While denim overalls were created first, it was in the 1890s that the company created the first pair of denims as we know them now. Competitors started to come along then with Wrangler in 1905 and Cooper in 1911. Cowboys were next to take on denim jeans, as their daily uniform; they were hardwearing and the indigo shade was great to hide dirt! Jeans were worn by railroad workers, lumberjacks and cowboys at this stage…never as a fashion accessory.
Another chapter unfolded during World War 2, when blue jeans were declared an essential commodity and were sold only to those engaged in defence or military work. The American GI's brought their beloved denims with them overseas and they became less associated with workwear and more closely linked to leisurewear.
James Dean and Marlon Brando redefined the humble denim jean forever with their highly stylised roles in cult movies such as 'The Wild One' and 'Rebel without a cause'. Marilyn Monroe reimagined the denim jean as an empowering and moderately sexualised style. Here we are today, thanks to all of that, with a variety of styles for whatever way we feel or look. We can work in them or we can simply look amazing in them!
The question I have been asked most about jeans recently is 'How do you style Mom jeans?' We have been pinned into skinnies for what feels like forever, most of us reluctant to change. We have to push ourselves, a new look is like a breath of fresh air! Mom jeans have a high rise and are looser around the hips and thigh. You can balance them by pairing with a cropped sweater and ankle boots. Also, when choosing ankle boots, look for pairs that merge with the skinniest part of your ankle, as these are the most flattering. A belted over-sized cardigan and mules is another lovely relaxed yet fitted look with Mom jeans. A tucked in silk shirt or blouse can be quite fetching also or add a glitzy belt. The classic relaxed look is with a white t-shirt (long-sleeved for winter months) and sneakers.
How about straight leg jeans? Are you wearing them? Do you know how to make them look fantastic? Choose a pair that cuts you right at or just above your ankle bone. Wear ankle boots that show about an inch of skin for a slimming effect. Or choose boots with a higher, close-fitting top that slides under your jeans. It is worth putting a little time into 'rocking' straight leg jeans. They really can look sensational.
Boot-cut jeans are not everyone's cup of tea but for those of you who like them, you work them so well. Full length boot cut jeans should be a half to 1.5 inches from the ground. The glamorous look requires a pointed toe shoe or boot while sneakers and a long open cardigan are key to going casual. A puff sleeve sweater works really well with these jeans, just add a chunky boot underneath.
Skinnies have been the main-stay for a few years so do yourself a favour and try out some of the styles above. Like everything worthwhile in life, getting used to wearing something new or different feels uncomfortable. What you need to recognise is how far to push yourself. Jeans should be your best friend, they should shape, flatter and mould you, keep you warm, cover unwaxed legs (if needed), be your go-to feel better item of clothes and they should last you a very long time. There is a mini heartbreak when our favourite pair finally succumbs to age or wear and tear – loathe to throw them away but throw them away we simply must. It is a journey, owning a pair of denims. They go through the days and nights with us, the secrets that they keep, the tears and joy that they chaperone – our sidekick, our silent friend, always there when we need them, providing support for our body and maybe even our soul.