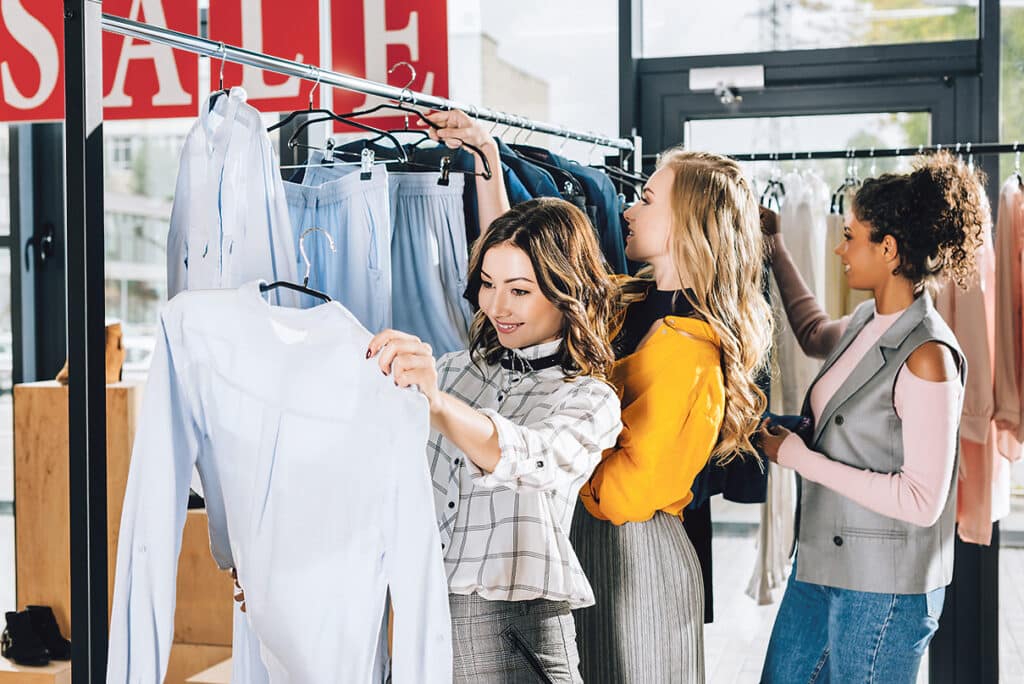 Love it or hate it, this time of the year comes with a slew of fashion brands trying to outbid each other when it comes to offering shoppers the best discounts and deals. As a result of so many people shopping online, we no longer have the heaving crowds in shops and the endless wait to get into the fitting rooms. The first thing that you need to remember when heading out is that you are most definitely up against some of the best marketing minds in the fashion business; they know how to hook you and reel you in. It's amazing how many women in particular say, 'Look how much I saved on all of these clothes!' when in fact they forget to take into account how much they have spent. The god honest truth is that our brains zone out when we see 50 per cent or 70 per cent off. The idea of not paying full price for something can cause frenzied thinking so here are a few do's and don'ts that might help you to choose more wisely.
Create a 'wish list' in the notes on your phone at a time when you feel realistically comfortable in your own skin and well rested. When we are tired, emotionally drained or having a 'feeling fat day' our thinking is distracted. We have a tendency to make more mistakes and want to impulse buy everything, thinking that this will make us feel better.
Start by writing down the amount of money that you have to spend or are willing to spend on the 'sales'. It will ground you.
Look through what you have more than once and start with bits that need replacing, this will most often be any item in white. Then look at what you might need to match up with something that you already have.
If you have a fair idea that you will be invited to a wedding the following summer, keep an eye out for something incredible but try to avoid the statement colours that we were smothered in this season as they will be very much 'last season' by next summer.
Finally, and my favourite part of the list is taking screenshots of items that I would like to buy or try on and decide if they are 'me'. Sometimes when I see something that I like on someone I ask them if I can take a photo; most people are really flattered and you can add that on to your wish list too.
Now you can go shopping with a plan and when your pupils dilate and the adrenaline kicks in the moment you see your favourite fashion brand discounted, stay calm. Ask yourself 'Do I need it?' or believe it or not 'Do I really like it?' Bottom line, stick to what you know (your signature style), stick to your budget and keep referring to your list.
When we are confronted with the noise of big name brands and their big discounts, it can be all too easy to forget that both independent and second-hand brands also offer discounted deals at the end of the season. Check out your local boutiques and gift shops, you just might find something wonderful.
We all know that clothing sizes can be a bit of a minefield and it's not unusual for someone to be two sizes different from one brand to the next, some clothes look better over-sized and others fitted. Boutique sizes are often more generous than high street stores, in other words, don't let it ruffle your feathers if you have to choose a bigger size.
Just because an item of clothing comes in a colour and shade that really suits you but the fit isn't great, please don't adopt the 'it will do' attitude. If I have seen one 'it will do' item with the tags still on in wardrobes, then I have seen a thousand.
Make sure that you know the Returns Policy when you purchase something that you have a little uncertainty about. Trying it on in the comfort of your own home, in front of your mirror, will ultimately help you to decide between keeping or returning. The clearance section is another matter completely, if you buy, you keep.
The number one sale buy this season has to be the summer dress. Get over yourself if you are about to start whining about your legs and just get a spray tan or practise putting on tan at home until you get it right.
Next comes summer sandals, runners and bags. Shop to your heart's content here, especially when it comes to comfortable footwear, you can never have too many pairs of runners and you can wear them with absolutely everything!
In case you need reminding, you don't have to spend a ton of money to look really good. Looking good involves far more than spending money to fit someone else's idea of beauty. A genuine warm smile will make you look so much more attractive than no expression at all or a constant startled look with caterpillar eyebrows! Be yourself always, let it go right over your head if someone judges you because of how you look or don't look and zip that internal voice that probably gives you a harder time than anyone else. I've always loved the quote 'Those who mind don't matter and those who matter don't mind'.