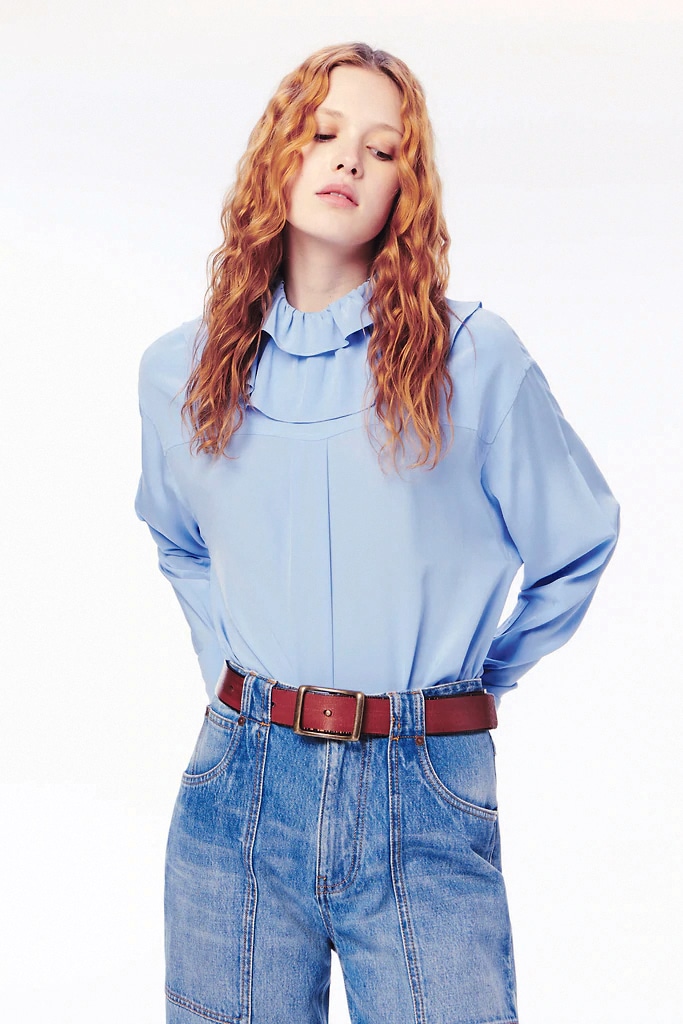 While we are introspective in winter, Spring gives us a new sense of life, physically, spiritually, emotionally and, undoubtedly our wardrobe needs to reflect this.
When I hear people say how 'pressured' they feel to have a 'current wardrobe' or how clothes shopping can be depressing, I feel genuinely sad that they are depriving themselves of a sense of joy because of a belief system that is askew and clever marketing that insists that we have to keep buying and buying. Many of the bigger clothes shops are designed to make us feel out of place. Few of us enter a store with a well-thought-out plan or even an idea of what we should be looking for; so we spend countless hours browsing aimlessly, purchasing items just to feel like we finally made a choice and not because it accomplishes a larger goal. Shopping online isn't any easier.
Shops profit off of our confusion, sucking us in by prominently displaying shiny items that stand out in a sea of sameness, which we spontaneously decide we need and buy, even though we have zero clue how to wear them. We see them on celebrities and influencers, often reflecting a style and life we think we want. The problem with these 'must-have' pieces is that they are so visually stimulating and specific, that after a few wears, we feel like we have worn them a million times. In the era of social media, this tendency to overestimate our outfit repeats is even more pronounced. These pieces are ruining our wardrobes and become less and less functional over time and cause indecision and disorder because the potential outfit combinations are limited. The key here is to make sure that 75 per cent or more of your wardrobe is made up of essentials – quality trousers and dresses, jeans that fit and hold their shape, crisp white (not gone-off white) bits, warm winter coats, stylish waterproof jackets, leather gloves, pretty well-tailored blouses, sweaters that hold their shape, a selection of your favourite colours mirrored in accessories, summer dresses that flatter, blazers that give you a gorgeous silhouette and underwear that makes your heart sing – and 25 per cent or less 'fast fashion'!
Now you are ready to start shopping, NEVER buy anything until you know that you have gathered all of the essentials, these are the backbone and core pieces that allow you to build successful outfits on a daily basis. Having loads of clothes is not the answer, having the right selection is!
Cornflower blue has, is, and will always be my absolute favourite colour. I adore how it looks, how it makes me feel and the lovely compliments I get when I wear it. It is one of the most powerful colours of this season, so if you love it, then you will be spoiled for choice.This is a colour that comes in and out regularly but never disappears completely so whatever you do buy in this gorgeous shade will last a lot longer than one season, I guarantee you that. What you will have to do to lengthen its lifespan is alter the colours that you wear it with. While it looks lovely with white, it has a certain richness when teamed up with cream. Tan and beige add depth to cornflower blue and rich salted caramel (also a top colour this season) is wondrous with it on a wet day. Don't automatically wear black with it because it seems to lose its joie de vivre. While patterns can be eye-catching, longevity in your wardrobe will always lean towards block colour pieces.
Midi and maxi skirts and dresses won't go anywhere anytime soon but the mini is definitely making a significant statement. In fact, mini skirts with matching suit jackets, a definite 60s/70s vibe is putting a smile on our faces as we flick through magazines. If you have the legs for them, go for it. Psychedelics for summer, yes, they fall into that 25 per cent category, but they are fun, earthy and reminiscent of times where free living was all that there was, I suppose it is appropriate in our new-found-freedom to have it mirrored in the clothes that we wear. Hot pink is in and I have found that if you are not a blue girl then you are most definitely a hot pink girl. It screams 'I'm alive, I'm happy' and I'm here' and that is a wonderful thing. Not everyone can wear soft lilac, but for those who can, it is such a tranquil colour that exudes a delicate depth, and softness, especially for those with brown eyes and olive skin. You might not feel like singing like a canary but canary yellow is most definitely packing a big punch this Spring/Summer season. If you like it but struggle to know what to wear with this vibrant colour then choose to wear with a neutral palette; tan or cream can add an expensive flare to yellow and it makes the experience of wearing such a bold shade less intimidating.
Take your 'sweet ass time' when or if you go shopping. Acknowledge before you go that mentally you need to be prepared and pumped, otherwise you will buy 'stuff' that doesn't connect with anything else that you have. Lists are crucial, they pull you out of oblivion and refocus you and, like spring, we are emerging out of a pandemic that has changed all of us in some way, so always be gentle with yourself and learn the art of saying no and putting something back – it is in this discipline that an incredible wardrobe is born.