How is it almost Christmas again already? I genuinely feel that this year, someone put extra-strength Duracell batteries into the 'Time' machine because it is whizzing by. One thing for sure, I'm not going to get into that manic Christmas stress and pressure. I adore this time of year. Christmas looks good, smells good and feels fantastic. There will be an empty seat at our table; my daughter won't be coming home for Christmas for the first time in her life. Oh but please don't feel sorry for her, she will be experiencing everything that California has to offer for Christmas, minus me pulling her out of bed early on Christmas morning. We will all really feel her absence, especially the way she instigates all of the Christmas games and, to be completely honest, she makes a mean Jameson, 7Up and lime cocktail with blueberries. It's such a huge transition when your kids grow and no longer wake you at an unearthly hour to open their presents on Christmas morning. I've been paying it back for the last few years by waking my three up early. The response is always wonderful – lying through my teeth here. They do get up but conversation is normally minimal until massive tankards of coffee have been guzzled down. Oftentimes the lads can't remember where they have hidden their presents for us so there is lots of running up and down the stairs, last minute wrapping, doors banging and 'oh sorry, that wasn't meant for you' after you open something. I wouldn't change any of this, not for a second. I feel truly blessed and there is no greater gift in life than to see your children happy and healthy and following their dreams.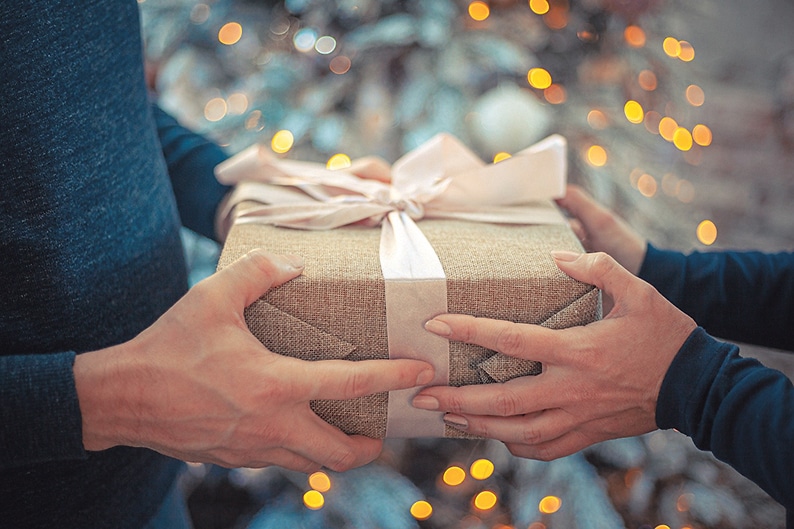 So what is happening in the world of Christmas style? It's very simple, anything that sparkles or twinkles – wear it. Get those WOW pieces out of your wardrobe…If there is a sequin or gold thread in it, it's a seasonal winner. These pieces do not need to be expensive, cheap and cheerful gets a free pass here so no pressure allowed. A plain black dress can be instantly turned into a Christmas party dress by adding a sparkly belt or glitter heels. The black tights and gold sandals combo is a bit like marmite but I'm definitely a fan. It does look really chic if you have the confidence to wear them together. Quite a few of you have been asking what kind of footwear you should wear with wide leg trousers. A pointed sock boot or a block heel boot are a great addition to a wide leg trouser; make sure that the trousers are literally grazing the floor, to visually lengthen the legs. An almond shaped toe or pointed toe on a boot or sling-back shoe will also add even more length to your look, especially if they are the same colour as your trousers! Platform trainers are a cool alternative day wear look with the same wide trousers that can carry you from day into partying the night away. They are a great way of dressing down smart trousers.
In early November, Marks and Spencers introduced a red narrow trouser and red jacket for sale as 'separates' but together they created the most gorgeous and flattering red suit. Not for the fainthearted and it certainly didn't break the bank…needless to say I couldn't resist it. The trousers come in four lengths, so depending on how much or little of your ankle you want to show off, your perfect length will be there. The trousers have an elasticated waist and are so comfy. The red blazer will carry you through the entire year, dress it down with jeans or leggings or 'sex it up' with a slinky little dress underneath. The trousers too will also carry you right through every season, providing a splash of colour to lift your spirits, even on the darkest of days.
Velvet is luxurious and comfortable, what a wonderful combination! Most of you are afraid to wear it even if you love the look. I love it, this glorious material can be dressed up (obviously) but you can also dress it down for everyday wear. I got married in New York at Christmastime and wore a velvet dress, a dress that I would still wear today. Yesterday I wore a lilac velvet jacket with jeans while going shopping. It's all about getting more comfortable, dressing down clothes that can be perceived as 'more formal'. Let that be your motto when you go shopping. If you are buying something formal for an event over the holidays, ask yourself 'How can I dress this down?' Every single item that we buy now needs to be used and reused multiple times. It is no longer acceptable to leave clothes hanging in your wardrobe for months or years on end! The ultra relaxed look is to add sneakers to any outfit and it instantly pulls it back to daywear.
So what kind of gifts do you buy for someone when we all have everything? What about a weighted eye pillow/mask. These eye masks are incredible – I have a faux fur one. They help to destress and ease tension around the eyes and forehead and have a weighted-bead insert infused with lavender that you can toss in the microwave or freezer for different thermo-therapy benefits. A good quality thermo-therapy weighted mask costs about €50.
Do you have a Fashionista on your Christmas list? I know it might sound bizarre that I would recommend a really good pair of oversized sunglasses but they are something that we all need and use all of the time. This season, the bigger the better, and the more glamorous. A super gift if the person doesn't need a prescription in them.
Whether they love to travel or perhaps you need to buy a student a gift, a leather backpack is the ultimate 'in' and sophisticated practical pressie this year that anyone and everyone will love to carry on their back.
Skip gifting traditional jewellery pieces and opt for an anklet instead. I'm not suggesting that you spend €150 on a Missoma anklet, spotted on a lot of A-list celebrities, but there are lots of price options out there and whoever
receives one will never want to take it off.
You might think it a tad strange that I am recommending a salt lamp as a stylist Christmas gift but think they are wonderful; they're calming and provide a lovely glow instead of the harsh light from a lamp. They definitely purify the air, lift your mood, enhance your sleep and improve breathing conditions.
Don't forget to treat yourself – even if money is dreadfully tight, find a way. I have a gift for you and it comes at minimal cost. I have come across so many women who lost a dramatic amount of hair after having Covid. For some, it actually fell out in clumps. I couldn't believe it myself; a month after being sick, every time I washed my hair, so much fell out. A good friend gave me a really old tip that works so very well. I was researching extensions to add thickness (in case it continued to fall out in dramatic levels) and looking for recommendations from hairstylists. These were not cheap options, so I was sitting on the fence and then my friend suggested that I try a rosemary rinse, as I had a rosemary plant in my garden. Years ago, women would make tea out of a rosemary plant, drink some of it and let the rest cool to be used as a rinse after washing hair. It is supposed to boost hair growth by inhibiting hormonal changes that can lead to hair loss, improving circulation to the follicles, acting as an antioxidant and decreasing inflammation on the scalp. I decided to give it a go. After using it a second time, I could feel the difference in the texture of my hair and now, six weeks later, I have loads of new hair growth. I have been making a conscious effort to drink fresh rosemary tea at least every other day, so that I am getting the benefits inside and out. I cannot recommend this enough and I make enough rinse to last two weeks so I always have some in supply. This is my Christmas gift to you.
Have yourselves a wonderful Christmas and if you are feeling bad inside, find someone who is struggling and help them, it will lift both of you. Make some time to spend with others. Hug everyone and hold each other for the longest time. If you lost someone close during the year, be still and know that they are still with you. To my friends, you are the treasures in life that I hold so dear to me and, to my family, here's to loads of games and laughing and PJ days and lots of precious time together or on video calls to San Diego. I know that there will be tears but there will be so much love and that transcends even the greatest distance.
"The best Christmas gift is to realise what you already have."