Ella Goddin, Founder and CEO of Fodder Box Limited, based at 11 Barryscourt Business Park, Carrigtwohill, County Cork, chats to West Cork People about her innovative technology that is taking the livestock and equine worlds by storm.
Fodder Box Limited has developed and built fully-automated, computer-controlled hydroponic fodder production systems that produce 500 kg per day to 100,000 kg per day of the highest quality fresh animal feed — ideally suited for both livestock and equine nutrition — at the touch of a button.
A FodderBox 40ft container system, priced at €120,000, produces roughly 1000 kg per day of premium fresh fodder. A FodderBox 20ft container system, priced at €80,000, produces 500kg per day. Ella added, "We're running a Holiday Sale. Place your order by the end of the year and pay €100,000 or €60,000 respectively. Customs builds into a suitable shed are an even better value with three tons a day running you €200,000. In the Holiday Sale it's €180,000."
Fodder Box Ltd is working with their solar partner in Oman, Oval Engineering LLC., Ovaloman.com, to develop an integrated solar system alongside an independent water management system, taking FodderBox systems completely off-grid.
So, what exactly is hydroponic technology?
"Hydroponics is the science of growing plants in water. Hydroponically grown fodder or 'HydroFodder' is grain or seed that has been germinated in water. What results looks like a carpet of the best grass you've ever seen. The entire mat is fed, including the roots, which contain valuable micro-nutrients," explains Ella.
"FodderBox is literally a field in a box, only the field is pure water, and it farms itself. Effectively FodderBox technology is stackable land that requires no labour input and uses the lowest water input of any production method."
With a FodderBox system, a ton of grain or seeds (barely, wheat, oats, corn, rice, legumes etc) becomes approximately six tons of HydroFodder that effectively replaces around three tons of grain. So, FodderBox users roughly triple their grain value and reduce their feed costs by two-thirds.
As if this is not good enough, the enormous health benefits make HydroFodder a true game-changer. Recent US research found that animals supplemented with HydroFodder are measurably healthier, more productive and produce less methane — 24 per cent less methane in dairy cows and 48 per cent less methane in beef cattle.
The methane reduction is significant, not only as an environmental benefit; but because methane is a waste product of converting food to energy. A decrease in methane production signals an increase in digestive efficiency.
Animal Health Benefits
Using a FodderBox system, significant health benefits are soon realised. Ella explains that "before germination, grains are inherently difficult for most animals to digest. Of course they are. Plants want their seeds and their grains spread far and wide. Not digested. They're meant to go in one end and out the other. "
The digestive inefficiency of grains is based on the presence of digestion-inhibiting substances in grains that are neutralised by germination, as well as the absence of digestion-aiding substances physically created at germination, and the absence of nutritive components formed at germination.
Ella pints out, "Fascinatingly, the digestive efficiency of germinated grains has been appreciated for tens of thousands of years. In fact, germinating grains is arguably the most ancient food tradition, other than fire, as evidence suggests the use of germinated grains by hunter-gatherers over 100,000 years ago."
So too, germinating grains for animal feed is an ancient tradition known for its value in promoting health and vitality. Throughout history, a prized animal slated for trade or sale would be given germinated grains to quickly and visibly add weight to its frame, shine to its coat, and strength to its hooves. Animals suffering from illness or injury were given germinated grain to bring them back to health.
Germination unlocks the energy within grains: In addition to increasing the available nutritive value of grains, many vitamins are literally created at germination. Moreover, germination introduces enzymes that break grains down into simpler components that are easier to metabolise: Starch converts to sugars, fats convert to lipids, and proteins convert to amino acids, all while bringing the pH into a range that facilitates digestion.
Protein levels are as much as 25 per cent higher than in the parent grain.
High digestibility means dietary energy is not wasted on digestion in the animal, resulting in greater energy efficiency.
Phytic acid levels are very low in young plants, making phosphorus more bioavailable.
Starch in the parent grain is largely converted to sugars supporting better forage digestibility and a more stable rumen pH for dairy cattle.
Ella emphasises: "The number one benefit for producers, whether they're dairy or beef or sheep or goats or chickens—or even green energy producers using biodigestion — is seen on the bottom line. Manual systems have been on the market for 15 years. Why? Feed security and profitability. The bottom line is always the bottom line.
In a fully-automated FodderBox system a ton of grain automatically becomes approx six tons of HydroFodder that replaces approx three tons of grain. So users triple their grain value, reducing feed costs by two-thirds.
On top of the direct saving are profitability increases due to the health and productivity gains across all livestock categories.
For example, chicken eat 25 per cent less feed overall and produce eggs with thicker shells and yolk a deeper yellow. Sheep produce more twins, they hold more pregnancies, lambs die less even in bad weather. Goat produce milk year round, while housed.
Young steers in the US were divided into two groups in outdoor pens without shelter. One group got their typical ration. The other half got HydroFodder and roughage. After the bad storms with cold temperatures, heavy rains and high winds passed a many members of the group on the normal feed needed antibiotics. Zero animals in the HydroFodder group needed antibiotics.
Overall animals on HydroFodder need less vet care and cull rates in large US operations are reduced from around 12 per cent to almost zero."
An organic Dexter producer on Bere Island, David Andrews, reached out to Ella when he saw Fodder Box Ltd had won an innovation award. He wrote, "The benefits to the cattle are plain to see. I don't know why everybody isn't doing this! My feed costs are one-tenth of the average organic feed cost."
Ella continued, "In dairy you see huge benefits as there's an uptick in milk production alongside a significant cost reduction. Follow the money. The big producers in the States are adopting this technology in droves. Particularly if you are milking in the winter and you're not feeding HydroFodder you are leaving big money on the table."
Dairy Producers Reap Big Benefits
Protein levels are as much as 25 per cent higher than in the parent grain.
High digestibility means dietary energy is not wasted on digestion in the animal, resulting in greater energy efficiency.
Phytic acid levels are very low in young plants, making phosphorus more bioavailable.
Starch in the parent grain is largely converted to sugars supporting better forage digestibility and a more stable rumen pH for dairy cattle.
In 2021, Dellait Animal Nutrition & Health researchers conducted a study to determine if adding HydroFodder to close-up cow rations can improve cow health, nutrition, and performance outcomes during the transition period. HydroFodder was administered in the weeks immediately prior to giving birth, and researchers monitored performance, health, and fertility metrics of both heifers and cows postpartum.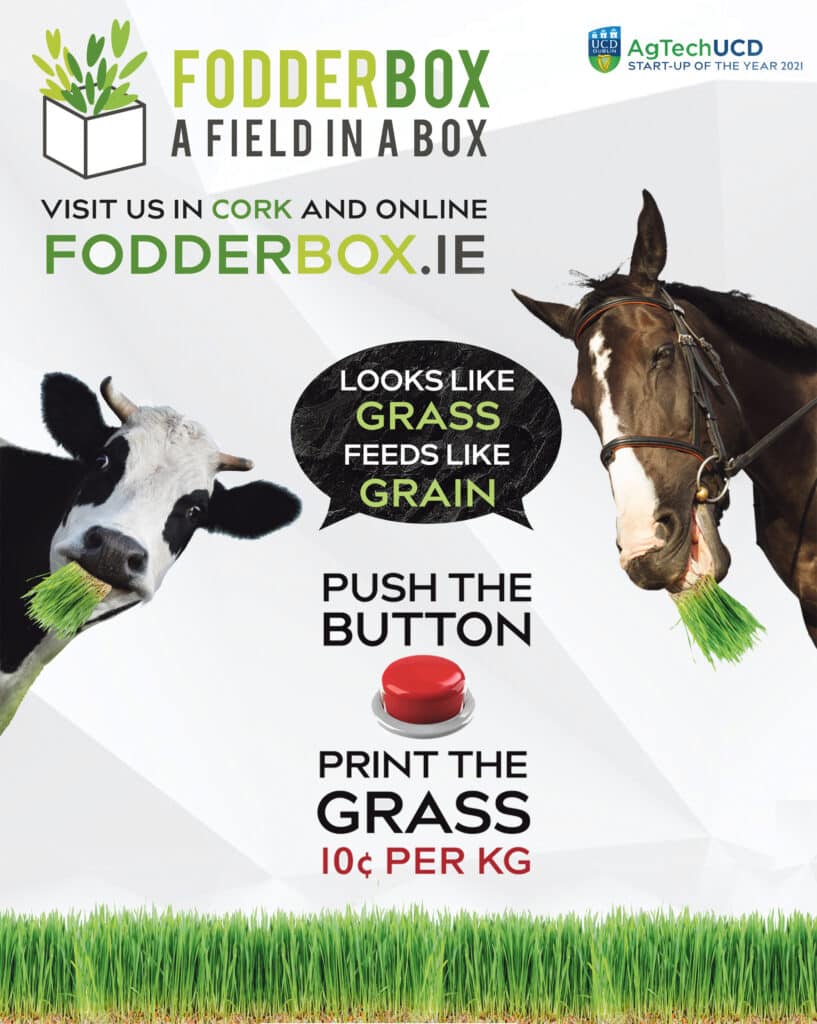 Using a crossover experimental design that spanned six months in 2021, the Dellait Trial supplemented the diet of 742 cows with HydroFodder at Crosswind Jerseys Inc. in Elkton, South Dakota. The trial took place in a dynamic close-up pen and compared results with a control group of 783 cows that did not receive HydroFodder.
Crosswind Jerseys is a top-ranked dairy producer in South Dakota. In 2020, Crosswind cows were ranked first in fat production, third in milk protein, and fourth in milk production by the American Jersey Cattle Association.
Experimental diets were formulated with and without HydroFodder and contained wheat straw, low potassium alfalfa hay, corn grain, anionic salts, bypass protein, canola meal, soybean meal, corn silage, and minerals.
Researchers found that adding HydroFodder nutrient-dense fresh forage in the weeks prior to calving boosted feeding behaviour, increased milk production post-calving, and enhanced cow health performance fertility metrics.
The trial collected thousands of data points and specifically measured:
– Daily milk production using GEA milk metering, with results reported to DC305
– Rumination using CowManager sensors
– Weekly samples to test TMR composition and digestibility
Observations showed that including HydroFodder in the ration significantly increased dry matter intake (DMI), rumination activity, and nutrient digestibility. More specifically, the Dellait Trial noted positive trends in fibre digestibility and initial estimates show that adding HydroFodder to a close-up diet resulted in:
– 5pc increase in feed efficiency
– 10pc increase in fiber digestibility
– 12pc increase in DMI
– 5pc increase in milk production
– 8pc increase in conception rate
Adding HydroFodder to the ration allows complex carbohydrates to be more easily converted into digestible sugars and fibres, enabling better ration digestibility in the rumen and improved rumen health.
Dr. Fernando Diaz, Nutritionist and CEO of Dellait, notes that: "Hydroponically sprouted grain is a very unique product, it's like a high-energy forage. It has very good content on fiber, along with very high energy coming from sugar, making it one of the most energetic ingredients in the market."
Hydrolytic enzymes naturally occurring in the fresh plant enhance the digestibility and absorption of nutrients like vitamins and minerals from the ration as well as the overall diet, which can help prevent serious and costly metabolic disorders.
Meeting the nutritional needs of a close-up cow is a constant challenge. During the last trimester, a remarkable 70pc of total calf birth weight is gained, causing protein and energy requirements to peak. While nutrition needs peak, feeding behaviour of transition cows can drop by up to 30pc, putting close-up cows at risk of disease, metabolic disorders, and hypocalcemia after calving.
Hypocalcemia is a common and dangerous nutrient deficiency for transition cows and can result in risky conditions including dystocia, uterine prolapses, retained membranes, mastitis, displaced abomasum, and overall weak immune status.
Herd health is impacted, but there can be financial impacts too. Researchers at University of Wisconsin found that "clinical and sub clinical cases of hypocalcemia, in a 2,000 cow herd can cost a producer more than $60,000 per year."
Horses for Courses
Phil Schoenthal, 37, campaigned a three-year-old filly sprinter Miss Behaviour, who won the $500,000 Charles Town Oaks and finished second in the Grade 1 Test and Grade 2 Prioress. Having built his own manual HydroFodder system, Schoenthal thought the fresh fodder was helping improve Miss Behaviour's blood counts. "Her red-count levels were way up and her electrolytes were off the chart," he noted.
In an interview in DRF, Schoenthal said, "I'm seeing horses bounce out of races better and be ready to run again sooner."
"Keeping horses hydrated is an ongoing battle at the racetrack, especially since almost all horses are treated with the diuretic Lasix before they race. When you treat horses with Lasix, it takes the water out of them, and then after the race, you work to put it back in. Anything that can be done to keep horses hydrated is hugely beneficial."
"I also think the fresh fodder helps prevent ulcers. Standard feed is dehydrated, and this is a more natural way for horses to eat. I compare normal feed to McDonald's, and this is more Whole Foods," Schoenthal added.
Equine Wellness
According to Equine Wellness magazine, a natural diet of fresh hydroponic fodder offers greater health benefits than any combination of processed or dried feeds.
A US thoroughbred racing trainer of 25 years reported that when his herd was supplemented with HydroFodder their race placing went from eight per cent to 15 per cent after just a few months. It was a manual system, so when the man running it was absent for a short time, they stopped feeding the HydroFodder and the herd's race placing plummeted to seven per cent. When the worker returned and resumed supplementing the herd with HydroFodder, the race placing shot back up to 15 per cent.
The first FodderBox system in Ireland was purchased by David Dunne, a qualified equine nutritionist and former jockey. David is now a horse trainer in county Meath, 20 minutes from Dublin Airport.
According to David, people have a misconception about how much they feed their horses. Just because horses have weight on them, doesn't mean they are healthy. It is a sad fact that 80-90% of racehorses have stomach ulcers due to grain-based feeds which create an acidic environment causing ulcers which cause pain. Clearly horses don't perform well in pain. "I want horses to stop hurting from the feed we have been giving them," he says. "Horses are naturally a gentle animal. Ulcers make them grumpy. HydroFodder prevents ulcers. So why don't people give horses what helps them perform to the best of their ability?"
David also pointed out that hydroponic fodder is a natural anti-inflammatory, meaning it helps prevent arthritic disease. Prevention is better than cure, David adds. "Not only is it far more cost-effective, it's ideally suited to horses' nutritional needs. All the amino acids a horse needs are in HydroFodder. The starch has been converted to healthy sugars. The hydroponic fodder is alkaline not acidic. It's a superfood for horses."
Many have described FodderBox as a 'no-brainer' for animal keepers and it is easy to see why. Little wonder, therefore, that the awards and accolades keep rolling in.
"We were delighted to be named AgTechUCD's Start-Up of the Year at the Enterprise Ireland Innovation Arena, Irish National Ploughing Championships 2021. Fodder Box Limited has also been short-listed for Ireland's Most Ambitious Companies 2022," enthuses Ella.
Pioneering Integration
A clear success story, Fodder Box Limited is set to pioneer the integration of automation and biodigestion, following independent Irish lab tests that found higher Biomethane Potential (BMP) in hydroponic fodder than in silage. The BMP of HydroFodder exceeded the theoretical limit of the BMP of silage, with more than 40 per cent more available energy in HydroFodder.
These lab tests demonstrate the extreme efficiency with which Hydroponic Fodder is converted to energy, in this case, by the microbes living in a biodigester.
The company has a 10-ton/day auto-FodderBox installation planned with agribusinessmen in Northern Ireland, where their biomethane-powered electricity is sold directly into the grid. Science Foundation Ireland is on board to assess the data generated by their computer monitoring system.
Ella and her team are undertaking ground-breaking research with two mega-dairies in Viet Nam (130,000 and 30,000 animals)—with feed quality assessment by Teagasc Moorepark—to develop the potential in germinating paddy rice at the scale of 50,000 – 100,000 kg/day.
A woman who clearly thinks outside the box and is set for phenomenal success, Ella closes by saying: "Why not push the button and print the grass? Because, sometimes, to think outside the box, we need to think inside the box. Inside a FodderBox! It's a field, in a box."
You can reach Ella on +353 (086) 7926999 or ella@fodderbox.ie