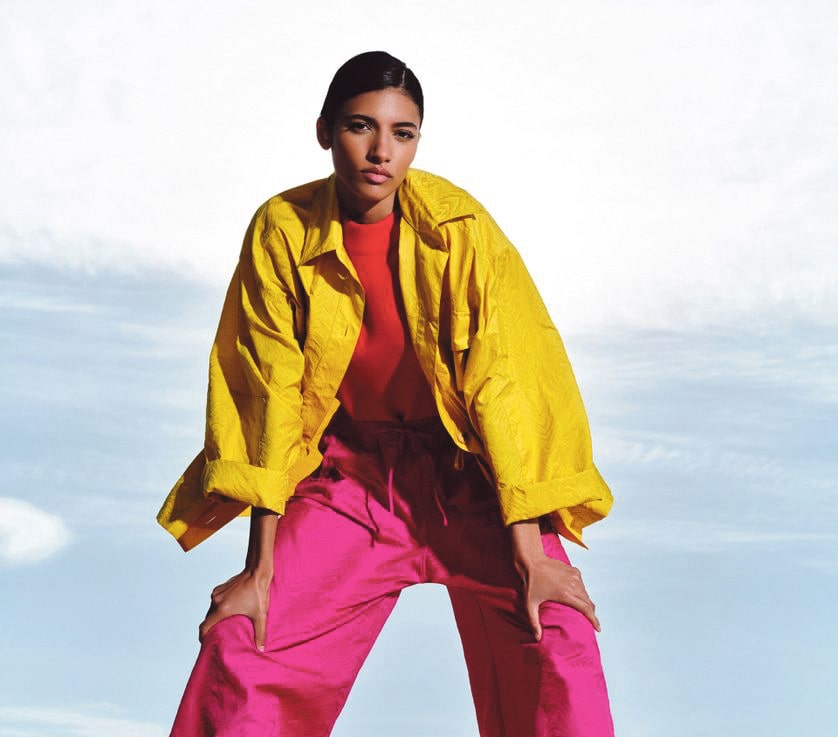 The wonderful world of neuroscience confirms that in order to be truly happy, you will always need something more. Whatever you are striving for, whether it is personal enlightenment, a new job or car or to look better, you need to actively want something more in order to live well. In fact, it is in the act of seeking itself, rather than in reaching these goals, that is key to satisfaction.We all need reminding that the journey is what is important! So many women, in particular, miss this. We succumb to the pressure of having to look a certain way, fit into a certain size and fight a continual battle with ageing and, when we don't reach these 'almost impossible' goals, we feel 'less than'. Instead consider patting yourself on the back for making an effort. 
There is a blazing end-of-March sun shining outside as I write this and it's hard not to smile because this is such a wonderful time of the year. We have so much to look forward to. The beautiful yellow of spring daffodils sings happiness, freshness, energy, optimism, pure joy and reminds us that sunshine is not too far away. Is it any wonder that designers are staying focused on the colour yellow? We need massive injections of joy into our lives and there is no better way than to wear a bright colour. If you are not normally a 'colourful' person, then now is the time to change that.
I simply love the loose trousers, V-neck sleeveless sweater and runners look – it's relaxed but chic and confident. Drag out all of your colourful slip dresses, layer them and wear them during the day. The bold and adventurous among you should add a pair of fuzzy slides for extra wow. The same slip dress can be worn in the evening without any layers and the addition of some slinky heels and some are saying that if you don't have a yellow slip dress then you are really missing out!
Ribbed knit pants are certainly not my cup of tea but I cannot deny that worn with confidence they can look pretty darn sweet. You can even go as far as wearing a full ribbed set, with comfort being most definitely to the forefront here.
'Clashing colours' needs to be your motto for Spring/Summer. Don't shy away from pairing colours that traditionally clash like pink and yellow or orange and yellow. The secret is to ground these colours by adding a neutral shade. I love blazers and boast quite a collection of them and this is the perfect time of the year to wear each and every one of them. The 20-somethings are wearing them with little else but heels and a great tan job on their legs! It does look fabulous, ultra glamorous even…the rest of us can look just as good with a pair of jeans or loose trousers underneath, in fact, a capri length can look sensational.
The over-sized cotton button-down shirt is becoming a big hit. While it appears to be huge and can go down below your thigh, the half tucked in will show off your waist and leave you looking less disheveled! The look mirrors menswear, especially when paired with a suit trouser and, while the glossy magazines are full of this look, I'm not too sure how well this will translate to streetwear.
Bold colours will always stand out and that's what 2022 is all about, so get ready to mix purple with cerise and fluorescent green… choose a cerise top, purple mules or pumps and a bright green bag and then calm it down with a pair of denims; loose jeans tie the look together. Reinvent your trench coat by wearing it with a mini dress and a pair of knee-high boots, the addition of sunglasses and a neck scarf will add instant glam and this is a great look for right now, it will also take you straight from day to evening in great style!
Here is a little add-on tip that recently fell on my lap. Dare I mention the word 'cellulite'? To be honest, I couldn't give a rat's ass about it anymore but the mere mention of the word can send some on a downward spiral, so I feel compelled to share this with you. A good friend of mine in the skin business in the UK shared a little secret with me on how to reduce the appearance of cellulite. The main ingredient is coffee grounds. The key is to let them dry a little after you have had your coffee and then add in a few drops of rosehip oil to turn them into a gloriously aromatic paste. Smother this on your thighs or tummy or wherever you want to attack some cellulite and massage it in. Make a wrap out of whatever you have – muslin cloth, an old thin cotton t-shirt or a pillowcase and fire on your sexiest dressing gown. Leave this amazing concoction work its wonders…and when I say amazing, I mean AMAZING! The smell alone was enough to make me feel like something incredible was happening but the after-effect was remarkable. Just don't go straight into the shower, take off as much of the coffee-rosehip oil mixture as you can with a cloth first – or you will clog your shower drains. I've only done it twice in the last week and my thighs look like they have been airbrushed!