Gardeners everywhere love to complain about the weather…and the weather in West Cork often gives us something to grumble about! The very dry weather we had in March and April this year and the very cool weather in May have had many of us cursing. June has finally brought some warmer temperatures, together with ample rain, resulting in an explosion of growth. Yet if we look beyond short-term weather patterns at our long-term climate says Michael Prime…we actually have much to rejoice in.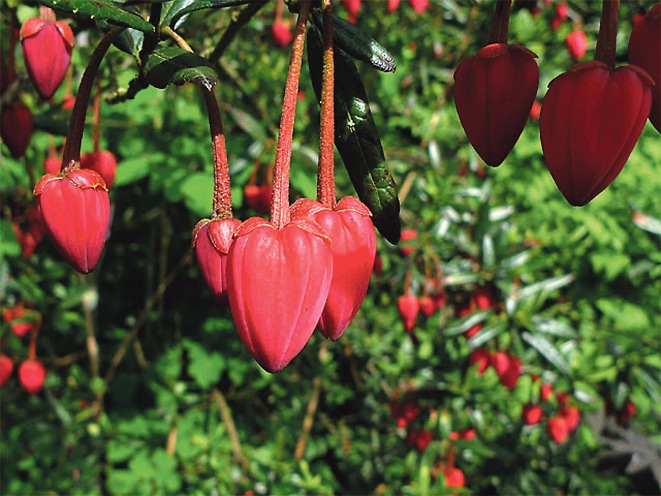 Most of West Cork enjoys a temperate, oceanic climate, of a type rare in the northern hemisphere. In fact, our climate has much more in common with places in the Southern Hemisphere, such as southern Chile, the South Island of New Zealand, or Tasmania. When I gardened in Kent, I struggled and failed to grow plants such as the beautiful evergreen flowering trees Embothrium coccineum and Drimys winteri from Chile. Like so many other plants from oceanic parts of the Southern Hemisphere, they simply cannot stand prolonged spells of hot, dry weather. No such problem here in West Cork, where such plants grow, as if they were native.
In fact, looking at the most common garden and hedging plants in West Cork, many of which are often assumed to be native, we find that most originally came from south of the equator. Fuchsia magellanica, the symbol of West Cork, and a plant to be found in almost every hedgerow, originally came from southern Chile. The Chilean Myrtle (Luma apiculata) and Gunnera tinctoria, both widely naturalised (and sometimes invasive) are its compatriots. Escallonia macrantha is another Chilean tree that has been widely used for hedging here for centuries. Three of the most spectacular flowering trees that can be grown in West Cork are Crinodendron hookerianum (Red Lantern Bush), the white-flowered Drimys winteri (Winter's Bark), and the gorgeous red-flowered Embothrium coccineum. Again, all hail from Chile, and struggle in a climate like that of south-east England.
Two of the very toughest seaside shrubs, often used for hedging, are Olearia traversii and Phormium tenax. Both of these hail from New Zealand and its offshore islands, as does the very popular Griselinia lucida, and the beautiful but tough Astelia chathamica (Silver Spear). New Zealand is also the original home of the Cabbage Palms (Cordyline australis) that can be seen everywhere in West Cork.
After Fuchsia magellanica, probably the most typical hedgerow plant of West Cork is the orange-flowered Montbretia. It too is not native, but originally came from the temperate southern coast of South Africa. Many beautiful bulbs come from this region, including the pink, autumn-flowering Nerine bowdenii, and the blue Agapanthus orientalis, both of which are often found as huge clumps in old gardens.
The wet and windswept Falkland Islands are the original home of the large hedging Hebe, Hebe elliptica, often found in coastal gardens. Other smaller and more colourful Hebes come from New Zealand. The mountains of Tasmania and south-east Australia are the home of the beautiful hardy tree fern, Dicksonia antarctica, which even naturalises in some of our wetter gardens.
Of course, some of our common garden plants do originate in the northern hemisphere. The Himalayas and the islands of southern Japan and Taiwan have given us Camellias, Rhododendrons and Magnolias, as well as tough seaside hedging plants like Euonymus japonica and Eleagnus x ebbingi. Plants from these regions demand regular summer rainfall, something we can usually provide in West Cork! The Elaeagnus is a common utility plant, but repays closer examination to appreciate the small but beautifully scented flowers in November, as well as the edible fruits and seeds in April.
The Atlantic islands of the Azores, Madeira and the Canary Islands also enjoy a temperate oceanic climate, especially at higher altitudes. The tall blue flower spikes of Echium pininiana are a common sight in our coastal gardens, yet this plant is native only to one small area on the Canary Island of La Palma, where it is rare and endangered. There are many more specimens of this plant in Ireland than there are in its native range. Our Irish colonies of this species can be regarded as ex-situ conservation. If the plant becomes extinct in the wild (which climate change makes more likely), it will survive on this Emerald Isle.
All in all, we should be thankful for a climate, which enables our gardens to grow such a great variety of unique plants from around the world, many of which are generally hard to please in the Northern Hemisphere.
westcorkgardentrail.com