One of West Cork's much-loved garden centres, Future Forests, will reopen in May after being closed to the public since Ireland entered Level 5 restrictions in December, and will soon welcome a new café 'The Coffee Bee' into the fold.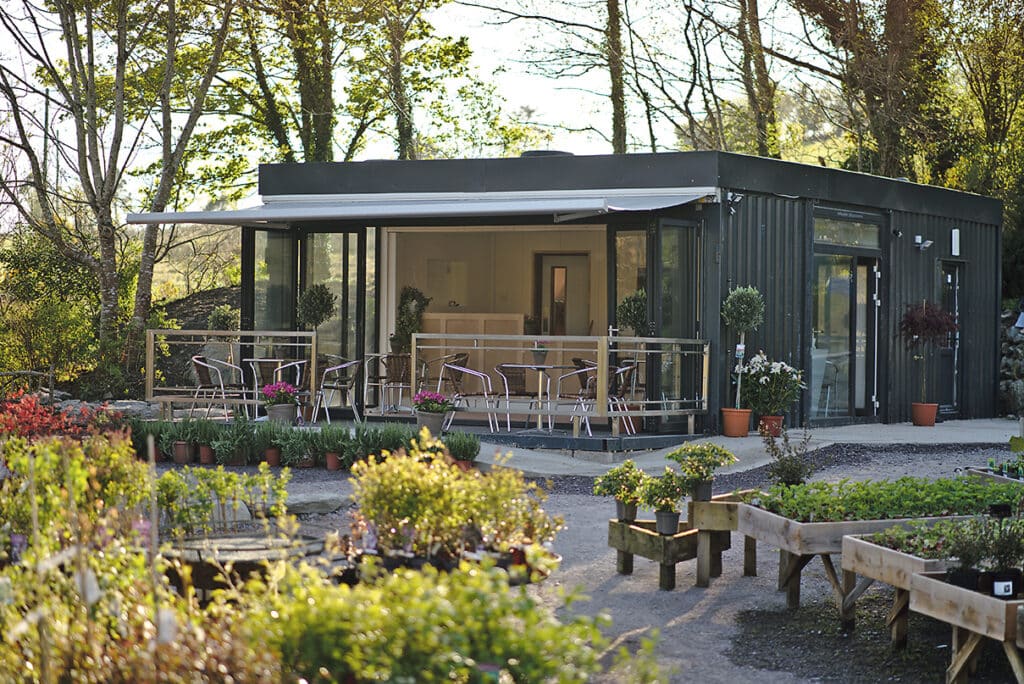 Celebrating 35 years in business next year, Future Forests in Kealkil, Bantry has built up an enviable reputation for the quality and competitive pricing of its plants and, while the garden centre may have been closed to footfall, business has been far from quiet behind the scenes. This pandemic has nurtured an appreciation in all of us for the quality of life that exists outdoors and garden centres such as Future Forests have been flat-out over the past year filling online orders for gardens all over Ireland. 
Maria Collard and Mattie Keane are the couple behind this successful plant business, which was set up by Maria's father Mike Collard in 1987. While the garden centre was closed to the public, the couple took this opportunity to realise a long-held ambition and built a coffee shop onsite. Created out of two large converted containers and fitted with a full commercial kitchen, 'The Coffee Bee' sits snugly into the five-acre hillscape at Future Forests and, once the sod roof starts sprouting, it will no doubt look like it's always been a part of the scenery.
'The Coffee Bee' at Future Forests will be managed by mother and daughter team Bria Evans and Sora Barnett, who share an appreciation for seasonal and local produce and will be serving up delicious takeaway vegetarian fare and baked goods over the summer months. It's never been difficult to lose oneself at Future Forests for a few hours but with a freshly roasted coffee in hand one might never emerge again! The glass doors at the front of the coffee shop open out fully, so when restrictions allow, there will be seating both indoors and outside on the café's patio overlooking the garden centre. "I think, like everything at Future Forests, the coffee shop will evolve and expand its offering over time," says Maria. "We're delighted to be able to offer our customers this service while they browse or wait for their orders to be filled."
In the eighties, when Mike Collard first started Future Forest, plants were sold from the family's homeplace up in the hills behind the current nursery. Mike's business was in local timber but over time the sale of plants took over and the unusual wooden buildings still onsite are a nod to the sawmill days. Maria and Mattie took over the business when Mike retired and have continued to nurture and grow the business. They were recently awarded a €30,000 grant from Enterprise Ireland to improve the customer experience on the Future Forest website.
Future Forests sources quality trees, shrubs, conifers, fruit, hedging, roses and perennials, Irish where possible, and you'll also find so many unusual specimens at the nursery. The nursery supplies plants in containers all year round and has just come to the end of its busy bareroot season, which runs from November to March/April. "Our diverse range and low prices are what makes us stand out," says Maria "and our online mail order service allows us to reach customers all over Ireland. Throughout the pandemic we have also had our own van on the road for three days a week delivering plants all over Cork and Kerry. We now have a team of between 25 and 28 people working here."
Whatever your planting needs, Future Forests is there to meet them: Looking for a special fern to fill a shady spot, some summer bedding, a grass that will thrive in West Cork's coastal conditions, or perhaps you want to invest in some native hedging to create privacy between you and your neighbour's garden or have been searching for an unusual tree with all-round seasonal interest…and now you can get your caffeine fix too. Make a day out of it and head to Kealkil – if you can't fit all the plants in your car, they'll deliver!