By Mags Riordan of Bumbebee Farm
Hydrangeas are the staple of so many late summer gardens and a group of shrubs I wouldn't be without. The variety, colour selection and shapes fascinate me and most meet two of my three criteria in being a fantastic cut flower and a brilliant food source for our pollinators. For ease I'm going to split them into two groups – Hydranga paniculata and mophead.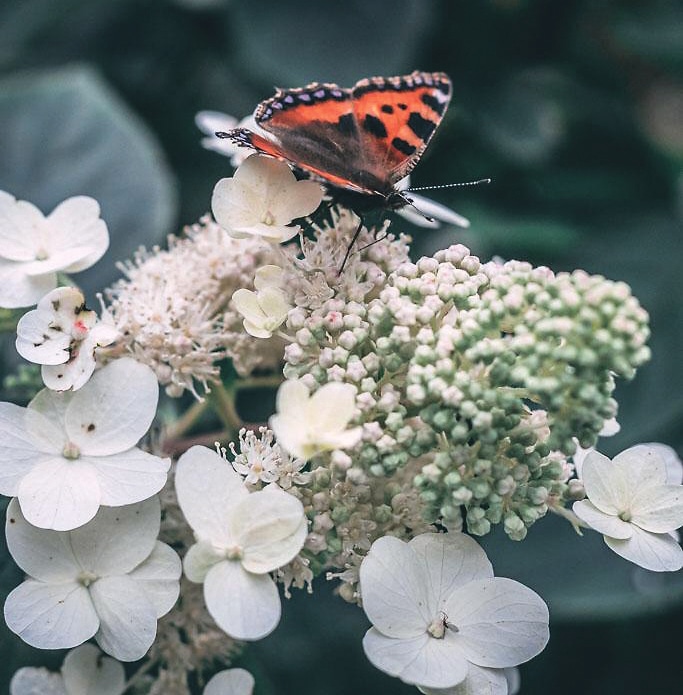 Hydranga paniculata varieties flower on new wood so can be cut back hard in spring giving you long straight stems with huge flower heads; they can grow quite large but are easy to keep to a desired height because of this. Paniculata 'Limelight' and the lacy 'Unique' are two beautiful varieties that I would highly recommend and are easy to maintain, suiting a semi-shaded position, although both will happily grow in full sun too.
The mophead variety flowers on the previous year's growth, so if you're cutting back only go to the first or second set of double buds, otherwise you're cutting off next year's flower. Larger, more mature shrubs will benefit from thinning out weaker crossing stems and it really pays off to go deep into the plant as close to the base as you can. 'Ayesha' is a stunning variety, which looks like small trusses of Lilacs. I can't recommend this variety enough, for it's changing colour over the season to it's long-lasting flowers in a vase. For me, it's the beautiful shape and texture of the flower heads and my pollinators LOVE it!
I don't deadhead or tidy up until late spring for a few reasons, mainly because the spent flowers give shelter to a wide range of insects, which emerge safely in spring to act as a natural predator. It's symbiotic; I provide them with shelter and they provide me with pest control.
The garden can begin to look a little tired by now but there are still plants worth investing in to give a great show next autumn like Sedums and Michaelmas daisy. Both of these flower late in the season and if you give some the 'Chelsea chop' you can extend this well into October. As a bonus all the trimmings can be potted up and used to create new plants thus increasing your crops. Win Win!
A garden evolves so you're always planning ahead but that's part of the fun too. Our next open day on September 27 will be much more plant-focused with recommendations on getting your garden ready for winter and what to plant to support our pollinators to ensure a beautiful garden for you and food for them. They've been busy this year and we have surplus of seed left over, so as a thank you we will be putting a mixed selection in with every bouquet ordered – you can have a little bit of Bumblebee magic in your own garden!
If there are any voluntary groups that possibly work with disadvantaged children or other such groups that could benefit from our seeds then please do get in touch – we are only too delighted to help.
We have a selection of short videos on seed saving and deadheading on our YouTube channel, which may be of help, I know that for me seeing something always makes things clearer. We do add regularly and, if there is anything specific you'd like to know, then please get in touch.
Bee Kind