A new big ticket furniture purchase is always exciting and buyers count down the days till it arrives in their living space. In 'normal times' a high-end sofa, for example, may take a month or two from the time you ordered it and that's to be expected for something that is being custom made to your specifications.
Although the world is starting to return to normality following Covid-19, the furniture industry is still facing challenges when it comes to supply chains. Paul and Evelyn Di Rollo of Glentree Furniture in Dunmanway sat down with West Cork People to explain how they are navigating those challenges and how a pre-pandemic decision to build a new 10,000 sq ft warehouse is now paying huge dividends when it comes to meeting customer demand.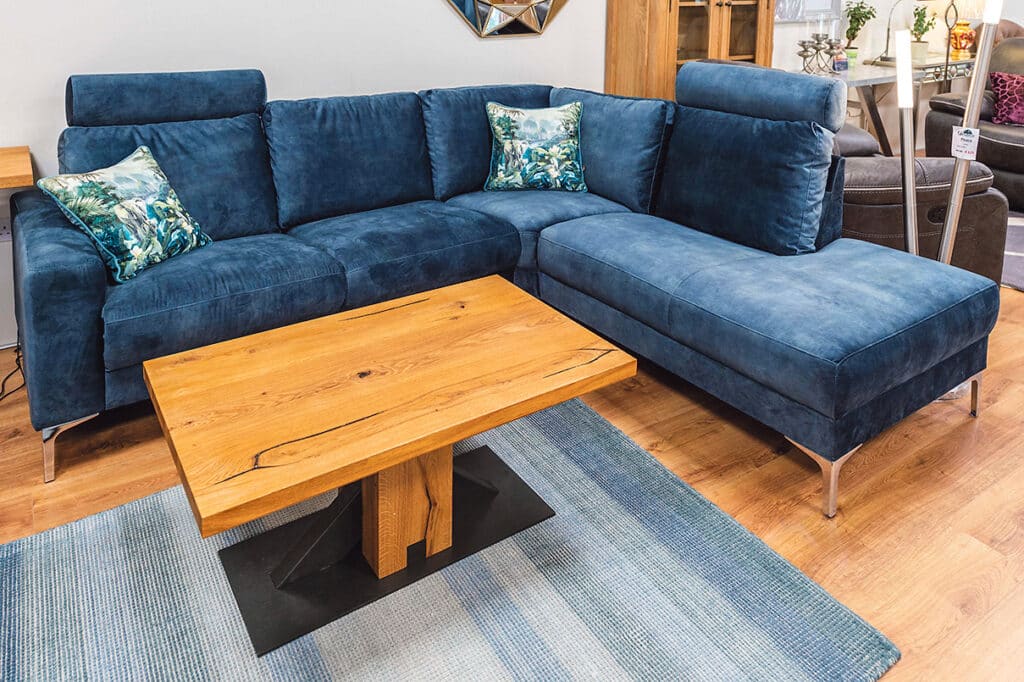 Lockdowns, followed by huge surges in sales, kept all business owners on their toes in 2020, but for the furniture industry the supply challenges of 2021 have in some ways proved more vexing. Long lockdowns in the world's leading hardwood growing countries, such as Vietnam, have led to longer than usual delivery lead times on all types of furniture, something that is frustrating for both shops and customers.
"As well as disruption to wood supply, furniture makers have also faced shortages of fine fabrics from countries like Spain, which has had numerous local lockdowns," Paul explains.
Autumn is when orders normally pour into Glentree for Christmas, traditionally a time when a new sofa is unveiled in Irish homes. Shoppers normally try out a shop-floor model before ordering it in their preferred material but "Unfortunately, that's just not realistic this year," says Paul. "We pride ourselves on our reputation with customers and I won't disappoint a customer with a false promise when delays are being experienced the world over."
Instead Paul and Evelyn are counting their blessings that their decision to expand their showroom to 16,000 sq ft (not including an outdoor furniture area!) and build a new 10,000 sq ft warehouse allowed them to build up stock before the global shortages really took hold.
Glentree's enormous showroom is divided into seating, dining, flooring, bedroom and outdoor living.
"We have a huge selection of furniture in all departments that is ready for immediate delivery," Evelyn confirms. "It takes the stress out of it for the customer, knowing that what they choose is guaranteed to be in their sitting room next week."
Paul also explains how the company behind one of their most popular lines, Stressless Scandinavian recliner chairs and sofas, has come up with a 'quick ship' option. "Whilst available in a range of colours and styles, Stressless cleverly assessed what are its most loved designs, and concentrated on keeping stocks high of those…the odds are that the chair you choose will be in that category!"
Every style of interiors from traditional to contemporary is represented in the showroom, with room groupings that allow you to really imagine how the furniture will look in your own property.
Some styles are perennial because they work in every type of setting. In seating that is the fabric Michigan corner sofa, versatile enough to fit the whole family, and the Fendi, a Danish designed modular suite available in fabric or leather and in many sizes that can be arranged to suit any space. It comes with a movable headrest and a very discreet optional reclining function. New to Glentree last year the Fendi has proved so popular that it has become a staple for the store.
Particularly loved in bedroom furniture is a wood frame bed that comes in oak, cream oak or painted and would fit into a contemporary or cottage style bedroom. Trying out beds and mattresses is essential to choose the right fit for you and again the bedroom department has been thoughtfully laid out with chic accessories bringing the displays to life.
Luckily for anybody suffering from a bad back there are currently no problems with supplies of mattresses – Glentree stocks a wide range of quality mattresses with high tech features such as cooling gel, latex and memory foam, including two Irish-made brands, Respa and The Natural Sleep Company.
With such a wide choice in sofas, beds, dining and flooring in stock – coupled with knowledgeable and honest service, few leave Glentree without finding exactly what they came for.
Don't trust your sofa to fate this Christmas, visit Glentree for a guaranteed delivery date.