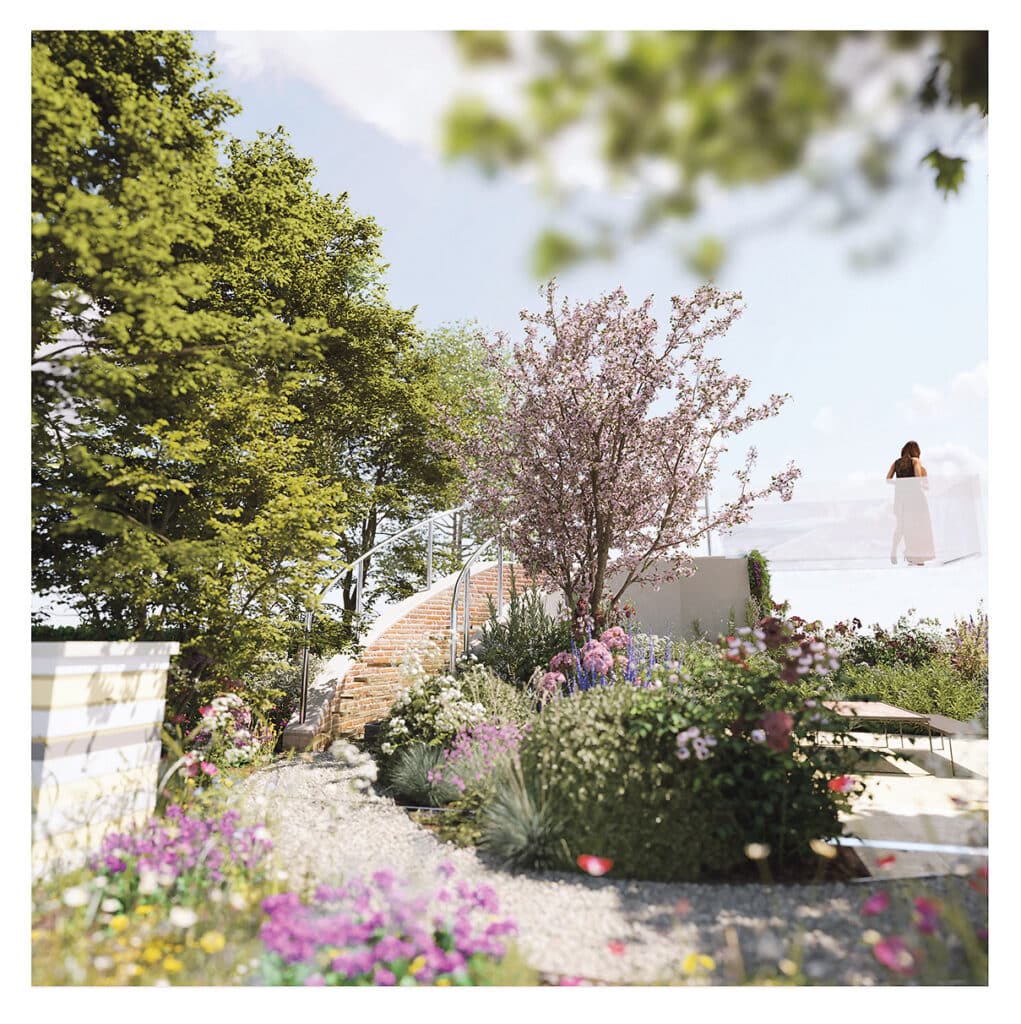 Garden designer Anne Hamilton, who shares her time between West Cork and London is aiming for a medal – "the shinier the better" says the designer – at the Olympics for garden designers, the 2023 RHS Chelsea Flower Show. Anne has partnered with Taina Suonio, to create the garden, titled 'Cavernoma on my Mind' which is sponsored by the Cavernoma Society, an organisation aiming to raise awareness for this condition and spur new research. Anne has a family member with a cavernoma, a tangle of small veins that can occur anywhere in the body but is especially debilitating when it occurs in the brain, as it can cause a stroke, haemorrhage or seizures.
"Simona Stankovska started the Cavernoma Society after she suffered a stroke at the age of 27 as a result of a cavernoma," shares Anne. "Simona also works for the company that sponsored Taina last year and was inspired by that garden's success."
Anne and Taina have been working on the garden for over a year. The main structural feature in their design is a glass staircase and the planting reflects the fragility that newly diagnosed cavernoma patients feel. "As you climb the steps, we hope your confidence grows," explains Anne "and at the top you can walk out on to a cantilevered glass balcony, which symbolises clarity and hope for the future."
The plant choices were selected based on Simona's description of the pain and vulnerability suffered with Cavernoma; so for example, the pealing bark of the Acer griseum and the prickly foliage of Taxus baccata allude to the cavernoma condition. Other plants in the garden are used medicinally such as Paeonea officionalis, the root of which is used in the treatment of seizures.
Anne describes her style as accessible contemporary. "I like clean lines and lots of places to sit and admire the planting or a view. Living art for living in," she says. Her passion is for planting trees. "They give you something new (and bigger) every year."
She also favours working with grasses because they add movement and a sense of drama on a windy West Cork afternoon. Recently she has created some gravel gardens with Mediterranean plants and worked on woodland gardens for clients.
Over-ambition and neglect are the stumbling blocks for most gardens reaching their potential shares the award-winning garden designer.
"I'm all for the ambition, and I work to provide what clients want, but I emphasise the need for maintenance and watering," she says.
According to Anne three key things to consider when planting a garden are aspect, shelter and privacy.
"Aspect – you want your patio to get good sun, especially evening sun in the summer months. If you can plan for more than one seating area then you can make the most of morning sun too. Sometimes these area's aren't right outside the kitchen, but they are worth having.
"Shelter – If your sunniest spot is also in a windy position (often the case in Ireland) then it is possible to factor in planting or structural elements that provide enough shelter to allow you to enjoy the space.
"Privacy – If you are overlooked, there are lots of options to offer screening. In a large garden then you can use hedging or trees, if it is a smaller garden, then you can still use hedging and trees, but you might want to look at pleached trees, that give screening without taking up too much space.
"Once you have those bits of information you can concentrate on how to make the best use of your space."
Anne trained and worked in the UK before moving to Ireland 16 years ago with her family. At the end of the Celtic Tiger, the timing was poor and it was also a big jump moving from London to Cork, urban to rural and small-town gardens to large landscapes with acreage.
However she worked hard at building up her reputation and entered BordBia's Bloom in the Park and also joined the Garden and Landscape Design Association, which entails an in-depth assessment and portfolio critique. "Both of these really helped give me a presence here," she says. "I also think longevity plays a big part in building a service based business, word of mouth is gold."
To date Anne has entered two gardens at Bloom, winning a Gold and Best in Category respectively. However getting a design accepted at the Chelsea Flower Show has to be her most significant and proudest accomplishment to date.
Of her work she says what she loves most is that each day brings a new adventure. "The absolute best part of my job is the happy clients. It is really satisfying to know that the garden design has made a difference to someone's quality of life."
www.foxgardens.com