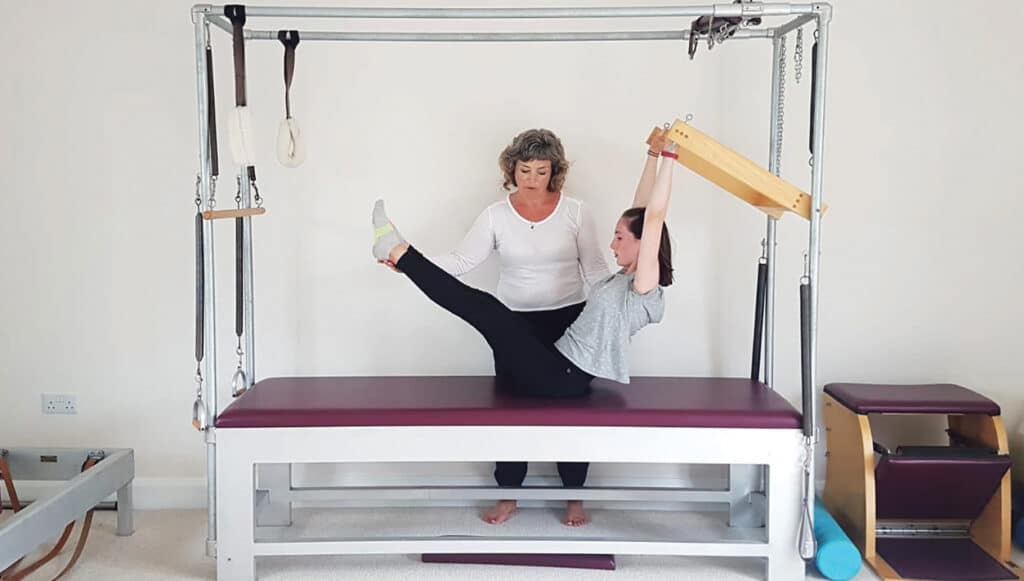 Lorraine Dufficey has been teaching Pilates for nearly 20 years, starting in 2005 in Skibbereen and Clonakilty, at a time when few had heard of the method in West Cork. Now this journey has led her to build her own studio in Rossmore near Clonakilty, offering a warm and intimate space for small classes of five people and individual sessions.
For Lorraine, Pilates is not just a form of exercise or a chosen means of rehabilitation from injury, but something that can take us to a deeper understanding of how our bodies function and flow throughout our lives. "For all the thousands of hours I have taught, I have learned and received more from my students and the Pilates method than I have given. It is what has kept me engaged with Pilates all these years," she shares.
Lorraine's journey has taken her into the realms of anatomy and physiology where she certified in Neuromuscular Therapy; into extensive training in the classical TruePilates method with the Gratz equipment of Reformer, Cadillac and Wunda Chair. More recently she has certified in the field of fascia training, an essential method in recovering from chronic pain and repetitive strain injury and one which has proven to be a personal breakthrough in her own life. She now incorporates this method into her classes to benefit her students. Running throughout her years of Pilates teaching is her study of the mind and spirit and her deep commitment to mind and body connection and providing the space to "breathe and be".
"The body is not a machine to be repaired no matter how broken or wrong we feel it is," says Lorraine passionately, "it is essential we cultivate a kind and living relationship with it. I like to challenge people in a way that brings joy and aliveness, working with our bodies rather than against them."
Lorraine's studio in Rossmore is ideal for a smaller class size, providing a greater opportunity for her as a teacher to tune into each individual. "It's more like a one-to-one session and you will feel that benefit," she says. It's also a chance to get away from the stresses that might be challenging you physically and mentally in daily life and recalibrate.
Individual sessions are taught on the big Gratz Pilates equipment, as well as on the mat. The big equipment, such as the reformer and Cadillac, are important tools in assessing alignment and posture. "One can see what's 'off-kilter' immediately and thereby begin to strengthen and support the person," explains Lorraine. "It is suitable both for rehabilitation and general strengthening whether you are beginner or advanced as it can be modified to each individual."
Combining the big equipment with matwork, Lorraine tailors exercises for your home practice, a vital and empowering aspect in rehabilitation and strength. She continues to teach in Clonakilty on Monday and Friday mornings.
Individual sessions are €65 and mat classes cost €60 for four weeks/€90 for six weeks, all in Rossmore (P85F886).
Monday and Friday morning classes available in Clonakilty.
Contact Lorraine Dufficey at lorrainedufficey@gmail.com or phone 086 3670478.
Testimonial
"Having missed Pilates and the gym during lockdown, I was suffering horrendously with back pain, stiffness, unable to put on a sock with ease for months, so I reached out to Lorraine to see if she could do a one on one session…I had my first good night's sleep in months and woke pain-free the following day…I practiced at home the exercises she set out for me and went back for a second session. Within weeks, I was completely pain free and back at the gym. I cannot thank Lorraine enough for what she has done for me and highly recommend her knowledge, compassion and ability."
Dee, Clonakilty, Oct 2021.