In the final stage of their journey from cancer patient to cancer survivor, Aislinn Horgan provides a 3D areola and nipple reconstruction service for patients post mastectomy and breast reconstruction. Based in Clonakilty, Aislinn's tattoo service is giving women and men back their confidence after the trauma of breast cancer and the scarring and body dysmorphia that many are left with.
The process incudes creating a highly-realistic 3D nipple by creating light and shadows, giving the illusion of a real nipple that appears to have physical dimension but is really flat to the touch. The surrounding skin is coloured to create an areola.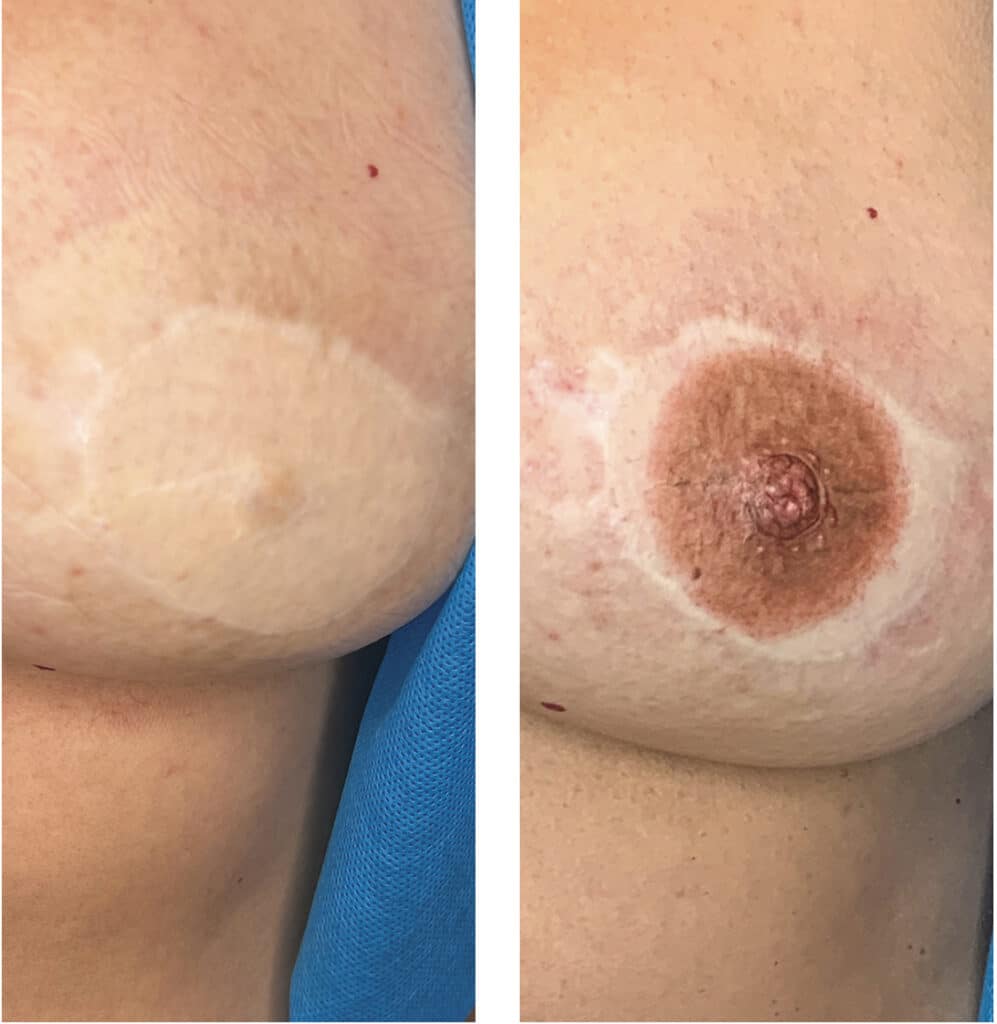 "The reconstruction of a person's breast should mean that the new breast resembles the old but unfortunately this isn't the case for most patients," shares Aislinn. "The majority are left with no colour where their areola should be and often times no nipple either."
If it is a unilateral reconstruction, Aislinn will match the colour as closely as she can to the existing nipple and areola; with bilateral, the client can choose exactly how they would like their tattoo to look.
Clients come to Aislinn once all surgical procedures are finished and they have healed a minimum of six months. Using the latest, leading edge techniques, equipment and inks, Aislinn works directly with doctors and surgeons to support healing after trauma.
"I will carry out a consultation first to assess if the person is suitable and ready for the procedure to be carried out. We also decide on colour and shape at this point. The procedure is a two step process with step two approx eight weeks after step one," she explains.
Aislinn does her best make the tattoo process as painless as possible. "Depending on the type of surgery and reconstruction the client has had, there may be some small amount of sensation, but it is usually minimal, and, in most cases, clients do not feel anything," she says.
It's a very safe process that should last for years with a colour top-up needed at most every three years.
"My clients have told me they feel like they are complete again, that they are more like their old selves and now have no problem looking at themselves in the mirror. One lady told me she no longer felt uncomfortable changing at the swimming pool, she felt completely normal."
Aislinn also provides semi permanent brows for people with a cancer diagnosis as a part of their chemo preparation and also post chemo brow loss. "Many of my clients have alopecia and trichotillomania and some have unexplained brow loss. I also welcome people that have not lost their brows but would just like to define the shape and colour of the brows they have."
A trained nurse, Aislinn has spent many years working in various roles in healthcare. After working in many different nursing roles, mainly specialising in surgery and oncology, she felt there was something else she should be doing with her training and experience.
"I moved into the pharmaceutical industry and developed education and support programs to enable better patient access to medicines. I was still looking for my 'plan B' though; I wanted to set up my own business but doing what? One thing I was sure of is that I wanted to provide a service that was healthcare related and delivered a positive benefit to those I worked with."
In 2018, Aislinn met Olive O'Sullivan from Browtique Ireland, who encouraged her to consider training up to provide a service similar to hers and then work as an affiliate nurse. At a place in her life where she could consider setting up her own business, the planning for 'By Aislinn Micropigmentation Studio' started.
Aislinn trained in brow micropigmentation and, as the world of semi-permanent makeup opened up to her, so did the world of paramedical tattooing and in particular 3D areola and nipple reconstruction. She followed trainers and masters all over the world and learned as much as she could online before travelling to the UK to be trained by leading international trainer Kally Moorehouse. She has also attended a masterclass with Jody Stoski, who is based in Canada.
Aislinn is currently developing a portfolio booklet for clients and surgeons and is offering a discounted price to those willing to be photographed for publication: It's important to note that all identities will be kept confidential and just the photos of the pre and post reconstruction will be published. She can be contacted on 087 2239308 or on Instagram @byaislinnstudio.
By Aislinn Micropigmentation Studio is located at The Aesthetic Clinic, 16 Rossa Street, Clonakilty.
www.byaislinn.ie.