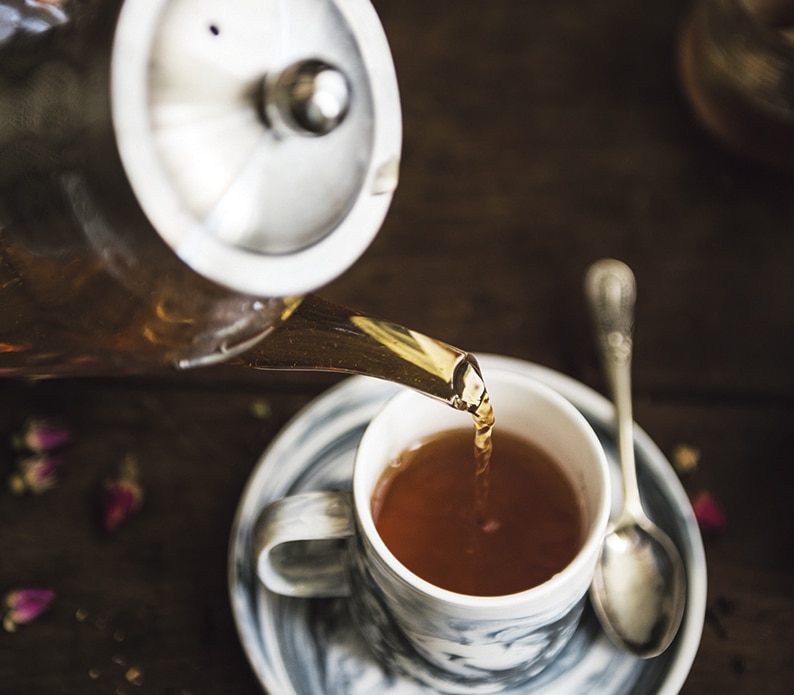 I actually begin my day 'planning the day' the night before. Late in the evening before I go to bed, I put the kettle on and get my herbal teapot filled so it can steep overnight and be ready for me the next morning.
You don't have to do this – however if you are like me, the mornings can often be too busy and my own needs get lost in the melee of tasks to be done with children, animals and household stuff before I get down to work on anything that pertains to me.
When my little teapot is filled to the brim with cooled, well-steeped herbal tea, it is ready for me to add it to nearly anything! And I don't have to think about it as it is one less thing on my to-do list.
Usually most every morning the first thing I do is pour a cup of this cool room temperature herbal tea and top it up with apple cider vinegar, a squeeze of lemon and sometimes a spoon of one of my smoothie powders. This week I am using Beetroot and Ginger for it's warming properties, as well as the blood cleansing beetroot. It really is such an underrated vegetable and there are so many ways to get this into us.
But we can do a beetroot session another time!
I drink about a cup of this herbal concoction to start off my day, however, as a regular sized teapot holds about three to four cups of herbal tea, I have lots left over for the rest of the day. What I find easy enough if I am going out on delivery or to the market or need a drink to take with me on the go, is to pour all of the herbal tea into a flask, top it up with apple cider vinegar, lemon juice and so on, and sip it as my very refreshing drink.
You can also drink it cup by cup or re-heat it if you prefer hot tea. It really does taste quite good. And if you try it, you will find that your body craves it – something that hydrates you down to your cellular structure.
I can hear the wheels turning in your head. What kind of tea should I make?
If you want to feel good with energy (peppermint/chamomile/ginger); lose weight (dandelion/nettle/cleavers); keep warm (ginger/ginseng/rooibos/cinnamon); detox and cleanse (rose/dandelion/red clover/burdock); de-stress (ginseng/chamomile/milk thistle/fenugreek).
This is by no means a full list – use what you have on hand or can pull out of the hedgerows. Use anything you currently have in the press; we all have packets of herbal tea hanging around, find something that appeals to you (it might have fruit, spices and other herbs added, it's all good!) and boil the kettle – your body, mind and spirit will thank you.