Neuromuscular Physical Therapist Lloyd O'Mahoney is one of a number of professional practitioners working out of Dr. Fiona O'Reilly's Integrated Clinic at Emmet Square in Clonakilty. Lloyd's business Kinetic Movement Physical Therapy is all about helping clients get out of pain and move better.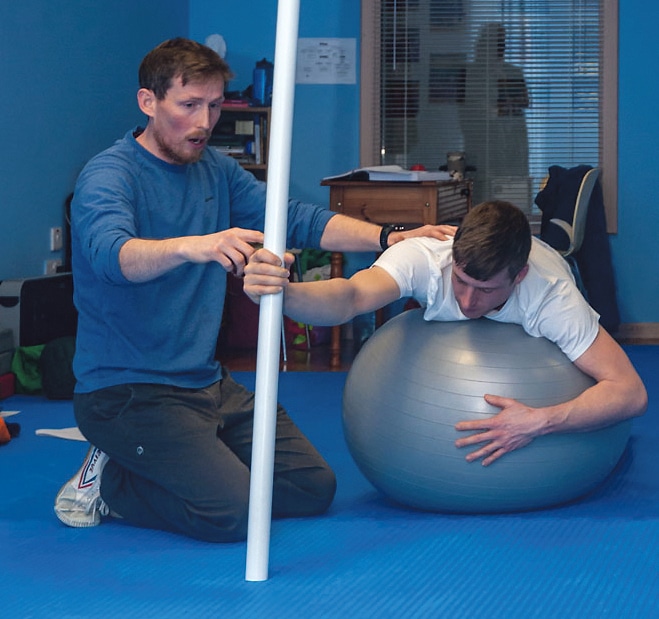 As well as neuromuscular, Lloyd has qualified in a range of specialist therapies ranging from biomechanics, exercise physiology and pain science to movement neurology and strength and conditioning, which has armed him with a very extensive toolbox to tackle almost any injury or pain presentation, or to help you meet your training goals.
Involved in sport from a young age, from soccer and rugby earlier on in life to running and rock climbing mainly over the past decade, Lloyd has amassed his own fair share of injuries along the way: A fractured neck, torn ankle ligaments and fractured leg to name a few and chronic shoulder issues hindered his climbing goals for a long time. Fed up of the traditional therapy model failing him and tired of not seeing results, Lloyd took matters into his own hands and dived head first into learning about all things movement and training and the human body. "I decided to seek answers for myself and to take ownership of my body," he explains, "my goal being to figure out how to best look after my own body so I could ensure my athletic longevity."
Along the way, Lloyd qualified in various specialist areas, enabling him to work hands-on helping other people to get out of pain, teaching them how to move better and achieve their goals getting stronger and more athletic without sacrificing quality in movement.
He has learned from the best, mentoring under some of the leading minds in the world of injury rehabilitation and fitness. As a result, his approach blends the best of science and practical application. "I see great results with mixing manual therapy techniques with real world and meaningful movement and exercise," he says.
The approach Lloyd takes can be very effective whether you have an acute injury, are suffering with chronic or persistent pain, or you are looking to optimise your movement to boost athletic performance. So whether your goal is to simply play with your children pain-free without that nagging back pain flaring up, or you want to get back to running pain-free, he can help you reach your goals.
A first consultation with Lloyd starts with a biomechanical assessment and gait analysis, where he studies your posture and the movement strategies your nervous system (brain) uses in order to compensate and move around your injury or limitation. This can be sport-specific movements or simple every day tasks such as hoovering the house. After listening to your story, learning about your injury history and observing and understanding how you move, Lloyd will then help you to make sense of your pain and set to work with getting you back doing the things you love – pain-free.
"I have great success with treating both acute and chronic pain," he says. "I see a whole host of injuries, from chronic low back pain, to foot pain, achilles and patellar tendonitis, knee and hip pain, frozen shoulder, elbow tendonitis and neck pain, just to name a few."
In recent months, with the lifting of Covid restrictions and the good weather during the summer, there have been a lot of presentations of running-related injuries. A common mistake made by people aiming to rehab a running injury and a low back injury is trying to isolate and strengthen a single muscle. He explains, "You may have been told to strengthen your glutes and all your problems will go away. However, they didn't and they won't. That is because the body is a complex and fully-integrative system so you need to pay respect to the intermuscular co-ordination and fascial connections throughout the entire body. Nothing works in singularity.
"For example, the foot is a very complex system, there are 33 joints and 26 bones in each foot, all of which need to articulate in three planes of motion every single time you take a footstep.
"In order for your glutes to work optimally it needs a pelvis that can move in a certain way and a femur (thigh bone) to move under it in a certain way, creating relative motion at the joints and an ability for the structures to share forces evenly.
"A foot that articulates well will create a reaction above it to get the femur and pelvis to move into the correct positions in order to stimulate the optimal response from your glutes. Allowing your glutes to maximally lengthen and in turn maximally shorten and contract will help to propel you forward.
"In this situation, it may be that your glutes are not doing enough for you, but the real problem is not the strength but rather that when you run and when your foot hits the ground, it is not interacting well with the ground, resulting in the structures above the foot not being able to get into the optimal positions and an inability for the entire leg as a system to absorb and dissipate the forces acting on it."
"Instead of just strengthening your glutes, start to think about restoring the mechanics of what should happen when your foot hits the floor, and see the response in the entire leg. It's the same with walking and can have the same effect on low back pain."
If any of this resonates with you or you are interested in learning more on how Lloyd can help you get out of pain and move better and become more robust, then please get in touch.
Lloyd will also will be launching new services this coming winter – spirometry and metabolic analysis – but that's another article!
To make an appointment call Lloyd on 087 246 4146 or email lomahoney86@gmail.com.