Fionnuala Harkin is a qualified wine educator with the Wines and Spirits Educational Trust. Her love of wine developed over her years of running a restaurant in Clonakilty, as well as writing on food and wine for West Cork People and Food and Wine magazine. She works for Wines Direct, an Irish family owned company who import wine from artisan producers all over the world. She also runs The Wine Shed near Timoleague, a quirky and unique space for gathering and enjoying great wines, chats and nibbles, while learning a bit about the wonderful world of wine. Check it out on Instagram @wineshedwestcork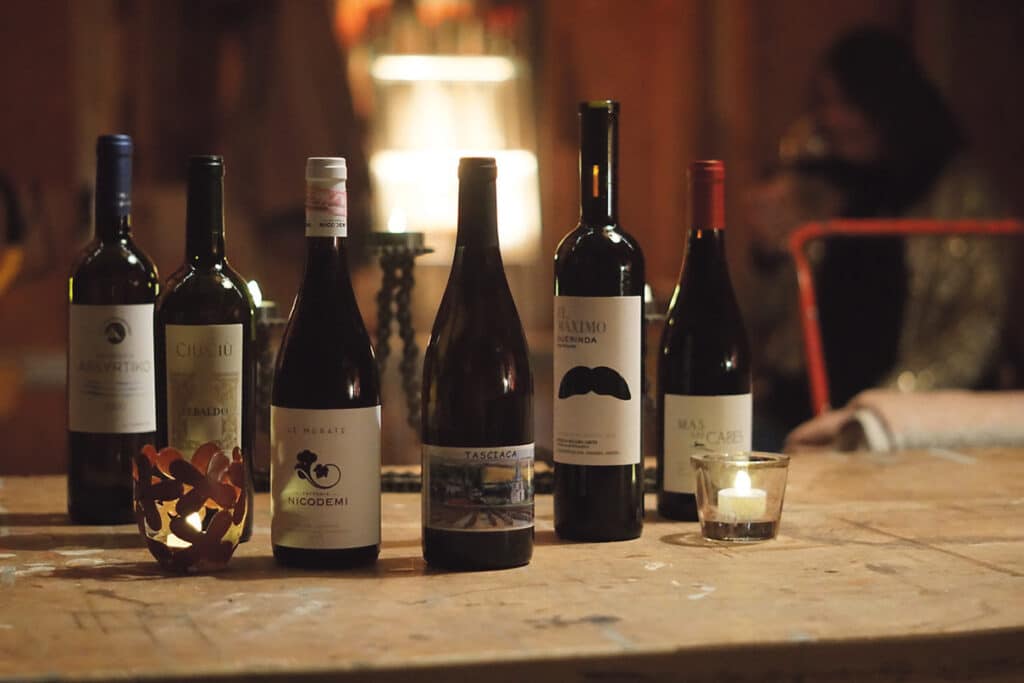 Christmas is a time when we can all let go a little – eat and drink a bit too much and treat ourselves and those in our lives to things we have been looking at longingly through the shop window. It's a time we spend a bit more than usual, tightening the belts in every way in January. 
We have great choice now in how and where we spend our hard earned cash, so it's an opportunity to support those producers, makers, chefs, artists, growers and entrepreneurs who really appreciate our business, and who are working ethically and in a way which doesn't harm the earth. There's great satisfaction in knowing our money is making a positive difference rather than just an unnoticed drop in some trillionaires bank account!
We can do just that by choosing organic wine and sourcing it from independent family-owned businesses. Everyone wins – we get to drink better, the birds and the bees don't pay the price, and wonderful small family vineyards get to continue producing their delicious wines, many of them carrying on the traditions of generations before them. The gorgeous, warm and atmospheric shops, which are such a vital part of our towns, get our much-needed support.
Marian Keyes, of whom I'm a massive fan, reposted on Instagram this week: "Amazon will thrive over the next few weeks, whilst every small retailer in Ireland will be fighting to survive. If you have the ability please support a local business".
I'm frequently asked what is organic wine. The answer is simple enough – wine made without the use of chemical fertilisers, pesticides, herbicides and fungicides. By choosing these wines we are helping to reduce toxic products from being both manufactured and spread in our environment, damaging the delicate ecosystems which are so vital. Do they taste different from conventional wines is the next question I'm asked? The answer to this is not so simple. Being organic in itself is not a guarantee of better. Neither does it totally prevent a hangover – that's the alcohol, though there is anecdotal evidence that the reduced sulphites in organic wine prevent a total head-banger! The way to find the wines you're going to enjoy is by seeking out someone who can point you in the right direction (ahem!). I always enjoy recommending wines to people which are in the same general style they usually drink, like, say, Argentinian Malbec or Italian Pinot Grigio, but going a bit out of the comfort zone – different grape varieties or countries they don't usually choose wine from. The wines I'm recommending here are available from Wines Direct, but lovely organic and sustainable wines are available from lots of independent shops around West Cork, like Lettercollum Kitchen Project, The Olive Branch, Next Door and Gearoidin's all in Clonakilty, Matsons and Urru in Bandon, Kalbos Skibbereen, Organico and Mannings in Bantry, Budds Ballydehob among many others. These lovely shops also come with that vital assistance to steer you towards the perfect gift for the wine lovers in your life, the perfect wine to accompany your Christmas dinner, or just a nice drop for a cosy Wednesday night by the fire.
'Oh So Organic' mixed case from Wines Direct – €115, which includes delivery to your door.
Our winemakers stay away from the easy commercial route when growing grapes. Instead, they tend to their vines without the harsh use of chemicals in exchange for biodiversity in the vineyard. We enjoy finding for you winemakers who revel in the individuality of indigenous grapes. In this case, the winemakers not only adhere to organic methods but also grow little unknown and almost extinct grapes and excel at it. You are sure to be delighted when introduced to a combination of our favourite organic wines and little known varietals from across Europe.
Domaine Ricard 'Tasciaca' – Touraine-Chenonceaux AOC, France. Sauvignon Blanc
Vincent Ricard is very proud of his small microclimate, Chenonceaux AOC was only created in 2011 and now produces a more opulent style with more smokiness achieved from the flinty, Tuffeau stone. Fermented mostly in large oak tonneaux and 25 per cent in small barrels, the oak gives texture and complexity while not overpowering the beautiful fruit—a real show stopper.
Guerinda 'El Maximo' – Navarra, Spain. Grenache, Merlot, Cabernet Sauvignon
An exciting blend that showcases Navarra's strengths as a DO. Juicy, rich and textured with great depth of fruit cut with a dash of spice. Firm tannins and beautiful balance.
Domaine Paterianakis – Crete, Greece. Assyrtiko
The Paterianakis family are third generation winemakers from the hills right in central Crete. Farming organically and using gravity in the winery so the healthiest fruit arrives for gentle pressing. Using wild yeast in stainless steel tanks, this Assyrtiko is full of citrus fruits, wild herbs and white flower with a vivid, crunch of acidity — delightful.
Mas Las Cabes – Côtes du Roussillon AOC, France
Syrah, Grenache, Carignan, Mourvèdre
The black marl and friable schist soils of the Mas Las Cabes estate are farmed organically by the Gardiés family. The wine this careful cultivation yields is true to its origin with subtle liquorice and olive notes on the nose and a generously fruity and mildly tannic palate.
Nicodemi Montepulciano D'Abruzzo – Abruzzo DOC, Italy. Montepulciano
From the sites with the best exposure in the DOCG area of Colline Terramane, longer skin maceration, ageing in stainless steel and some in old oak for three to four months, followed by at least a year in bottle before releasing. This results in a complex wine, richly aromatic, which reflects the deep understanding Elena Nicodemi has for her land and her grapes.
Tebaldo – Marche IGP, Italy
Chardonnay, Sauvignon, Pinot Grigio
The grapes for Tebaldo are hand-harvested early, in mid-August. This method showcases the aromatic characteristics of the grape varieties which produce this wine. The combination of Chardonnay, Pinot Grigio and Sauvignon Blanc, while it sounds like a mouthful, delivers a wine of elegance and balance.
All wines available from winesdirect.ie or for any wine details or information on upcoming Wine Shed nights, contact Fionnuala on 086 8533758 or fharkin@winesdirect.ie.