Fionnuala Harkin is a qualified wine educator with the Wines and Spirits Educational Trust. Her love of wine developed over her years of running a restaurant in Clonakilty, as well as writing on food and wine for West Cork People and Food and Wine magazine. She works for Wines Direct, an Irish family owned company who import wine from artisan producers all over the world. She also runs The Wine Shed near Timoleague, a quirky and unique space for gathering and enjoying great wines, chats and nibbles, while learning a bit about the wonderful world of wine. Check it out on Instagram @wineshedwestcork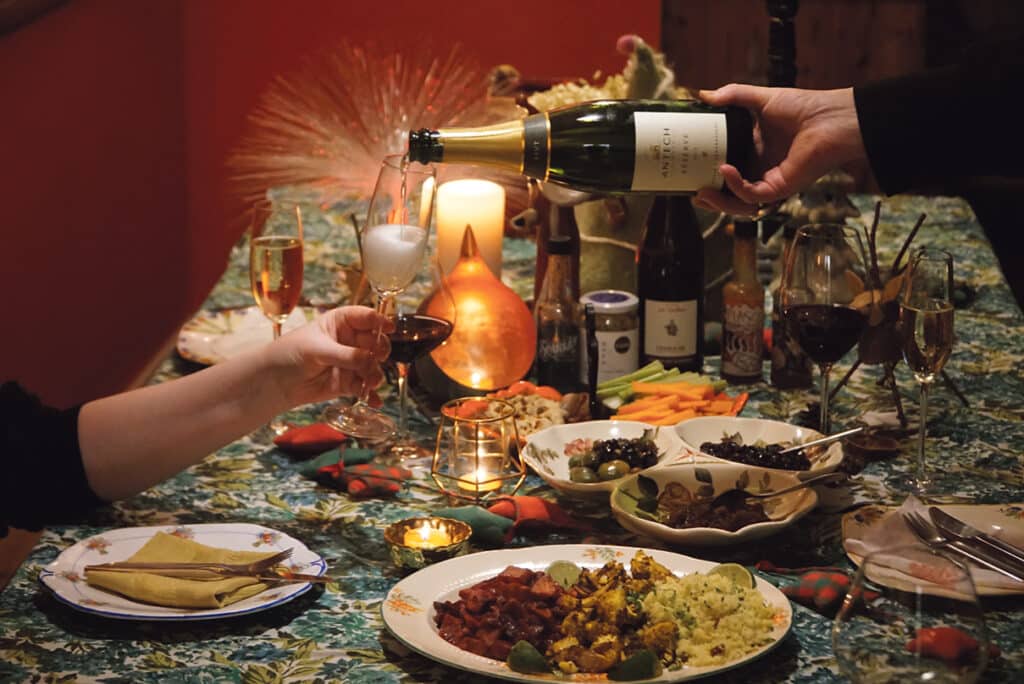 The products considered to be iconic Irish foods have changed a lot over the last 20 years. While we still love our Tayto, we are likely to add a slather of peanut rayu or chilli sauce to it, spicing up our crisp sandwich. Our love of travel, along with the mix of cultures in our families and society has added colour, texture and flavour to our everyday food, and the Christmas dinner table is a great place to celebrate these changes.
Dietary and environmental choices about meat consumption are also having an influence on the traditional Christmas dinner. Most families have a least one veggie or vegan diner, and they usually don't want to eat a bland meat substitute. Thankfully, we have an endless array of wonderful plant-based foods which ensure that no-one feels like they are missing out.
This year, my family have suggested an Asian-themed Christmas dinner. With a few vegans in the mix, this is a great choice, as the bright and bold flavours of the foods of these regions mean that the meat element is often secondary. There are so many great Irish products available, like tofu made in West Cork, multiple spicy rayu brands, hot sauces, chilli jellies, and locally-made spice blends and pastes, that cooking is a joyful, heady and sensory affair. Of course, we also have traditionalists in our house, so we'll have the old reliables alongside the more exotic fare.
This could be a challenge for the wine pairing. In fact, when I'm thinking about wine for Christmas, I always think about wines for the days before and after, as well as the big day itself. All those lovely snacking moments, and of course the cheese board, are made even better with the perfect drop. I often enjoy the glass of wine with re-heated Christmas dinner on St. Stephen's Day more than the day before with all the prep and drama. Sometimes, the best wine is better saved for a cheeseboard and a movie, when it is playing a central role. There's a lot of competition for our attention on Christmas day!
Bubbles are my answer to most Christmas wine questions. I always have something 'on the go' in the fridge, one of the great pleasures of a few days off. A Champagne style sparkling wine like Antech Blanquette de Limoux will keep its fizz for about three days after opening, so you don't have to wait 'til there's a crowd to open it. You can just pour a glass whenever the mood takes you. This is also a time of year for making an occasion of breakfast, preferably eaten at midday. Creamy, yeasty Pet-Nat, a gentle sparkling wine with a beautiful textured mousse, is a pure treat with eggs or avocado on toast and a dollop of spicy peanut rayu.
My wine choices for the Christmas dinner, and indeed the days around it, are based on wines which are versatile, and which can stand up to a wide range of robust flavours, as well as the traditional meats. Pinot Noir and Gamay are always good red options. These are wines with low tannins, ripe red fruit flavours, and are usually not overpowered with oak. Spicy flavours don't work well with tannic reds, so these fruit-driven wines accommodate the more fiery dishes, while the lighter, juicy style compliments the turkey.
White wines are generally easier to pair with spicy foods, especially wines with ripe fruit flavours. I'm inclined to look to the New World also, as regions like Australia and New Zealand have a strong Asian influence in their food, which is usually a good barometer of the wine's suitability. Paddy Borthwick, who has visited here many times, makes this ginger-tinged Pinot Gris, quite different from its Italian cousin, Pinot Grigio.
One of my favourite white wines is Riesling, from any part of the world. It can be anything from very dry to very sweet, but for spicy food, a bit of sweetness is ideal. We're not talking dessert wine, just a little 'residual sugar' which, along with the typical high acidity of Riesling makes it beautifully balanced for dishes with punchy flavours and a rich texture from creamy coconut milk. I know many people are afraid of Riesling due to the traumatic memory of the awful, cheap, sweet German wines of the 80s. Don't be, good Riesling is one of life's true joys!
Every year, we buy way too much food. This year, along with our shift to more plant-based and eastern-flavoured fare, I'm hoping that we will be more creative with vegetables and pantry staples like rice and noodles, leading to less waste. All those delicious condiments will bring the whole thing together, along with the reassuring gurgle of delicious wine filling our glasses.
My Christmas wine list, all delivered by Wines Direct:
Bubbles
Antech Blanquette de Limoux, Méthode Traditionelle, France €27.20
Di Filippo Malafemmana Pet-Nat, Umbria, Italy (organic ) €20.75
White Wines
Bender 'I Love Mosel' Riesling, Germany €20.55
Paddy Borthwick Pinot Gris, New Zealand €18.00
Red Wines
Bender Pinot Noir, Germany €20.55
Corbillieres Les Griottines Gamay, Loire Valley, France €17.45
All wines sustainably farmed and from independent family-owned vineyards.
Prices based on a case of six which can be mixed. Free delivery anywhere in Ireland.
Contact me on 086 8533758 or fionnuala@winesdirect.ie for details.