"Desperation is great motivation," says John O'Connell one of the founding trio of West Cork Distillers which celebrates its 20th year in business in 2023. "Nobody wanted us in this game, and we were desperate to succeed." West Cork Distillers was founded in 2003 when childhood friends from Union Hall, Denis McCarthy, Ger McCarthy and John O'Connell, decided to pack in the day jobs and take a punt on a whiskey dream.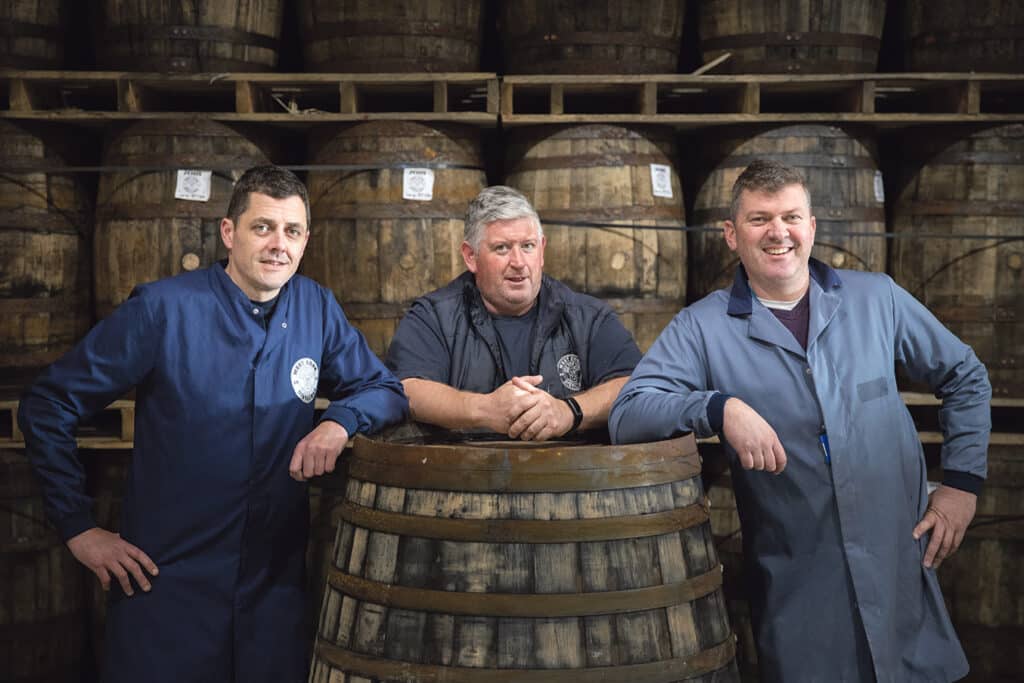 O'Connell, who hold s PhD in Colloidal Chemistry, was Head of Research and Development in Kerry Group at the time, and first cousins Ger and Denis McCarthy were successful fishermen. In and around 2003, the fishing industry, which was once a lucrative sector that supported the prosperity of many villages around West Cork, had become less so over the years. Increased regulation and depleting fish stocks made it more and more difficult to turn a buck, and with young families at the time, the McCarthy cousins found that they were spending longer hours at sea for a greatly diminished return. Of course, as West Cork knows all too well, life at sea is fraught with danger and finding an alternative source of employment for the seafaring duo was something that both the lads and their nearest and dearest aspired to. At this time, the Irish whiskey market which had been decimated and in steady decline since the Famine, was rumoured to be showing signs of a resurgence. Prior to this, John and Denis had been brewing beer as a hobby in Den's shed at the back of his house in Brade, Union Hall. Perhaps it was the combination of home brew and the lad's entrepreneurial spirit that brought about the idea of opening the first new distillery in Ireland since 1987. The distillery started from humble beginnings in the aforementioned shed, with the three men all still working their day jobs and running the distillery simultaneously. "We knew nothing about the industry," recalls Ger McCarthy "my father always says that a little knowledge is a dangerous thing, if we knew what we were signing up to at the time we might never have followed through."
Fast forward twenty years and West Cork Distillers now sits on a 12.5 acre site on the Marsh road outside Skibbereen, which was once home to the Union Hall Fishermen's Cooperative. It produces the world-renowned West Cork Irish Whiskey and award-winning Garnish Island Gin and along with running a significant contract business for both alcohol, bottling and canning, it also boasts a thriving Ingredients division. The distillery employs 140 people at present, with plans to grow the team by another 30 before the end of 2023. "You cant achieve anything without having good people around you," says Denis McCarthy, "people have been central to the success of West Cork Distillers."
The distillery was delighted to be in a position this year to support the Living Wage for all employees. "Investing in people is a key part of our business strategy and its important to recognise the incredible work of the team here, every individual within the company makes a massive contribution its success and we are very respectful of that, its something we can never take for granted," explains Niamh McCarthy, Head of Human Resources.
In tandem with aligning with the Living Wage, the company also offers all its employees a pension, death in service benefit, private health insurance, an employee assistance programme, full financial assistance for further educational pursuits, increased annual leave with service, employee discounts, a generous refer a friend bonus scheme, free lunch on Fridays and employee events throughout the year. The company also offers remote working opportunities and a number of flexible and part-time roles. The WCD team currently represents 14 different nationalities and has significantly increased the representation of females in the workforce over the last 12 months. "I think it's our diversity that makes us work," says O'Connell, "we leverage this diversity to enhance our ability to move quickly in response to business needs, and we truly recognise the benefit of having a wide range of perspectives involved in the decision making process." Over the coming year the company hopes to invest heavily in its research and development division, with aspirations to build a state-of-the-art R&D facility on its current site in the future.
Twenty years on since its foundation, West Cork Distillers has become a bastion of West Cork grit, determination, hard graft, and a testament to team of people that made it happen. The distillery currently exports to over 70 countries worldwide and is showing no signs of slowing down. An expansion is currently underway which aims to significantly increase production capacity in 2023 and with that comes more jobs and specialised roles. "Skibbereen has been good to us," adds John, "it's great to arrive at work in the morning and see the car park full, it's good be in a position to give something back".
West Cork Distillers has come a long way from the shed in Union Hall twenty years ago, the lads will admit that the journey has been far from plain sailing with some significant challenges to overcome along the way.  However, the company has a solid foundation in friendship, that has been a key factor in its success and that camaraderie permeates through the entire organisation. "It's been great fun," O'Connell adds. "There have been a lot of good laughs with the lads over the years, and the whole team." 
https://www.westcorkdistillers.com/