Clonakilty chocolatier Allison Roberts was just 12-years-old when she first dipped her finger into making and selling chocolate. While she took a break to study Globalisation and Consumerism at University, a subject she says that left her lost and jaded, after moving from Canada to Ireland in 2008, her passion and curiosity reignited and she started selling handmade chocolates at the local Christmas markets and stocking local shops.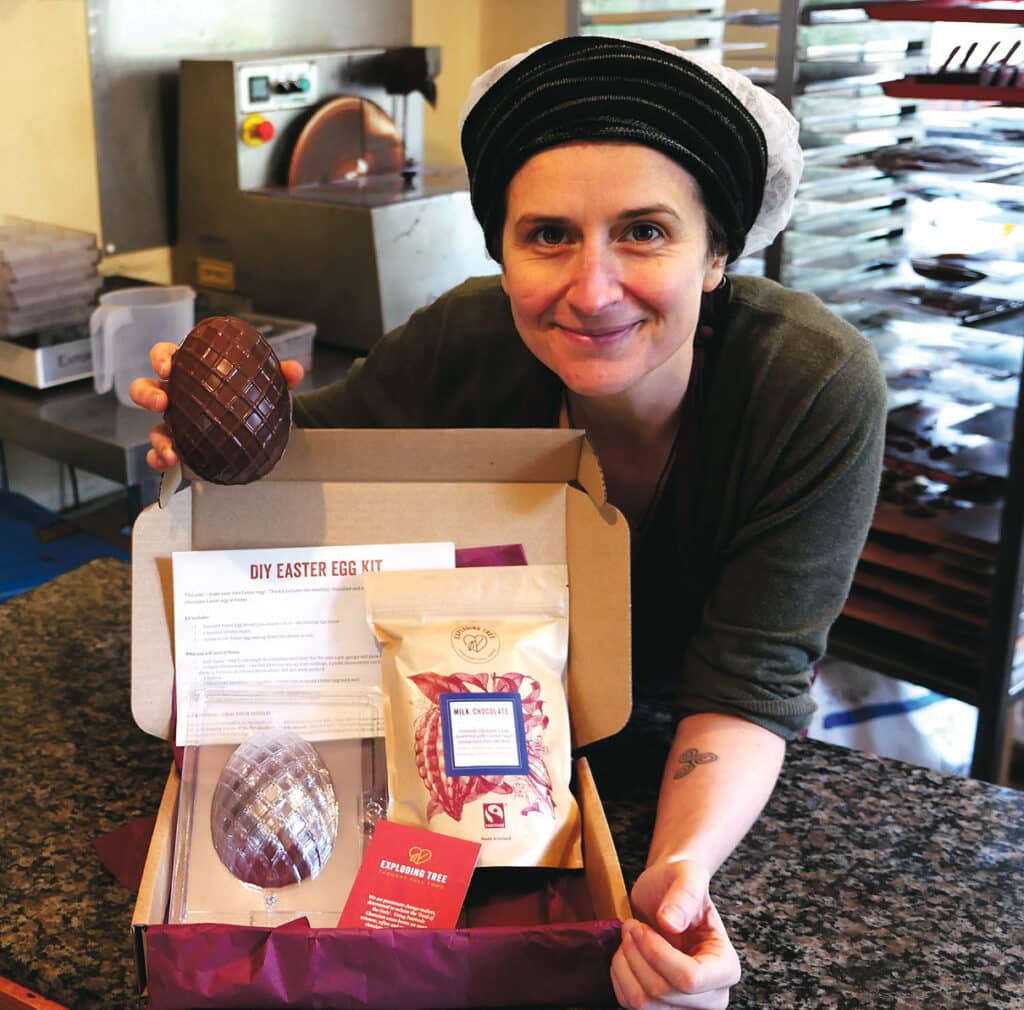 For Allison, making chocolate goes hand in hand with delving into issues around sustainability, human rights and the food industry. Her company Exploding Tree, which today is a team of four, aims to be zero-waste and its supply chain is simple and direct.
In order to be zero waste Exploding Tree sells as much of its products as possible in bulk and unwrapped. Any packaging that is used by the company is carefully sourced and biodegradable or better yet compostable or recyclable. Customers can opt to buy Exploding Tree bars unwrapped on the website and 'save the wrap' on your order allowing the company to re-use postal packaging.
Exploding Tree buys all of its cocoa beans and coconut sugar from Fairtrade Organic cooperatives in Ghana and Indonesia. Secondary ingredients are sourced as locally as possible, mostly Irish, but sometimes from other EU countries and organic whenever possible.
Allison is driven by her passion to run her business as a social-enterprise. "I want to share with others that small and ethically-minded businesses can be a very real (and very very rewarding) solution to so many of the problems we are facing today," she says.
Starting out as a solo chocolatier, Allison originally bought in a base chocolate from Belgium, crafting it into shapes to sell at markets. Today she buys in raw cacao beans and makes the chocolate from the bean to her own recipes for healthier Fairtrade chocolate that is really different from anything you could find in a supermarket. She also does a lot of chocolate making workshops and many of her orders come direct from customers through the website. "Both of these enable me closer contact to my customers and to sell my bean-to-bar chocolate with less packaging," she shares.
Not only is she still in business in a very competitive market 15 years after starting out but Allison has not compromised on any of her values. Her full bean-to-bar chocolate factory in Clonakilty was awarded the Irish Food Writers' Guild sustainability award in March 2020 and has also received the McKennas guide award every year since 2014.
She says she loves the freedom that being her own boss allows her. "I get to be creative, follow my passion and take holidays whenever I want! she says. "I have met so many interesting people and continue to learn so much. It brings me a lot more than a living wage!"
Like any business there have been challenges but Allison is pragmatic. "A lot of my challenges have been pretty 'self-inflicted'," she shrugs. "One of the things about running your own business and going against the grain is there is plenty of opportunity for self-scrutiny! Any small (or perceived) issue can trigger insecurities and anxieties – and combined with a dose of self-saboteur tendencies have led to some pretty low lows but I've done so much work in this area to get to where I am now and I'm happy to chat to anyone who's struggling and needs some empathy!"
Always interested in forging new connections and keen to learn more, in the near future she would love to go back to visit the new cooperative she is sourcing from – the only Fairtrade Organic cooperative in West Africa, the ABOCFA cooperative. "They are doing amazing work," she says.
She would also like to learn more about what needs to happen in her industry to help farmers be more resilient and diversify to face climate change. "Eighty per cent of the world's cocoa comes from this area and they will be facing the potential loss of 50 per cent of their arable land in the next 50 years," she says.
This time of year, the Exploding Tree team, a happy mix of food lovers, are busy making Easter eggs and bunnies, which never go out of fashion! There is lots of roasting, cracking, winnowing, grinding and tempering chocolate happening in the factory, as well as other jobs ranging from Instagramming to packing orders.
It is also possible to purchase 1kg bags of rough untempered chocolate. "This is our base chocolate we pour into slabs straight out of the stone grinder," explains Allison. "It can be used in baking or eaten straight from the pack so a lot of our customers have discovered it as a better alternative to buying bars."
Right now however the buzz word at Exploding Tree is DIY. "We are selling a new DIY Easter egg kit, DIY truffle kit, Experimenters kits and Choco-lovers survival kit. All these boxes come with lots of chocolate, ideas and instructions to have fun with chocolate at home," explains Allison.
Orders for Easter can be placed through the website explodingtree.com